Cars > CadVetteStang's Garage > Blog > 1972 Ford Mustang (Shelter Movie Mustangs)
Sep 21, 2009 | Views: 4,266
Filed under: 1972 Ford Mustang (Shelter Movie Mustangs)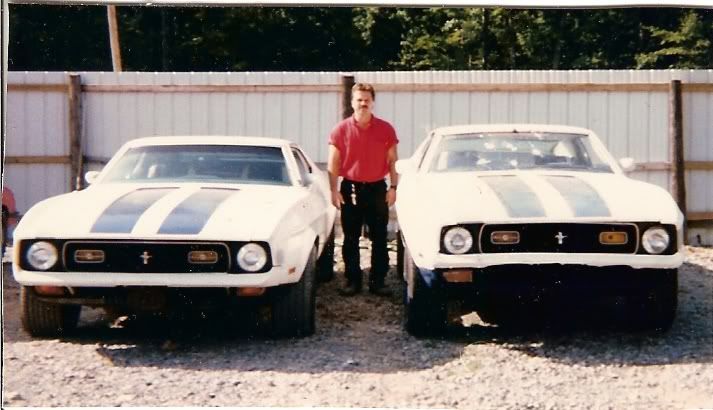 In 1997, I was an aspiring actor/film producer, salvage yard manager, and Marine Reservist who drove a 72 Mustang Sprint as a daily driver. I had some experience producing television commercials and was using TV production as an inroad to starting my film production company.
One day while working at the salvage yard, two men came to the window saying that they had a strange request. Working for U-Pull-IT Auto Parts, I said it would need to be pretty strange to top the things I had been hearing. ( As an example, do you remember "Sweet Connie" from the song "We're an American Band"?
http://en.wik.../Connie_Hamzy
Well, one day, I bought her Chevy Chevette for the salvage yard.)
The guys said that they wanted to look through the yard for ten to twelve cars, buy them, and then return them in a few days; they would donate them back to us, but they would be shot up and badly burned….
I said, "So what movie are you guys filming? And is it a Screen Actor's Guild Project coming in from Hollywood, or a zero budget local job by an unknown?"
The two men looked at each other with an "Oops, we got busted" expression and one of them said, "well, we're really not supposed to let the information out right now."
"Relax, guys, I'm in the business, too, and if you can hooked up with a small speaking role, or a chance to talk with the director, I have lots of resources that can help you in many ways."
With some more questioning, I found out that "Bay Watch" actor, John Allen Nelson
http://www.im...me/nm0625482/
- a Little Rock native, had teamed up with actor/director Scott Paulin
http://www.im...me/nm0667182/
to produce and star in a movie in his home town. It was going to be a SAG production and a full production crew had arrived from Hollywood.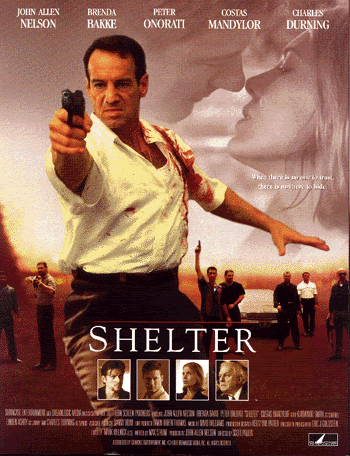 I used my position with the salvage yard to get hooked up with these two guys, who were responsible for moving the entire cast and crew to all of the various filming locations and for the acquisition of local movie cars and props. I negotiated a discount price for the movie cars that would be shot up and blown up in the Little Rock River Market shootout scene, and personally delivered them to the filming location in exchange for a chance to meet the director and show him the latest TV commercial I had just shot and to ask for a chance to audition.
The two guys had been tasked to find a 69 Dodge Charger that the script called for, but were unable to find one at a reasonable price since the film called for its destruction. I asked if they could use a non-running double to destroy, and they said they had tried to find one, but were unable and were running out of time. I told them that they should ask the director if a rare 72 Mustang Sprint could be used instead; I also explained that I knew of a Mustang salvage yard that could supply a shell and that I could paint it to look exactly like my car. That way, I could rent them my car, and they could destroy its "stunt double". After a few more days of searching for the elusive Charger, they said that the director agreed to rent my car and to use my connections to purchase a Mustang shell to be painted to look like it. I bought one from the "Mustang grave yard" in Rosebud, AR and took it home. The fastback I took home was green with a black interior and had huge dents in the doors and fenders. I used about two gallons of Bondo making it smooth, then painted it (inside and outside) in the driveway; I mapped each small area of grey primer that was on my Sprint and duplicated it on the clone; I also found matching Cragar SS wheels in the salvage yard that happened to have the same BF Goodrich tires. The car's only difference in appearance was that it did not have rear window louvers, it sat higher in the front, and there were no exhaust tips. I heard that the double was so close of a match externally that the film crew got the two cars confused on various occasions.
My "driver", was used in all of the scenes where you see the exterior of the car. The clone was wired for sound and used in the interior scenes; with no motor or tranny, it was lighter and tied down on a trailer for driving scenes when the actors were talking. It was also shot up at the rail road track scene with an air powered shot gun. John actually sat in the car with a second bullet proof windshield bolted in behind the Mustang's stock windshield when they fired the blast. Radio controlled blood bags were timed with the blast and burst on his shoulder. The thin bullet proof second glass held and he was not injured by the stunt.
Speaking of stunts, the scene where the clone was supposed to be launched off of the Arkansas river bridge was canceled because of insurance and pollution control reasons, so the production company decided to blow one of the tires on my driver and run it down an embankment by the river. (No one told me it was going to wind up in waste deep water). My brake lights never worked again after that stunt, no matter what I tried. I replaced the switch, bulbs and sockets.) The film crew also clipped the cables on my drivers remote mirror when they mounted a door camera for the shot of the tire getting blown. I wasn't happy with that at all.
As far as celebrities go, I'd work for John and Scott again, any day; they are great guys. But I have learned a hard lesson about a second unit film crew's blatant disrespect for the well being of rare and classic cars. I'm very glad my Mustang was not a pristine show car.
I have since heard other horror stories about California film crews that come to Arkansas and use/abuse antique and classic cars. In one such move filmed back in the 70s, (NOT associated with John or Scott in any way) two or three 55 Chevys were painted as police cars without the owners' knowledge. According to the story, at least one was damaged and all were left with police paint jobs when the film company left town. The owners were unable to sue for damages because -like with most films- a specific corporation is formed for that particular movie and can dissolved after shooting if legal issues arise. So remember, it is very cool to be watching a movie with friends and to be able to say, "Hey, look; that's my car!" But it also another thing to be left with damages that have not and never will be compensated for. Consider that if you get a chance to put one of your better cars in a movie.
My overall experience with the production company that shot "Shelter" was positive, and I'd be willing to rent out another Mustang or classic car for use in any film coming to Arkansas (but next time with stricter control of the car and very specific "not to dos" in writing.
As for my part with the movie (on and off screen), Through the salvage yard, I not only supplied the cars for the River Market shootout, but also I supplied the 55 gallon drum of varnished gasoline that made the huge mushroom cloud in the barn scene explosion (opening action sequence), and supplied the Cadillac that gets wrecked in Down Town Little Rock by the Fire Station at the small restaurant scene (which wasn't really a restaurant). I also played as "Wayne" the leader of the bad guys (opening action sequence) and that was my "break" into the SAG film industry. And Scott Paulin used me to help with "firearms safety" on the set at the barn scene.
That's me as "Wayne"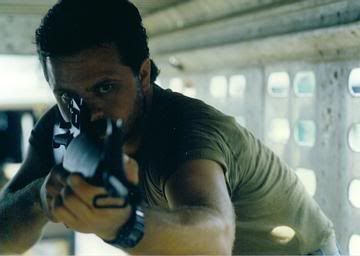 To me, the Mustang Chase in Shelter is the best part of the movie (not because it was my car). However, there is not enough there to call it a "Mustang movie" or "Car Movie" in my opinion.
Also, this "B movie" has way too much profanity and sexuality for my taste. Before you try to buy or rent it, be aware that it is NOT family friendly. However, I did make a few life long friends during that production and used one of my fellow "barn scene bad guys" as the co-star of my first (and so far only) full length feature film which is a Christian movie.
Eventually, I'll get more pictures of the Sprint hosted online and will post them. I'd take more pictures of the car (cars), however, I had to sell the driver a few years after production due to a financial hardship (the break lights were still not working) and the clone was stolen by the man who was storing it for me. I had planned to keep the clone for use as a drag car or to build for my step grandson who had fallen in love with the car at age 4.
Appearance and performance of my "driver" movie car:
The car was stock when I got it except for dual exhaust, glass packs, and 14" Cragar SS wheels. The previous owner had paid for a cheap re-paint of the car. Reproduction Olympic side badges were not available at that time and were not on the car during filming (however it is a true Sprint and is listed as one on the title). The hood and rocker stripes were left unpainted. When I got the car, the original stripes were badly faded and peeling. Not knowing what Sprint was when I bought it, or how rare a fastback Sprint was, I changed the color of the rocker stripes to Regal Blue and changed the single Mustang Hood stripe to Twin SS style stripes. I changed the 14" wheels to 15 X 8" Cragar SS wheels, 265/50 R 15 front and 295/50 R 15 rear tires. I tuned the 2 BBL 302 for gas mileage because I was driving 6 hours one way to Reserve drill after Clinton's infamous military base closings of the 90s. The car had the FMX transmission and 2.73 highway gears. I was able to get 20 MPGs on the interstate at 75 MPH regularly. It was very reliable transportation; however, it always smelled like gasoline because the fuel neck did not fit properly into the gas tank because of previous rear end contact with a telephone pole and an incomplete repair job. The only evidence of that collision in the movie is an imperfection on the rear bumper where the dent was pulled out.
I really liked the car and it handled well; I wouldn't mind owning it again someday. I'd keep it looking just like it did in the movie except for the back bumper dent and small patches of grey primer which really did not show up in the movie anyway. The exhaust note was perfect.
I'd love to hear from the current owner of the car and find out its condition.
Cody G. Carson
Permanent Link to this Blog Post:
Cars > CadVetteStang's Garage > Blog > 1972 Ford Mustang (Shelter Movie Mustangs)