Cars > Silver_Shark83's Garage > Blog > 1983 Pontiac Trans Am (SilverShark~Original Owner) > Dude Where Have You Been?!
Silver_Shark83's Blog Posts

1 – 5 of 13
Dude Where Have You Been?!
Oct 31, 2010 | Views: 616
Filed under: 1983 Pontiac Trans Am (SilverShark~Original Owner)
Hey everyone, I'm still kick'n around and The Shark has another interior mod.
I was on the move with a new division at my company and just didn't get around to posting much and along with that, When it stays light pushing 10:00 pm, and club members are in the cruise mode…well you don't stay inside, you get out and take all the advantage you can here in the PacNorwest!
Now that the fine fall weather has hit, dark by 6, rain and more rain, wind and the basic yack, I will be back online again, and the work scene is under control as well.
This past September, the Shark and I celebrated our 27th year of Original Ownership that was truly a landmark, the pic for the blog post is the Shark & Myself 27 years ago on our first cruise!
I took a 400 mile cruise and it was outstanding, weather was perfect and the Shark ran with perfection!
Starting this spring 2010, I had decided to have the original upholstery redone.
It was a tough decision due to the fact that only my drivers seat, outside bolster was getting quiet tattered and the spring below beginning to chow up the foam.
The stock upholstery was OK but after looking at it for 27 years, it was time for a change! I opted to roll with leather bolsters and trim, and gray cloth insets. In addition I had my Shark logo stitched on the upper mid panel. I was just thrilled with the look and comfort lever, I also did new foam and had 2" of memory foam sew in to the upholstery back, and WOW what a difference that has made on those long cruises!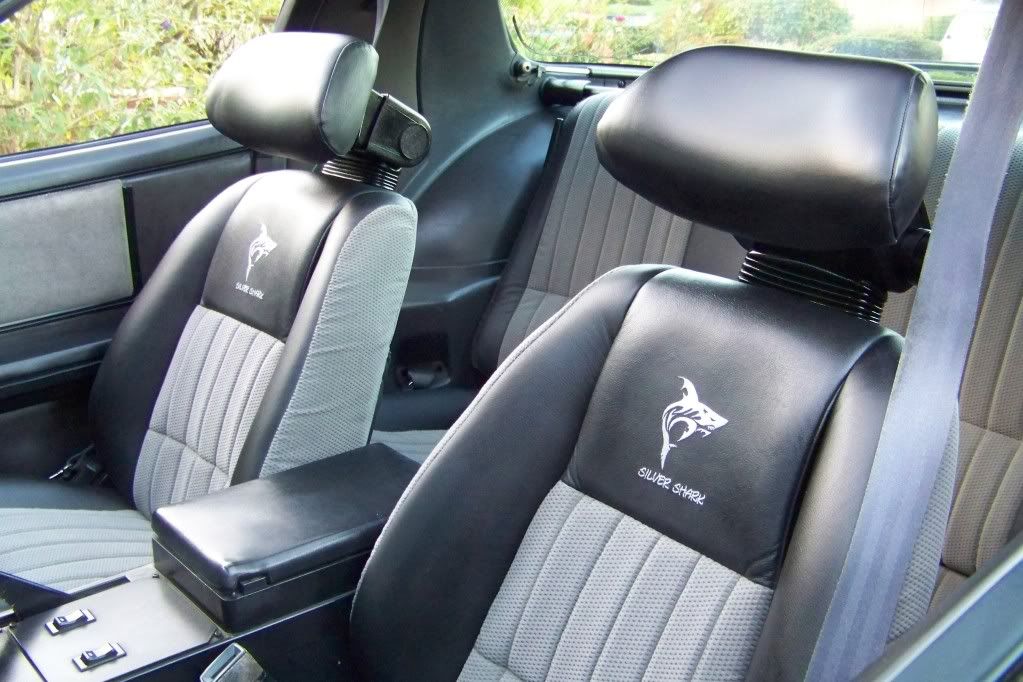 I had been on the hunt for a set of 88 GTA seats, and finally found a complete set of 4. I will be adding more pics to the album shortly.
The price was right the seats themselves were not in the best of shape, however all I was after were the headrests, which were mechanically sound, I didn't care about the cover because I was going to have them redone in the same leather to match, and the gray plastic parts I had dyed black to match the rest of the interior.
I have posted some pics of the complete interior with the new headrests.
The GTA headrests are the MOST comfortable rests I have EVER had the pleasure of chilling back on. We also added 2-1/2" of memory foam on top of the stock foam and that did the job in regards to long cruise comfort!
In addition I also took the reclining seat tracks, cleaned them up taking them down to the metal, hit them with self etching primer, and then a nice finish of satin black.
I don't think I can make them any more comfy!
Cheers to all, and thanks much to my buds who wondered if I fell of the face of the earth...LOL...not today at least!
Happy Cruises!!
Permanent Link to this Blog Post:
Cars > Silver_Shark83's Garage > Blog > 1983 Pontiac Trans Am (SilverShark~Original Owner) > Dude Where Have You Been?!