Cars > Challenges > ""Ashley"" Vs "The Snot Rocket"
CorvairJim
M–55
Norristown, Pennsylvania
United States
skrapmetal
M–38
Atlanta, Texas
United States
1966 Chevrolet Corvair Monza
""Ashley""
1972 Volkswagen Karmann Ghia
"The Snot Rocket"
Head to Head
About ""Ashley""
Back in 2000, I had the misfortune to have to take a prescription that meant I couldn't drive. I sold the daily car I had at that point (one plain-Jane black 5-speed Cavalier coupe - a transportation appliance at best). A couple of years went by, and I changed doctors. The new guy prescribed something different for my condition, so I needed wheels once again. I could: A) spend $4,500 on a cheap used car that would just blend into the woodwork or, B) Find a really decent Corvair set up the way I like it. Now THAT car doesn't blend in. I found this '66 Corvair in Denver, CO, on eBay. The engine had been rebuilt by a nationally-known Corvair specialist shortly before the previous owner put it into storage for about ten years. It came out of the rebuild capable of putting 220 horsepower down to the pavement. Not bad for 164 unblown, carbureted cubic inches! It also had new tires all around. I won the auction, and flew out with my wife to drive it home. A fantastic road trip, and it cost half as much as shipping it would have. It became my daily driver for the next three years, until, in late '05, I had it in for state inspection at a friends Corvair restoration shop. While it was up on the lift, I got to see just how little rust the car had underneath. I decided at that point that it had seen its last winter of Pennsylvania road salt! It is now my nice spring day car, and a pleasure to drive. It still draws attention wherever I go with it.

UPDATE: I had to sell my beloved Ashley in August of 2009 due to the nation's lousy economy. My overtime had gone away and and my wife lost her job due to a work-related disability that they refused to accept responsibility for, so we just couldn't justify the expense of nearly $100/month to insure the third car in a two-driver household. Our mortgage was a couple of months behind, so sadly I took a friend up on his standing offer on her. As promised, he has given her the complete cosmetic restoration she so badly deserved. Of course, she didn't need anything mechanically - I always kept her up 100% mechanically. Furthermore, he gave me right of first refusal, so if he should ever decide to sell her, I get the first opportunity to buy her back.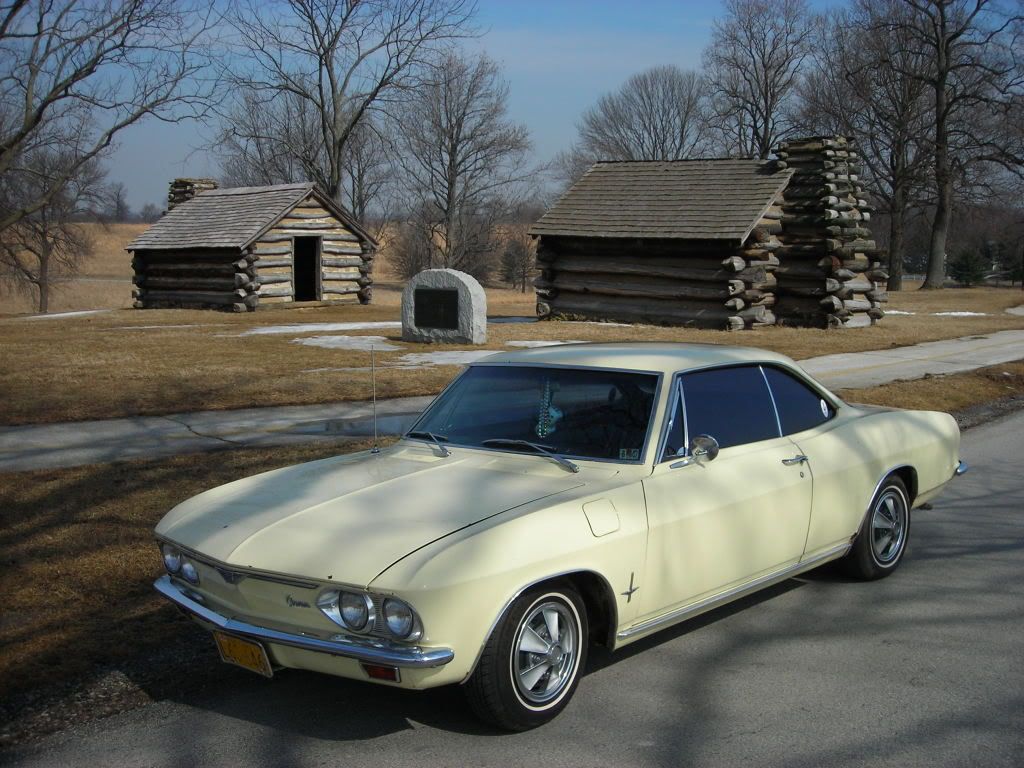 About "The Snot Rocket"
This car was bought new by my father, then it was passed down to me. It started out as a stock restoration, now it's a custom sleeper that turns heads where ever it goes. I seem to attract ricers for some reason.
Specs for ""Ashley""
1966 Corvair Monza Sport Coupe
164 C.I.D. Opposed 6-cylinder engine, air cooled.
Lemonwood Yellow paint, Black interior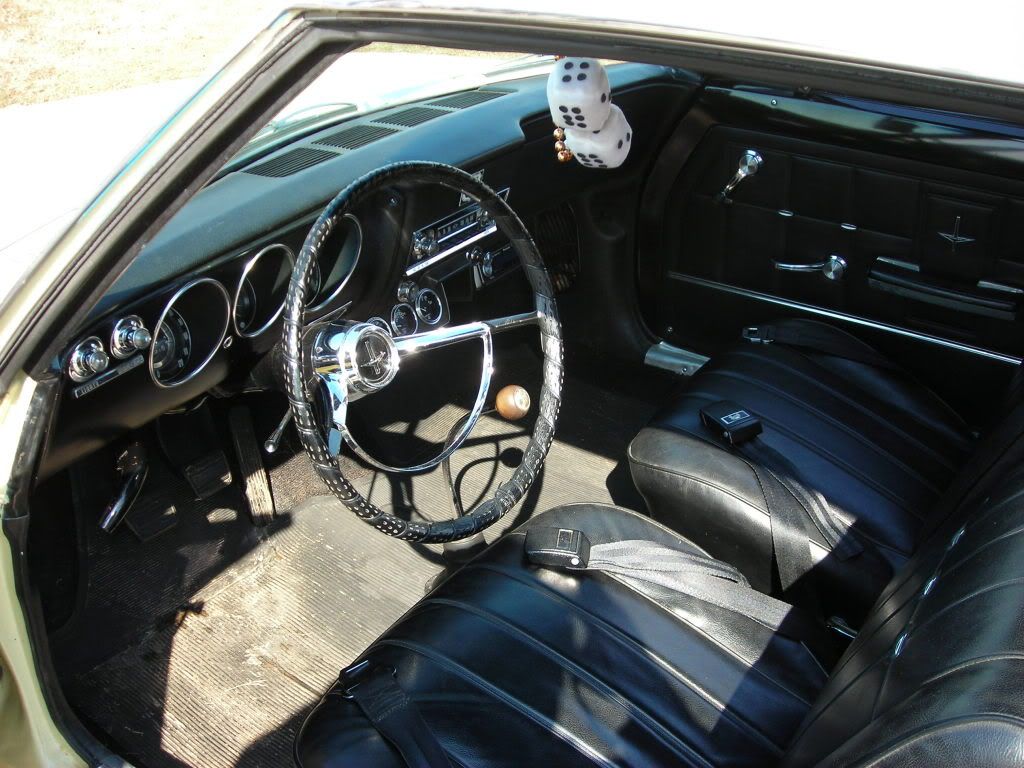 Specs for "The Snot Rocket"
Engine Specs:
TYPE 1, 1915cc, 4 cylinder, 140hp

1. C.W. Crankshaft forged DPR 8 dowel
2. AS41 (Brazilian) case opened to 94mm
3. German rebuilt connecting rods
4. Engle 120 camshaft (294° duration) with Norris racing lifters
5. Bugpack magnum straight cut cam gears
6. German forged reground flywheel 8" dowel
7. Gene Berg chromoly racing gland nut
8. 8mm chromoly head studs
9. 94mm Mahale pistons/cylinders with Grant rings.
10. 043 heads ported & polished with 42 x 37.5 stainless steel valves 3/8 chromoly push rods
11. Scat 1.25 ratio rockerarms
12. Stainless steel windage push rod tubes
13. OEM vented valve covers
14. Schadeck aluminum 26mm H.D. oil pump modified for full flow with K&N oil filter
15. Bosch 51 amp alternator
16. CB performance aluminum polished breather box
17. Kennedy stage 1 pressure plate with Dankin racing disk
18. Ceramic coated 1 5/8" merged header with stainless steel phat boy muffler
19. Dynamically balanced crank, rods, pistons, flywheel, pressure plate, and front pulley
20. 8.5:1 compression
21. BMD aluminum pulley system
22. Rancho prostreet transmission with 0.82 fourth gear, Hurst shifter

Cooling:
23. DTM fan shroud (aircooledtechnology.com)
24. Welded & balanced fan
25. Type 4 oil cooler
26. Brad Penn Racing Oil 10w-30

Fuel Delivery & Ignition:
27. Dual 44mm IDF Weber carburetor kit, 36 vent, F11 emulsion tubes, 52 idle, 165 air, 125 main
28. CB Performance crossbar linkage
29. Carter rotary electric fuel pump
30. Bosch 010 distributor (timed @29°)
31. Mallory Hyfire 6A Capacitive Discharge ignition system
32. Pertronix Flame Thrower II ignition coil (45,000 volts max)
33. Aurora 8.5mm silicone Super Mag Plus spark plug wires
34. NGK D6EA 12mm spark plugs, gapped to .040"
Factory Options for ""Ashley""
(All options verified by build sheet)
140 horsepower, 4 carb engine
4-speed transaxle
Posi rear
Sport Suspension
"Mag-Style" full wheel covers
AM pushbutton radio
Factory Options for "The Snot Rocket"
Engine: 1600 Dual Port, Air Cooled, 57 hp
Transmission: 4 Speed Manual
Dealer installed AM Radio, Sapphire IX
Electric defogger
Front disk brakes
Tan Interior
VW Diagnostic Computer Port
Mods for ""Ashley""
Engine rebuilt to Yenko Stinger Stage III specs - 220 net horsepower.
Suspension lowered 1 coil.
Gas shocks
Steering Dampener
Low-restriction intake and exhaust.
Full window tint.
Tail panel painted silver (like the factory did with the Corvair Corsa model).
AM/FM/CD/Stereo unit mounted under the dash - NO holes cut or drilled for the installation!
Additional gauges (Tachometer, Voltmeter, Oil Pressure, Oil Temperature)
Pennsylvania Vanity Plate "CORVA1R"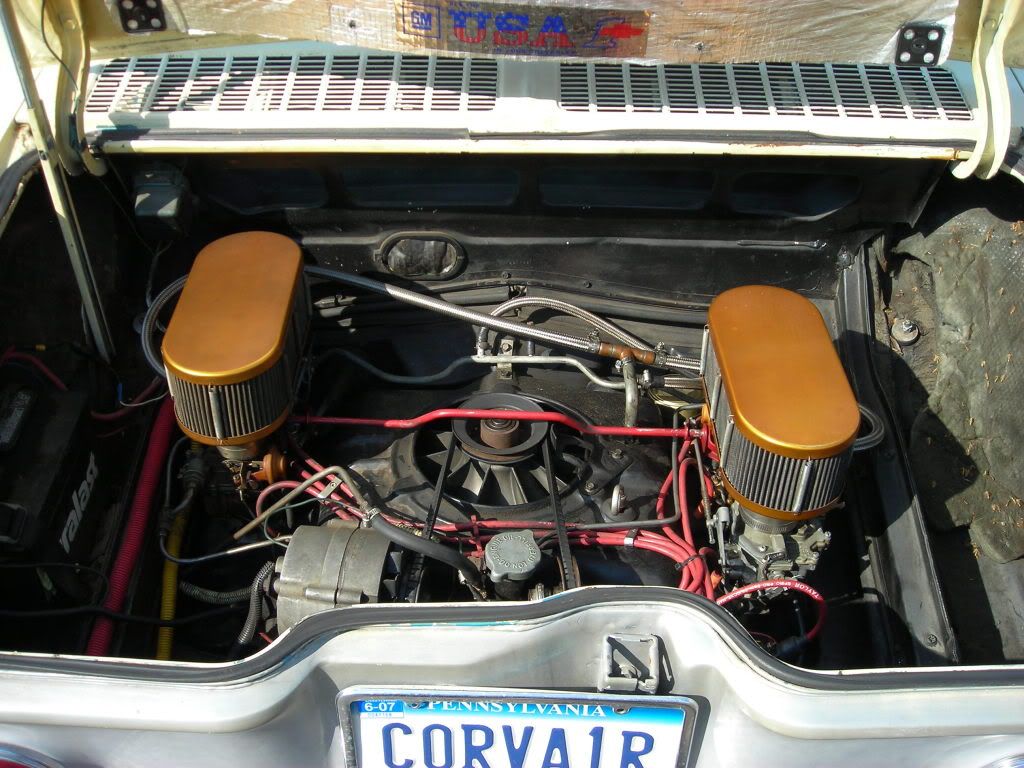 Mods for "The Snot Rocket"
-Aluminum Porsche 914 Rivera style wheels
-"The Conductor's Special" hidden air horn kit with compressor and tank (Hornblasters.com)
-Diamond style headlights with H4 Halogen 90/100 watt blue bulbs
-Chrome VW Type 3 tail lamp bulb holder
-Custom fiberglass center console and front speaker panels (vwinnovations.com)
-VDO Series 1 gauges (CHT, Oil Press, Oil Temp, Volts)
-Tech Edge Air/Fuel Ratio gauge - LA1
-Tech Edge Wideband Controller - 2J1
-Custom built tachometer
-TMI upholstry and panels
-Limited Editon '73 Sports Beetle steering wheel fitted with Wolfsburg horn button
-Sony CDX-F7715X AM/FM CD with XM receiver
-Alpine 300 Watt amp
-2 6 1/2" Kickers (front)
-2 6x9" Kickers (rear)
-2 12" Sony Xplod 1200W Subwoofers (rear)
-Custom made speaker box enclosure
-Custom decklid emblem
-Custom discontinued carbon fiber firewall (Airkewld.com)
-OEM Hella lenses
Vote

This challenge has ended!
| Points for "Ashley" | Total Votes | Points for The Snot Rocket |
| --- | --- | --- |
| 63 | 22 | 47 |
Cars > Challenges > ""Ashley"" Vs "The Snot Rocket"