Cars > Challenges > ""Ashley"" Vs "BumbleBee"
CorvairJim
M–55
Norristown, Pennsylvania
United States
4tun8
M–38

1966 Chevrolet Corvair Monza
""Ashley""
2003 Mitsubishi Lancer Evolution GSR
"BumbleBee"
Head to Head
About ""Ashley""
Back in 2000, I had the misfortune to have to take a prescription that meant I couldn't drive. I sold the daily car I had at that point (one plain-Jane black 5-speed Cavalier coupe - a transportation appliance at best). A couple of years went by, and I changed doctors. The new guy prescribed something different for my condition, so I needed wheels once again. I could: A) spend $4,500 on a cheap used car that would just blend into the woodwork or, B) Find a really decent Corvair set up the way I like it. Now THAT car doesn't blend in. I found this '66 Corvair in Denver, CO, on eBay. The engine had been rebuilt by a nationally-known Corvair specialist shortly before the previous owner put it into storage for about ten years. It came out of the rebuild capable of putting 220 horsepower down to the pavement. Not bad for 164 unblown, carbureted cubic inches! It also had new tires all around. I won the auction, and flew out with my wife to drive it home. A fantastic road trip, and it cost half as much as shipping it would have. It became my daily driver for the next three years, until, in late '05, I had it in for state inspection at a friends Corvair restoration shop. While it was up on the lift, I got to see just how little rust the car had underneath. I decided at that point that it had seen its last winter of Pennsylvania road salt! It is now my nice spring day car, and a pleasure to drive. It still draws attention wherever I go with it.

UPDATE: I had to sell my beloved Ashley in August of 2009 due to the nation's lousy economy. My overtime had gone away and and my wife lost her job due to a work-related disability that they refused to accept responsibility for, so we just couldn't justify the expense of nearly $100/month to insure the third car in a two-driver household. Our mortgage was a couple of months behind, so sadly I took a friend up on his standing offer on her. As promised, he has given her the complete cosmetic restoration she so badly deserved. Of course, she didn't need anything mechanically - I always kept her up 100% mechanically. Furthermore, he gave me right of first refusal, so if he should ever decide to sell her, I get the first opportunity to buy her back.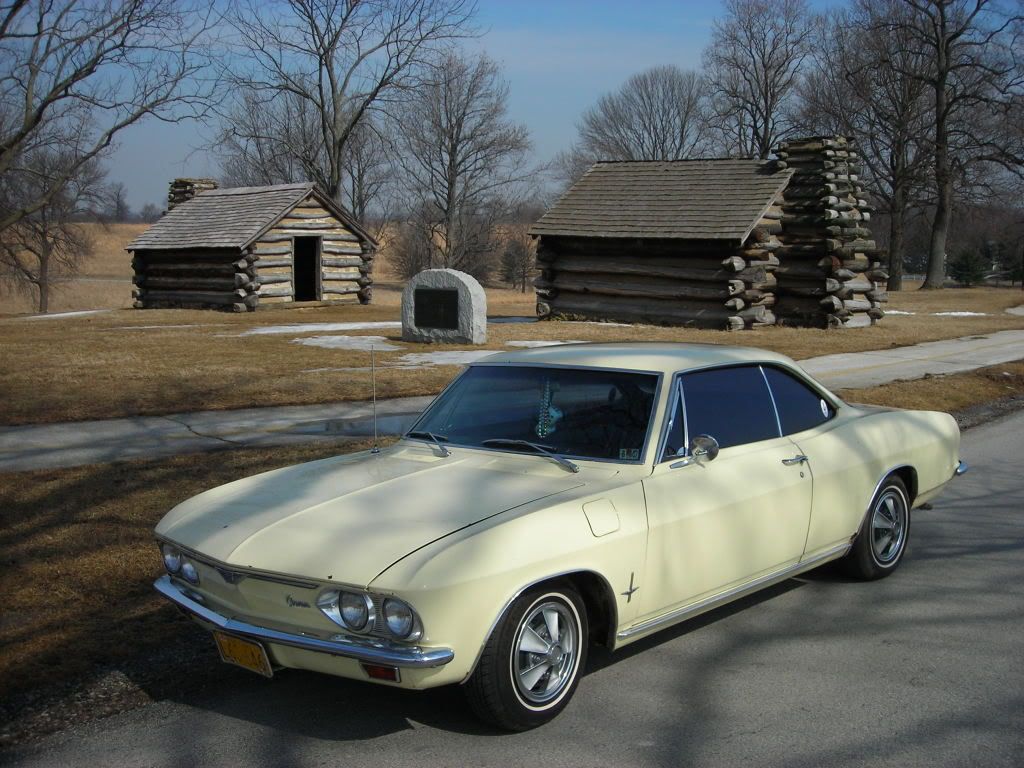 About "BumbleBee"
Purchased bone stock down to the paper filter in Jan 2003, has been heavily modified since. Including a big turbo and alcohol injection
Specs for ""Ashley""
1966 Corvair Monza Sport Coupe
164 C.I.D. Opposed 6-cylinder engine, air cooled.
Lemonwood Yellow paint, Black interior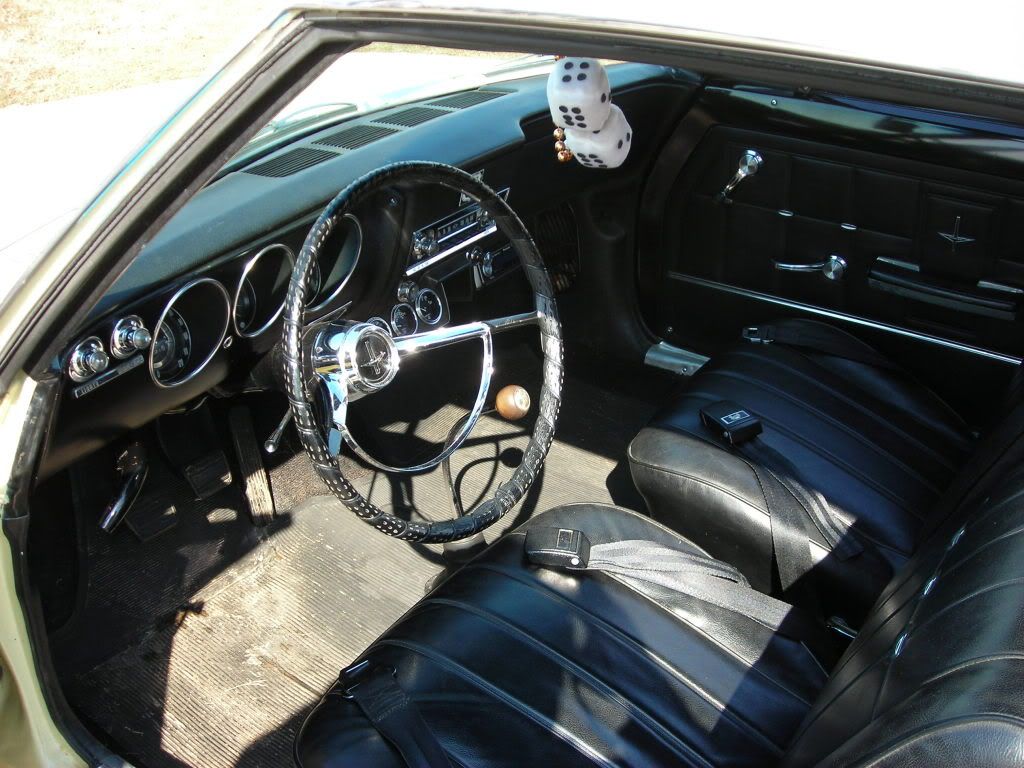 Specs for "BumbleBee"
2.0L 4g63 stock engine
4 cylinders 3 diamonds 2 liters 1 turbo
420hp/373ft-lbs on mustang dyno
11.8@118
Factory Options for ""Ashley""
(All options verified by build sheet)
140 horsepower, 4 carb engine
4-speed transaxle
Posi rear
Sport Suspension
"Mag-Style" full wheel covers
AM pushbutton radio
Factory Options for "BumbleBee"
Sunroof
Mods for ""Ashley""
Engine rebuilt to Yenko Stinger Stage III specs - 220 net horsepower.
Suspension lowered 1 coil.
Gas shocks
Steering Dampener
Low-restriction intake and exhaust.
Full window tint.
Tail panel painted silver (like the factory did with the Corvair Corsa model).
AM/FM/CD/Stereo unit mounted under the dash - NO holes cut or drilled for the installation!
Additional gauges (Tachometer, Voltmeter, Oil Pressure, Oil Temperature)
Pennsylvania Vanity Plate "CORVA1R"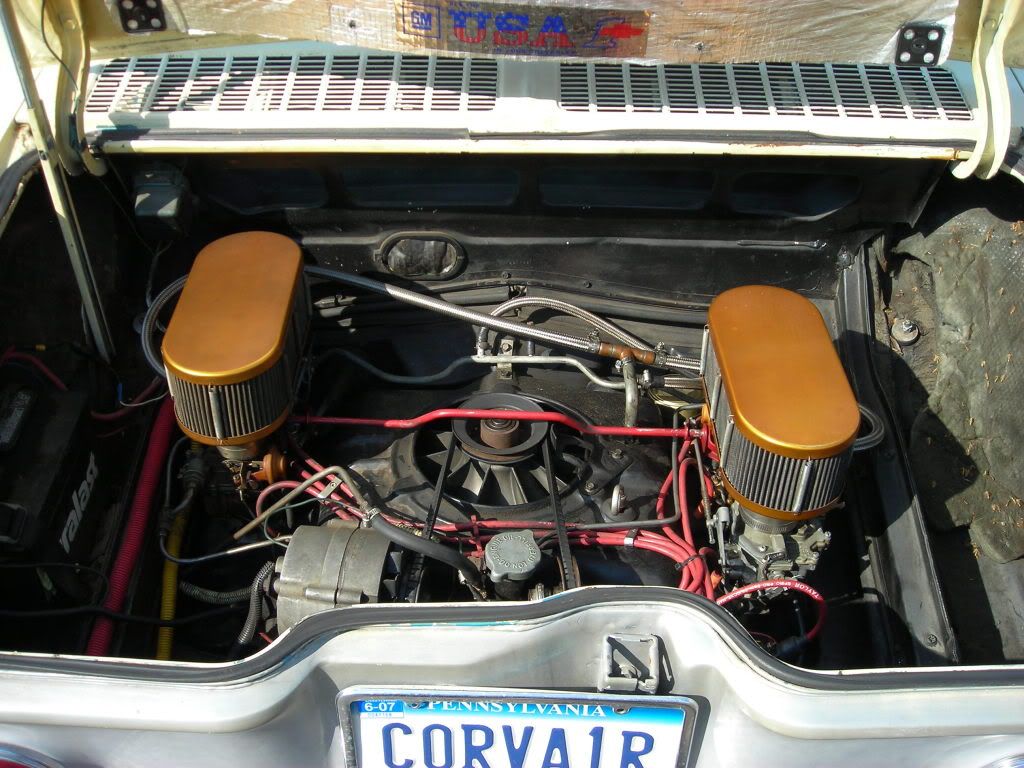 Mods for "BumbleBee"
Blouch Dominator 3.5 Turbo
TurboTrix Manifold
TurboTrix Intercooler Pipes
ECU Flash tuning (self tuned)
HKS 272 Cams
Halman Manual Boost Controller
AEM Wideband
AutoMeter Boost Gauge
SMC Alcohol injection w/ 100% methanol
255l/ph Walboro fuel pump
Precision 880cc injectors
TurboXs 3inch Turbo back exhaust
Ebay intercooler

Rota Torque 17x8 wheels
Seibon Carbon fiber hood
Seibon Carbon fiber trunk
Carbon fiber lip
Brembo Brakes repainted
Avon Tech M500 245/45/17 tires
2 step set at 6500rpm building ~12psi
33psi of boost on 93 octane w/ meth
Vote

This challenge has ended!
| Points for "Ashley" | Total Votes | Points for BumbleBee |
| --- | --- | --- |
| 60 | 20 | 40 |
Cars > Challenges > ""Ashley"" Vs "BumbleBee"