Cars > Challenges > ""PLumCrAZy"" Vs "70 Vert"
BADDAWG
M
Hopkinsville, Kentucky
United States
70XR7Vert
M–48
Avon, Indiana
United States
1979 Chevrolet El Camino
""PLumCrAZy""
1970 Mercury Cougar XR7 Convertible
"70 Vert"
Head to Head
About ""PLumCrAZy""
I Traded A 1979 GMC pickup for this EL Camino . Pickup was in geat shape , was just tired of it . Son Name it PLUMCRAZY because of the color . Its a work in progresss , Its got a Builded 350 engine thats so much has been done to it , Im not going into it here .But it will run like a scalded Dog . Its almost Done , Tranny is an auto. which I dont like and may be changed .It will Blow my MONTE off the road . Only thing I have to do to finish her is Window seals needs to be replaced and I want to to put fresh paint on her . Interior is perfect except someone liked sterio better then me and tore up dash stealing it. I have to find a new Dash . also I would like to put a 79 front end back on her ,other owner replaced it with a 83 model . I would like to find a 79 Lungna front end .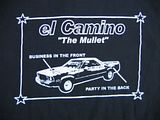 About "70 Vert"
This car was built Sept '69 and was the dealer floor model at a Palm Beach FL dealer until it sold in Feb of '71.

I purchased this summer in Garner NC with intention to restore to original glory without removing all the patina from age. The odometer shows 64000 miles and has original interior.
Specs for ""PLumCrAZy""
350 built Motor , auto TRANS ,Idont like . Engne Is putting out somewhere around 450 HP
Specs for "70 Vert"
351 Windsor, FMX 3 speed automatic transmission,
Factory Options for ""PLumCrAZy""
PLAIN JANE ,BUT WILL BE A SS CLONE WHEN FINISHED
Factory Options for "70 Vert"
Factory air, tilt steering wheel, PS, PB, Leather trim interior, power top. Originally had glass rear window and wire spoke hubcaps. Light Lime yellow is the original paint color and Medium green interior color.
1 of 40 in paint and trim
Vote

This challenge has ended!
| Points for "PLumCrAZy" | Total Votes | Points for 70 Vert |
| --- | --- | --- |
| 35 | 10 | 15 |
Download Drive Magazine Now!



Cars > Challenges > ""PLumCrAZy"" Vs "70 Vert"