Cars > Challenges > ""PLumCrAZy"" Vs "The Base"
BADDAWG
M
Hopkinsville, Kentucky
United States
Baims
M–29
Ames, Iowa
United States
1979 Chevrolet El Camino
""PLumCrAZy""
1991 Chevrolet Beretta
"The Base"
Head to Head
About ""PLumCrAZy""
I Traded A 1979 GMC pickup for this EL Camino . Pickup was in geat shape , was just tired of it . Son Name it PLUMCRAZY because of the color . Its a work in progresss , Its got a Builded 350 engine thats so much has been done to it , Im not going into it here .But it will run like a scalded Dog . Its almost Done , Tranny is an auto. which I dont like and may be changed .It will Blow my MONTE off the road . Only thing I have to do to finish her is Window seals needs to be replaced and I want to to put fresh paint on her . Interior is perfect except someone liked sterio better then me and tore up dash stealing it. I have to find a new Dash . also I would like to put a 79 front end back on her ,other owner replaced it with a 83 model . I would like to find a 79 Lungna front end .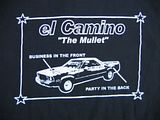 About "The Base"
Was my first car. Transformed from an uber base model to what it is now. Garnet exterior on garnet interior.

123,000 miles on the car and it still looks good 15 years later.

Hit 144.2 dB at a local stereo competition (2003).

MPFI conversion currently underway and should be completed in the spring. It started to get cold and I ran out of time to swap out the fuel pump and finish assembling the fuel rail, injectors, and rest of the accessories on the serpentine belt side. Once I know it runs fine N/A I'll immediately start on the boost project (all the parts are bought with the exception of a few small things and the wideband o2 sensor)

What I'm doing is the first of its kind into a Beretta (TBI to MPFI conversion, and then turboing a 2.2L). A dash and interior harness swap also accompanied the MPFI upgrade (because I swapped the engine bay wiring harnesses as well)
Specs for ""PLumCrAZy""
350 built Motor , auto TRANS ,Idont like . Engne Is putting out somewhere around 450 HP
Specs for "The Base"
Not fast, but handles extremely well thanks to the suspension work I did first. Equipped with a 2.2L TBI (only one fuel injector) with a poor intake manifold design. Stock ratings are 95hp and 120tq...whoopee. Oh, did I mention it's mated to a 3-speed automatic? It won't have this crappy setup for much longer though as I plan on upgrading to MPFI and doing a custom turbo setup on top of that.
Factory Options for ""PLumCrAZy""
PLAIN JANE ,BUT WILL BE A SS CLONE WHEN FINISHED
Factory Options for "The Base"
Automatic Transmission
Power Locks
Rear Defrost
Tilt
Mods for ""PLumCrAZy""
No modifications listed.
Mods for "The Base"
Factory Upgrades
Premium sunvisors
Center console with armrest/compartment
Power windows
GTZ cloned interior panels (door and rear -- they didn't make GTZ's with red interior...so I had mine reupholstered to match)
Intermittent wipers
Z26 seats
92+ domelight
~91 overhead console
Rearview mirror with maplights
Trunk carpeting
GTZ leather wrapped steering wheel
91 GTZ airbag (with red bowtie emblem)
Full gauge cluster (with tach, oil pressure, voltmeter, fuel, speedo, and tripometer)
Remote trunk release

Suspension Upgrades
GM strut tower brace
Polyurethane swaybar endlinks
Intrax lowering springs
KYB GR-2 struts
KYB Gas-a-Just shocks
Rear shock tower brace (modified GM front strut tower brace)
Z51 rear swaybar piggybacked onto an FE7 internal swaybar

Wheels/Tires
Enkei 5+ (17")
BFGoodrich G-Force Sports (225/45/17)

Appearance Upgrades
Clear Sidemarkers
Grand Prix leather shift knob
Carbon fiber (vinyl) trim pieces and accents
Indiglo gauges
Carbon fiber gauge overlay
Heater control overlay (black background with red letters)
Red heater control knobs (translucent)
Clear sidemarkers (front and rear)
94+ dark filler panels
Wetsanded/polished taillights and filler panel
GTU rear spoiler
'Z04' ground effects package
Clear front bumper lenses
Silverstar headlights and foglights
Window tint (50% door windows/5% rear windows)
Painted drums and calipers
Andonized red pedals

Stereo
Alpine CDA-7893 CD player
Alpine SPS-170A 6.5" speakers
Pioneer 3-way 6x9"s
AURA 6x50w RMS amp (for speakers)
DHD 1x900w RMS amp (for subs)
2 12" DHD flat-cone subs
Rockford Fosgate 4 gauge wiring
DHD 1 farad capacitor

Performance Upgrades
Stainless steel header
Nology hotwires
AC Delco Rapidfire spark plugs
Custom cold air intake
Flowmaster 40 series muffler
Catco high flow catalytic converter
Vote

This challenge has ended!
| Points for "PLumCrAZy" | Total Votes | Points for The Base |
| --- | --- | --- |
| 65 | 19 | 30 |
Download Drive Magazine Now!



Cars > Challenges > ""PLumCrAZy"" Vs "The Base"