Cars > Challenges > "FlashBack" Vs "Dreamweaver"
FlashBack
M
Hudson, Iowa
United States
Dreamweaver
M–51
Houston, Texas
United States
1979 Ford Fairmont Futura
"FlashBack"
1971 Chevrolet Vega
"Dreamweaver"
Head to Head
About "FlashBack"
This is the car we drag race. It is still curently licensed. We've run this car since 1991 with engines varying from a 351W to a 408W...the current engine is a 401W.

We bought the car in 1988 and stripped it down in two weeks...it took us three years to get it back together and to the track.

Counting the Points Series and the Fall Series we'd fininhed first 9 times and runner-upped another 4 or 5 times over the years bracket racing.
We now are concentrating on the NMCA and Midwest Open Comp Series events rather than the brackets....The PRO-TREE is much, much funner!!!!!!

We won an IHRA National event, an NMCA National event, and are looking forward to many more victories in the future!!!!!
About "Dreamweaver"
71 Vega with a 74 nose clip
565 BBC dart big M block
Canfield alumiun heads
Callies Mangum XL crank
JE pistons 15:1 compression
Alumiun rods
Profiler intake
1500 cfm Holley dominator custom built by S&S Racing
Jessel belt drive
Jessel shaft rockers
Dry sump system from over seas (ssshhhh)
moroso dry sump pan custom built by Moroso
BG 400 fuel pump
Denebear case powerglide
Pro tree trans brake
Dana 60 (5.88 pro gear set)
60" wheelie bars
Msd digital 7 ignition box
Hvc pro coil
Runs sub 5 second passes in the 1/8 mile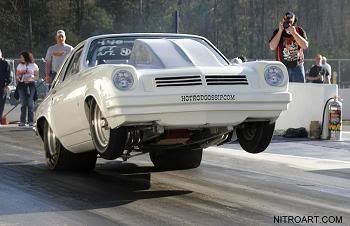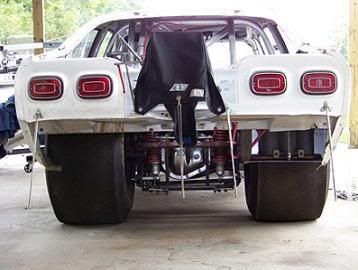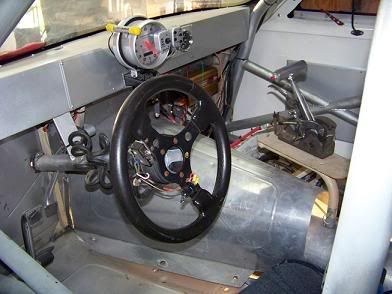 a true family affair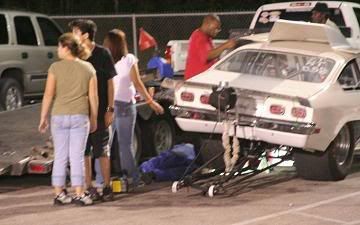 Specs for "FlashBack"
Dart 4.125 9.500Deck Iron Block
Eagle 4340 3.75" Steel Crank
Eagle 6.250 4340 H-Beam Rods
Diamond Racing Pistons 13:1
TFS StreetHeat Alum Heads
T&D Shaft Rockers
Edelbrock Super Vic Intake
HVH 2" Composite Spacer
950cfm Quick Fuel Technology Carb
MagnaFuel ProStar 500 Fuel Pump & Reg
MSD Ignition and Wires
Reactor Flexplate
PA Transmission C4 Tranny w/brake
PA/PTC 8" Torque Converter
DynoTech Driveshaft
HAL/QA1 Adj.Rear Shocks and Front Struts
HAL Front Tubular Crossmember
PA Racing Spindles and A-Arms
Moser Nodular Center Section
40 Spline Spool Extreme Axles
4.57 Gears
ChassisWorks Adj.Ladder Bars
Wilwood Brakes Front & Rear
Bogart D-10 Aluminum Rims
Mickey Thompson Tires Frt and Rear 24x4.5 / 29.5x10.5W
RJS SeatBelts / Window Net / Safety Jacket
Specs for "Dreamweaver"
565 ci
single carb
no power adders
powerglide /transbrake
dana 60 588 gear
Vote

This challenge has ended!
| Points for FlashBack | Total Votes | Points for Dreamweaver |
| --- | --- | --- |
| 28 | 10 | 22 |
Cars > Challenges > "FlashBack" Vs "Dreamweaver"