Cars > Challenges > "Gothica" Vs "95 s10"
DarrenWS6
M–29
Wellsboro, Pennsylvania
United States
chevyguy14
M–26
Lewistown, Pennsylvania
United States
2004 Ford F-150 Supercab XLT
"Gothica"
1995 Chevrolet s10
"95 s10"
Head to Head
About "Gothica"
This is my truck, 04 F150 Supercab XLT 5.4L. Its my daily driver, daily worker, and it does it all very well. Tows great, moves quick when needing to and very comfortable. Problem free truck, very happy with it. Always been a Ford man, gave the GM a chance, decided to stay true blue.

Things done



Line-X bed liner
Rear cats deleted
2.5" true dualed X piped exhaust with Magnaflow 11" body mufflers
4"x18" rolled Magnaflow tips
Bilstein 5100 Series leveling struts and rear shocks
20% tint all around
LED reverse and plate lights
Satin black Roush grill
Many exterior plastics re-painted satin black
Harley Davidson Headlamps
800CCA battery
20x9 XD Monster 778 wheels
33x12.5 Toyo Open Country Mud Terrains
PHP Custom 87 Octane performance and towing tune ( tuned by the great Bill Cohron, original in Ford tuning since 1996 ).
Wagner TQ Ceramic brakes
Painted Calipars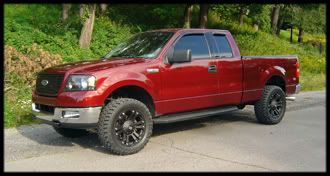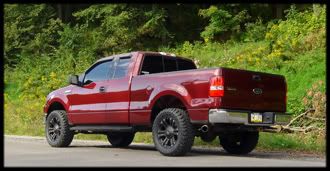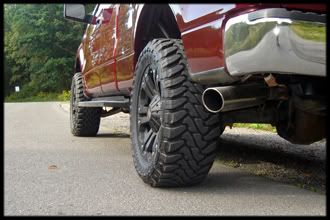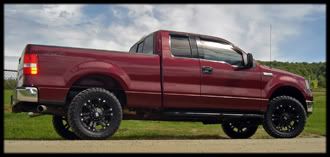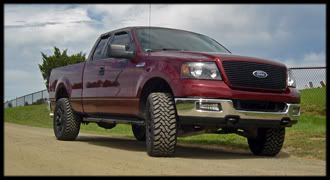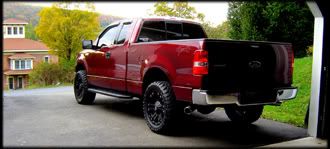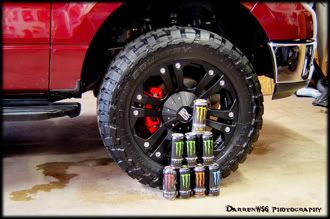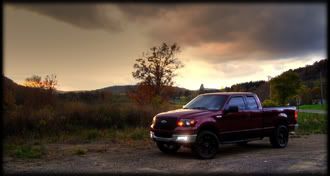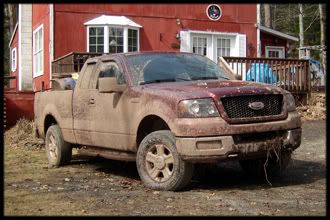 About "95 s10"
ive wanted this truck frr a verry very long time.. fianlly i got it and i redid the hole thing.. fixedthe rust and the dents and added some aftermarket extras along the way

its got 160,000 miles on it and besides basic tune up needs its needed no work to the drive train
Specs for "Gothica"
5.4L 3v Triton V8 330ci 24v

145 Wheelbase,

Flint cloth interior, 40/20/40 Front Bucket Seating, 60/40 Rear Bucket Seating.

Was assembled at the Flint, Virginia assembly plant on April 8th, 2004.
Specs for "95 s10"
it has a 2.2L with a 5 spd
120hp

130ft lbs of trq

i dont think thats that bad for only being a 4 cylinder
Factory Options for "Gothica"
Supercab, XLT Trim, 4wd, 5.4L Triton V8, 3.73 Limited Slip, 17" Wheels with 255/70/17 Tires, Standard running boards, 7 Pin Tow Pkg, 6 Disk In-Dash MP3.
Factory Options for "95 s10"
well.. its got power steering!! llol
Mods for "Gothica"
Line-X Bed Liner, Rear Cats Deleted, 2.5" True Dualed X pipe Exhaust with Magnaflow 11" Body Mufflers and 4x18 Rolled Tips, Bilstein 5100 Series Leveling Struts and Shocks, 20% Tint, LED reverse and plate lights, Satin black Roush grill, satin black, Harley Davidson Headlamps, PHP Custom 87 Performance tune ( tuned by the great Bill Cohron ). 20x9 XD Monster 778 wheels with 33x12.5 Toyo Open Country Mud Terrains, Wagner TQ Ceramic brakes, Painted calipars
Mods for "95 s10"
also i took the clutch fan off and put an electirc fan on it.. it runs cooler.. and has about 10 more hhp.. i recomened doing it too all your vehicles.. it makes a world of difference


chrome wheel well trim

cowl hood

15" centerlines.. 9 inches wide

street scence mirrors

slotted front marker and taillight covers

dual exhaust.. with a cheap emptied glasspack

billet grille inserts

billet bowtie

lowerd 4 in front and 5inch back with djm and belltech parts

beltech street performance shocks on all four corners

k&n cold air intake

limo tint on sides and back glass.... i like my privacy!.....

and ALOT of body work

doesnt seem like much.. but somehow i have 2500$ in it.. not including what i paid for the truck itsself
Vote

This challenge has ended!
| Points for Gothica | Total Votes | Points for 95 s10 |
| --- | --- | --- |
| 13 | 8 | 27 |
Cars > Challenges > "Gothica" Vs "95 s10"