Cars > WheelerDealer's Garage > ""Compendium""
1968 Dodge Charger Roadster Custom ("Compendium")
6 Give a trophy
Last updated Jul 24, 2011
About
68-69-70 Charger Roadster

Named "Compendium"

One-of-a-Kind

National Award Winner & Magazine Feature car



It was conceived and built by Scotlea Hot Rods in Nowata, Oklahoma
(www.scotlea.com). It is an all steel conversion - no fiberglass.


Details:

Body: The car is titled as a 1970 Charger, but has a 68 grill and taillight
panel, and 69 quarterpanels and fenders. The rear of the car is 3 inches wider
than stock - this was done by pulling the quarterpanels out 1.5 inches on each
side when they were installed. This allowed for an outer well tub, and a much
larger rear tire without modifying the frame or the trunk - which appears almost
completely stock. A larger rear spoiler was molded into the decklid and
extended to the edge of the quarters (all steel). A passenger side fuel filler
cap was added and is fully functional - you can fuel up from either side of the
car (or both if you are in a hurry). All the side glass has been eliminated,
and the openings welded shut and smoothed over into the upper door panels. Door
handles, locks, windshield wipers, and cowl vents were shaved. You open the
doors by reaching inside and using the inner door handles. The firewall was
extended out to eliminate the wiper motor indentation, and completely smoothed
over. Both front and rear bumpers have been smoothed (no bolts) and tucked into
the car. The subframes were connected with 2x2 square tubing, and 1 5/8 round
tubing was used to create a "cradle" to support the car and eliminate any flex.
You can jack up any corner of the car and still open the doors - it's that
stiff!! There is NO top - this is not a convertible - it's a roadster. A
custom made Califorina Car Covers - NOAH cover is included.

The underside of this car was completely coated in silver bedliner. Everything
under the car is detailed and painted to color match. The trunk is also coated
in silver bedliner.

Interior: The 1970 style interior was kept, but the color was changed to 1968
red. Legendary Auto Interiors created custom door panels without any window
roller holes. They also created the red seat covers for the stock front and
rear bench seats. 1970 was the only year a front bench seat was available! The
carpet is red marine grade. The floorboards were coated with bed liner, then
Dynamat Extreme, then carpet. The drain holes in the floor are still accessible
if needed. The seat foams were covered in plastic before the seat covers were
installed - this prevents the seats from soaking up any water. I have washed
this car, and it has been rained on twice - all you have to do is wipe it out
and you're ready to go. The dash contains both radio and heater delete plates,
no defrost vents, and has been painted matching red. The gauges are all
rebuilt, with new electronic fuel, voltage, temperature, and oil pressure gauges
in the stock location. Dash contains a new Ralley tach as well. The switch
holes for the wiper and washer have been filled and painted over. There are no
windshield wipers - there's no top so why bother.

Engine/Trans/Rearend: Engine is a Fuel Injected 383 with a mild cam. The
Retrotek fuel injection system is designed to look like a Holley carb, and fit
any 4150 intake manifold. It is fed by an electric fuel pump located near the
fuel tank. It was not designed for tons of power, and it has not been dyno'd.
Other than the cam, the only modifications to the engine are a new Weiand intake
manifold and headers. The headers are ceramic coated with Performachrome -
appears like chrome but won't discolor! Engine bay is charcoal, and the engine
is a body-matching silver. Gases exit through custom 2.5 inch dual exhaust and
Flowmaster 44 mufflers. All the exhaust is treated with heat-resistant paint.
This car sounds very tough and runs very nice - starts every time! An aluminum
radiator with a custom color-matched shroud keep things cool. The trans is a
727 automatic with a 3000 stall converter. Rearend is a 3.23 gear, non-posi
from an E-body (a little narrower than the B-body rear), with new Moser axles.

Tires/Wheels/Brakes: Wheels are custom Billet Specialties (17x6 front, 17x11
rear). Tires are 325/45-17 rear, and 235/50-17 front. Rear tires are M&H
Racemaster Drag Radials, and look awesome from the side or rear. They
completely fill the wheel well and are the biggest rear tire I've ever seen
under a Charger that wasn't rubbing or sticking out (all due to the extra 1.5
inches of rear width and the custom outer well tubs). Brakes are 4-wheel manual
disc. The front brakes are 1973 A-body conversion, the rear are SSBC
conversion. A Wilwood master cylinder controls pressure.

Paint/Body: The paint is a custom 2-tone Charcoal over Silver, with a 1/16 inch
red pinstripe between them. The grill has been blacked out, with the emblems
painted a matching body silver. The bumpers are also charcoal color. All
lights work, including the vacuum operated headlight doors! The
taillights/brake lights are super bright LED (23 leds in each one)!

Wiring/Plumbing: The wiring has been completely redone with a Painless Wiring
harness. The fuse block is now located above the drivers left foot. All of the
engine bay and front wiring has been hidden along the frame rail (notice that
the firewall does not contain a bulkhead anymore). All of the engine
electronics (ballast resistor, alternator regulator, electronic ignition,
starter relay) have been hidden under the battery tray. All of the car's
plumbing (brake and fuel lines) are completely custom and brand new.
Permanent Link to this Car

Download Drive Magazine Now!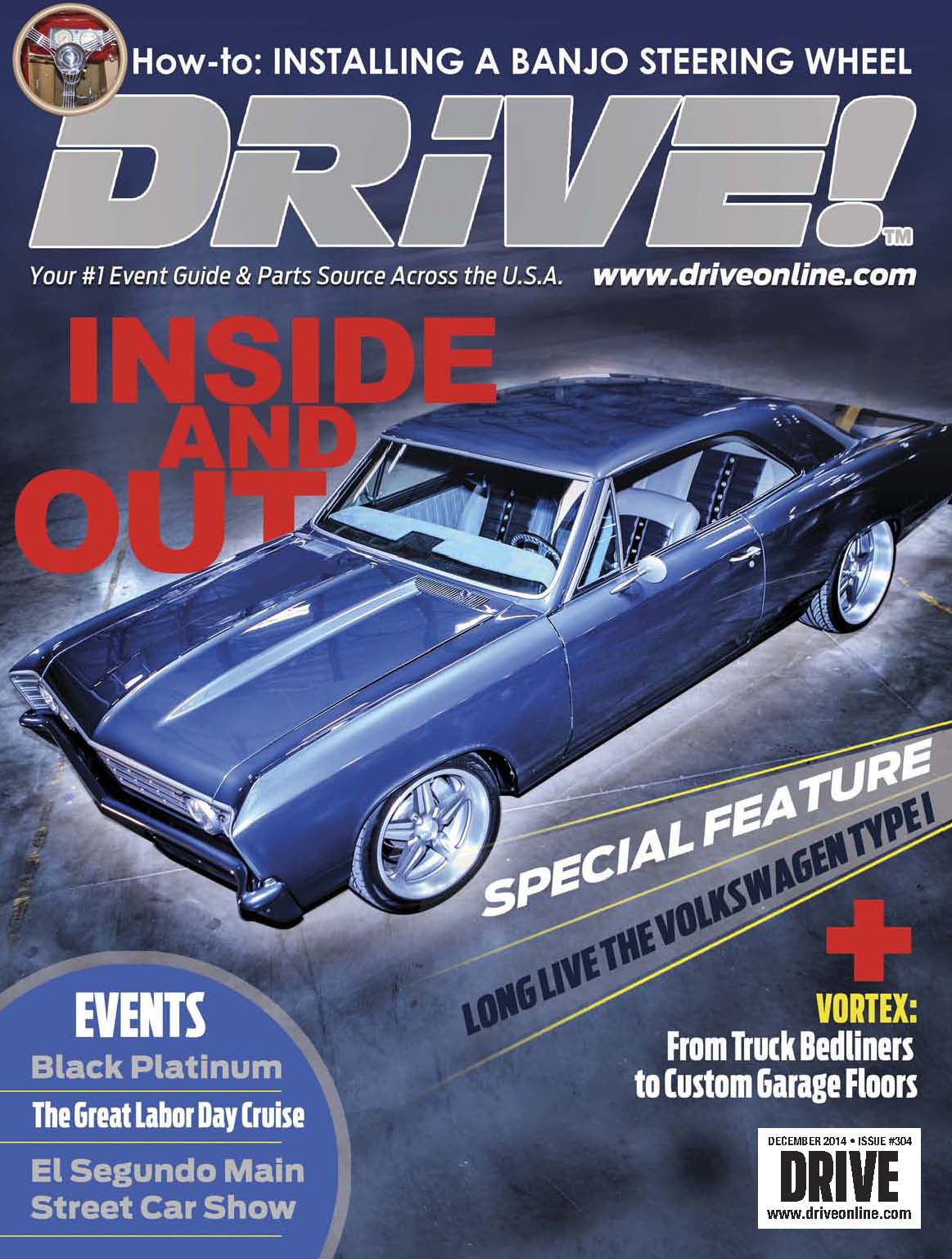 Cars > WheelerDealer's Garage > ""Compendium""