Cars > I275westcoastflorida's Garage > "Concorde"
1998 Chrysler Concorde LXi (Concorde)
Last updated Nov 6, 2008
About
Basically I bought this 1998 Concorde LXi and have been updating it since I bought it. I am the 2nd onwer after buying it from an older couple and it is in pretty good shape, only thing is the front bumper having chips and bug marks due to heavy highway use, it had 92,000 miles when I bought it. Now it has about 99200 after buying it in September 2007. Basically I'm still in the process of updating it, trying to get a luxury sport sedan out of it!! My goal is to eventually have on of the most unique Concorde's aroud, a car people can pull up to and think to themselves "what kind of car is that? Damn its nice!" I have a lot of ideas for this car and despite the nice economy and decreasing income I will keep spending on it. I like the progress I've made so far, I mean its gone from "Nice old people car! Haha!" to "Wow that looks great!" What can I say, I'm car crazy! Thanks for looking everyone!
Specs
Vehicle Dimensions
Specification 4-door sedan

Wheelbase, in. 113.0

Overall Length, in. 209.1

Overall Width, in. 74.5

Overall Height, in. 55.9

Curb Weight, lbs. 3446

Cargo Volume, cu. ft. 18.7

Standard Payload, lbs. --

Fuel Capacity, gals. 17.0

Seating Capacity 56

Front Head Room, in. 38.3

Max. Front Leg Room, in. 42.1

Rear Head Room, in. 37.2

Max. Rear Leg Room, in. 41.6

Specifications Key: NA = not available; "--" = measurement does not exist.
Powertrain Options and Availability
All Concordes had V6 engines, in a choice of two configurations. A dual-overhead-cam 2.7 liter V6, installed in the base LX model, produced 200 horsepower. Concordes with the upscale LXi package enjoyed a 225-horsepower, single-cam V6 with 3.2-liter displacement. All Concordes used a 4-speed automatic transmission. A 3.5-liter V6 replaced the 3.2 for 2002, and the introduction of a new Limited model added a 250-hp 3.5-liter V6 to the powertrain lineup.
Engines Size liters /
cu. in Horse- power Torque Transmission:
EPA city/hgwy Consumer Guide Observed

ohc V6 3.2 / 225+hp due to CAI 4-speed automatic: 19/29 4-speed automatic: 21

Specifications Key: NA = not available; "--" = measurement does not exist.
NHTSA Crash-Test Results
Test 1999 Concorde

Front Impact, Driver 4

Front Impact, Passenger 4

The National Highway Traffic Safety Administration (NHTSA) tests a vehicle's worthiness in front- and side-impact collisions and rates its resistance to rollovers. Front-impact crash-test numbers indicate the chance of serious injury: 5 = 10% or less; 4 = 10-20%; 3 = 20-35%; 2 = 35-45%; 1 = More than 45%. Side-impact crash-test numbers indicate: 5 = 5% or less; 4 = 6-10%; 3 = 11-20%; 2 = 21-25%; 1 = More than 26%. Rollover resistance numbers indicate the chance for rollover when the vehicle leaves the roadway: 5 = Less than 10%; 4 = 10-20%; 3 = 20-30%; 2 = 30-40%; 1 = More than 40%.
Built In: Canada
Drive Wheels: longitudinal front-engine/front-wheel drive
Factory Options
I am 2nd owner btw.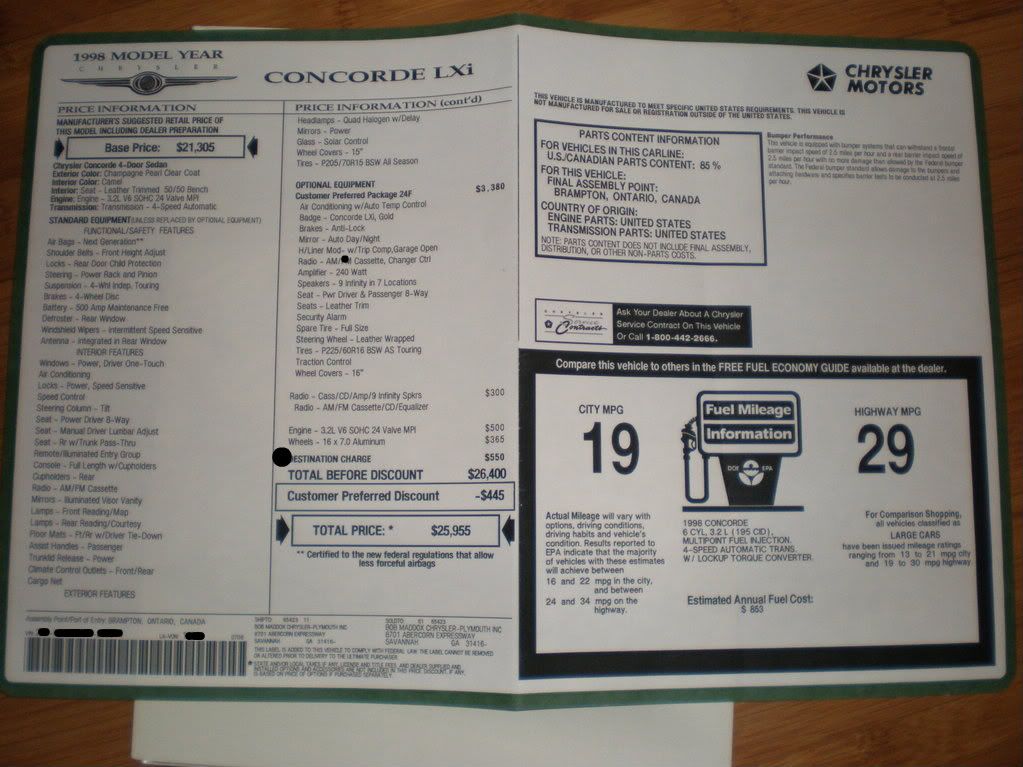 Mods
-Switched brake lights and turn position
-Spoiler Installed
-Swapped cluster
-Black Diamonds Headlights and turns
-New Falken Tires(old)
-Custom made grille
-Chrome switches
-Chrome door handles
-Interior LED's
-300M Special Sway Bar
-Daytime Running Lights
-Updated Keys
-Chrome 18" 300C rims with Nexens
-Tan A Pillars
-K&N Cold Air Intake FIPK
-Tan Fuse Box Cover/right side dash Cover
-4 Disc Changer
-Added Breather Filter
-Dual Exhaust
Browse Related Cars: i275westcoastflorida, chrysler, concorde, lxi
Permanent Link to this Car

Photo Albums and Videos

1 – 2 of 7
Cars > I275westcoastflorida's Garage > "Concorde"