Cars > rugedraw's Garage > "Jade"
Challenges

1 – 3 of 25
Challenges W: 4 L: 21
Past Challenges
Owner: Gypsy
Lula: 42 pts (

loss

)
Jade: 43 pts (

win

)
Total votes: 17
Ended: Aug 8, 2009
Owner: 87IROCCAMARO
I ROC U: 72 pts (

win

)
Jade: 38 pts (

loss

)
Total votes: 22
Ended: Aug 6, 2009
Owner: MustangGT58266
Stang: 74 pts (

win

)
Jade: 56 pts (

loss

)
Total votes: 26
Ended: Jan 23, 2009
2005 Ford Mustang GT (Jade)
Last updated Jun 16, 2009
About
Check me out on CarDomain.com for more pics and details on my car! http://www.ca.../ride/3097903

I was cyber-surfing when saw this car on AutoTrader.com; I wasn't in the market to buy a car at the time that I found it. It was so well priced, I went to the dealer to see it. I assumed something was wrong with it, but it looked and drove perfect. The guy said it had been sitting on the lot for months......apparently, no one liked the color. I ended up leaving with it the next day. I find out later on that this color (called Legend Lime by Ford) was only produced in 2005 and 2006. Out of 325,349 Mustangs made in those two years, only 13,827 (about 4%) were made in this color. Out of those 4%, only 5048 were GT's. So I decided to run with it and make it even more of a one of a kind car.

***NOTE: The first 3 pics show the new tail I added!***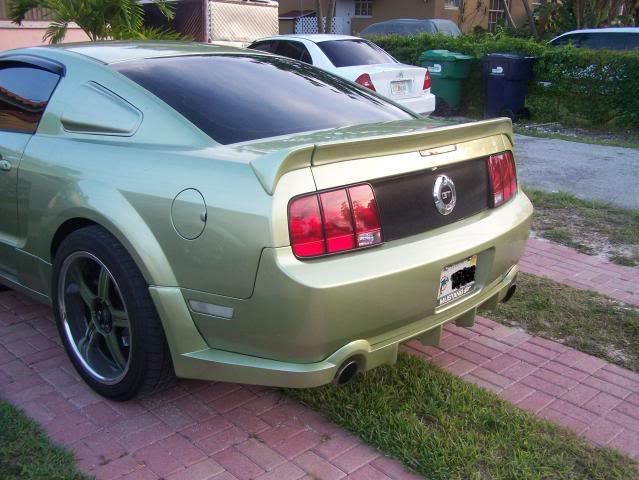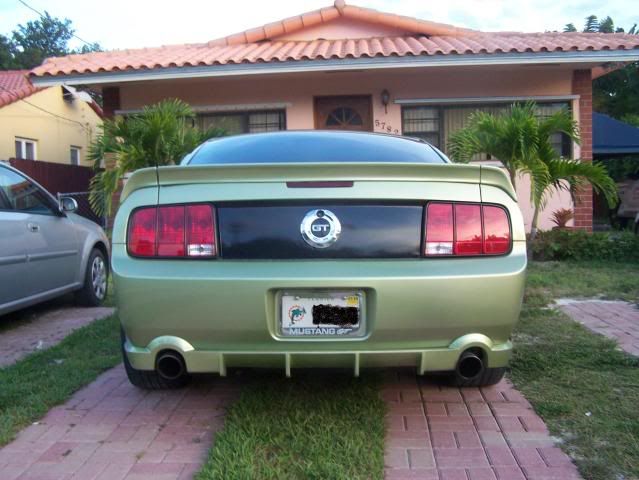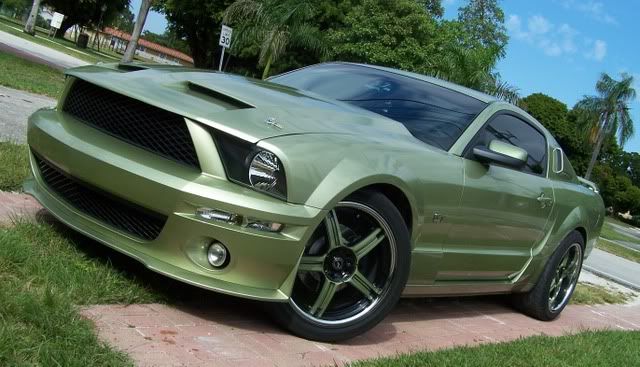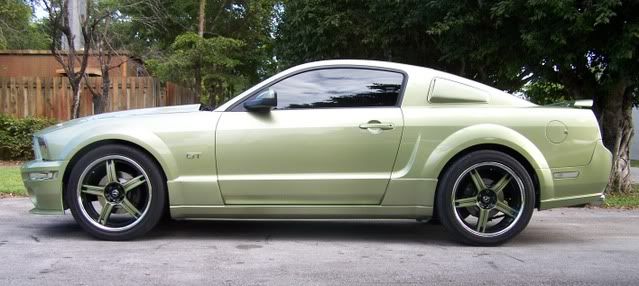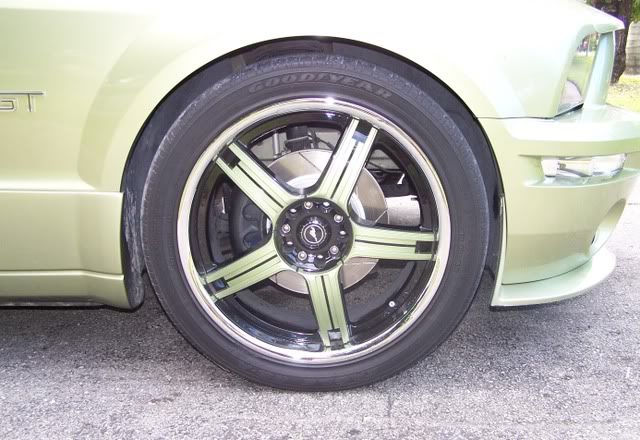 Specs
4.6L 3V aluminum V8 with a 5-speed Tremec. Stock, 300hp 320 lbs/ft torque and a 13.5 1/4 mile. Now with mods, 375hp+ with an estimated 12.7-12.8 1/4 mile. The nearest track is 100 miles away from me, and they have been closed for over a month doing renovations, so I haven't been able to clock her yet.

You can see a few engine dress up pieces: The billet strut tower caps, billet wind-shield washer fluid cap, billet fuse box cvoer, chrome oil breather, TB spacer and the Steeda CAI. I also added an Optima yellow top gel battery. I painted the under-drive pulleys in Lime to match the car, as well.


Factory Options
Black leather interior, 6-disc CD changer, Shaker 500 sound system, all power options. Billet aluminum interior pieces include: Cig lighter plug, headlights switch, radio volume knob, a/c controls, e-brake handle, door locks, seat adjustment buttons,cup holder insert, wiper & turn signal accents, power mirror button, shift boot trim, Roush billet shifter handle and shifter, and seat belt anchors.

Also, I have a Bel-Tronics Vector FX2 which measures g-forces, calculates 0-60, 1/4 mile, HP, and many other functions.


Mods
Exterior: GT500 front end conversion, California Dream functional ram-air fiberglass hood with billet aluminum hood pins, Xenon side skirts, Xenon tail, quarter window scoops, rear black-out panel, Street Scene rear valance, clear turn signals and clear rear side markers, partial painted mirror covers, black window tint, custom short antenna, and HID lighting.

Wheels are XXR 507 20x8.5 front and 20x10 rear. The wheels are black with a chrome lip and the removable pieces are color-matched to the car in Legend Lime. I changed the center caps to the "Pony" ones for a more authentic look.

Performance:

Steeda cold air intake
BamaChips 93 octane tunes via DiabloSport tuner
Steeda under-drive pulleys
AutoLite HT1 spark plugs
Throttle body spacer
Ceramic-coated headers
H-pipe without catalytic converters
FlowMaster axle-back mufflers
Hurst short throw shifter
CHE k-member brace with torque limiters
Adjustable upper and lower control arms
Ford Motor Sport 3.73 gears
Functional fiberglass ram-air hood
Power Slot slotted rotors front & rear
Hawks ceramic brake pads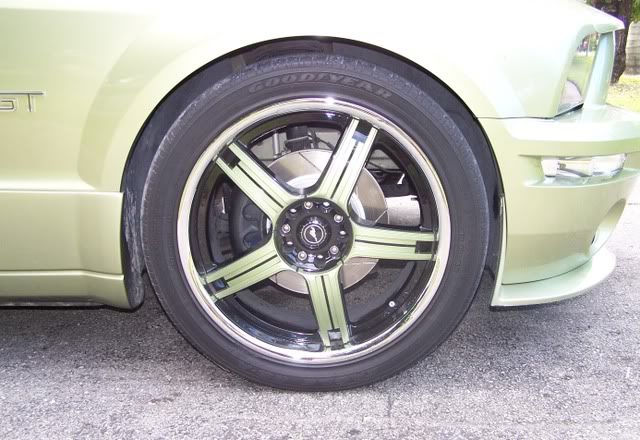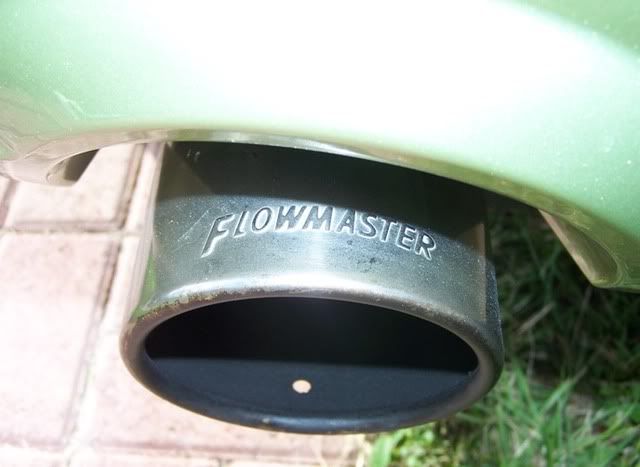 Browse Related Cars: ford, mustang, gt, coupe, v8, muscle, cobra, shelby, gt500
Permanent Link to this Car

Photo Albums and Videos

1 of 1
Cars > rugedraw's Garage > "Jade"