Cars > Challenges > "Boosted 89 V6 RS" Vs "LADY EVIL"
Boosted89RS
M–38
Sayreville, New Jersey
United States
lostindoom
M–43
Parry Sound, Ontario
Canada
1989 Chevrolet Camaro RS
"Boosted 89 V6 RS"
1983 Chevrolet Camaro z28
"LADY EVIL"
Head to Head
About "Boosted 89 V6 RS"
this car started life as a base model rs,nothing except power locks,ac and power trunk,it has been converted over to a full 1LE suspension and brake swap,with added stb and wonderbar.also swaped over were 16 inch iroc rims,iroc gauge cluster with 145 mph speedo,iroc tailights and steering wheel

the entire turbo system and some other parts like the stainless turbo headers/custom intake manifold etc were all hand made by me. so far the car is about 2 years in the making,and still a long way off from being done.

the last motor put down 412 hp @ 18 psi,the new motor going in in the next week or so has heads that flow around 40-50 cfm better then the old heads,and a more aggressive turbo cam,not to mention the addition of a much larger turbocharger,and direct port ethanol injection system, looking to put down around 550 hp,and put the car into the low 11's/high 10's
About "LADY EVIL"
350 small block, 650 edelbrock carb, t roof, 5 speed, centerline rims, black tinted windows, i just customized the interior, re covered the head cover, new seats, new black and blue carpet, sunvisors, more pics to come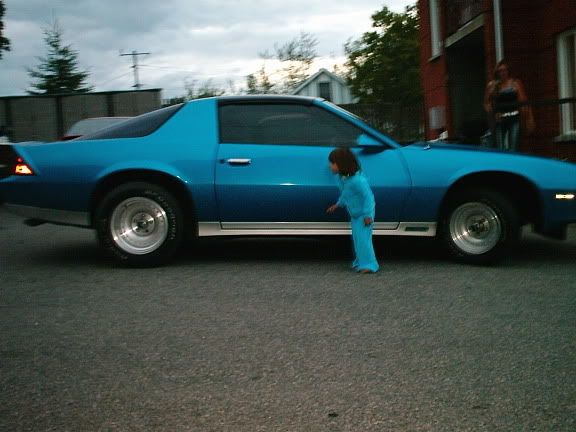 Specs for "Boosted 89 V6 RS"
135 hp 2.8L V6
4 speed auto
3:42 rear gears
Specs for "LADY EVIL"
No specifications listed.
Factory Options for "Boosted 89 V6 RS"
power locks,trunk and ac
Factory Options for "LADY EVIL"
No factory options listed.
Mods for "Boosted 89 V6 RS"
2.8 swaped out to a .080 over bored 3.1L 60 degree V6(3.3L)
forged rod /crank,
custom .080 pistons
tci 10 inch 4,000 stall converter.4:10 rear gears
mega squirt engine management system,
custom direct port alky injection
a 35 wet shot of nitrous.
fully ported heads
custom turbo cam
custom made intake manifold.
single T04E stage 3 57 trim turbo
and custom stainless turbo headers

comming soon is a garret gt40r ball bearing turbo and a 5,000 stall converter
Mods for "LADY EVIL"
just did a costom interior, new rims, new stero,seats,
Vote

This challenge has ended!
| Points for Boosted 89 V6 RS | Total Votes | Points for LADY EVIL |
| --- | --- | --- |
| 20 | 5 | 5 |
Cars > Challenges > "Boosted 89 V6 RS" Vs "LADY EVIL"