Cars > Challenges > "The Shark" Vs "MUAHAHA!"
bosimao
M
Shenzhen, Guangdong
China
heliskiier
M–55
Charlotte, North Carolina
United States
1988 Porsche 928 S4
"The Shark"
2000 Chevrolet Camaro SS Convertible #2112
"MUAHAHA!"
Head to Head
About "The Shark"
Black w/ black and yellow leather. 50K original miles. (I bought it 4 years ago in PA with 18K and wanted to keep the mileage low but I couldn't stop driving!)

Manuel down shift trigger under the gas pedal. Automatic air speed controlled flaps in the grill to help limit drag and improve handling at speed. Rear wing for down pressure. Mid-front engine, mid-rear trans for almost 50/50 balance. The battery is in the bottom of the trunk area under the spare tire which is under the cargo area so it acts as a ballast making it a little bit closer to 50/50 and lowering the center of gravity a smidge. Weissachs suspension that causes the rear wheels to camber like a down hill skier during cornering-(passive streering.) Aluminum alloy body- never rusts. Seats 4 + room for luggage. (Back seats fold down independently.)
About "MUAHAHA!"
Wow! I found this car last summer with 25,009 miles on the ticker with SLP sticker options. She's clean as can be and fast. I've done a bit of updating and she's one beautiful Convertible!!!!

MUAHAHA!!!! "Too much of Everything...Is just Enough!"

29k miles Arctic White Convertible, SS #2112, Borla Catback, LS6 Intake, Air-EGR Delete, Koni SA Shox all 4 Corners with Strano Spec Adjsutments, Lowered 1", Crossdrilled/Slotted Rotors, Full SS Trim, SLP Flo-Pak Ram Air, Red-Top Battery, UMI Performance LCA's and Panhard, 35mm Suspension Tech Sway Front, SLP Strut Tower Brace, SLP Grille, Clear Corner Marker Lites, HID Headlites, PCMforless.com tune, Custom Brake Caliper Paint, MacEwen Motorsports Gauge Bezel and White Face Overlays with Red Dash lites.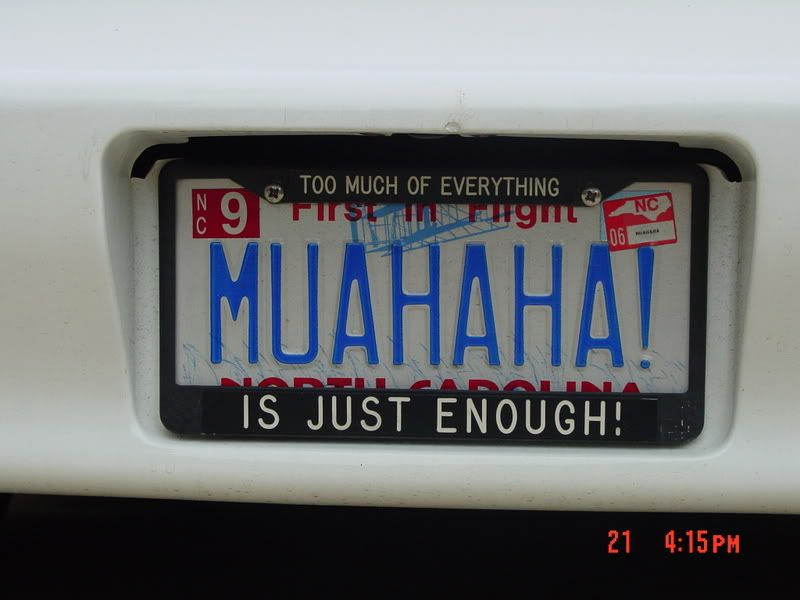 Specs for "The Shark"
5.0 liter, 32 valve, fuel injected all aluminum V8. 4 speed auto. One second = +10mph from any speed to any speed up to 155 when it shifts to 4th. Top speed 180+. Corners? What corners? All's you feel are the Gs.
Specs for "MUAHAHA!"
No specifications listed.
Factory Options for "The Shark"
Most options were stardard. Some exceptions were heated seats, lumbar control and a rear air-conditioner which it doesn't have.

Does have: ABS, adjustable stearing wheel position and the gauge cluster moves with the wheel so they can be viewed from any position, 8 speaker stereo.
Everything is power- windows, mirrors, seats (5 way w/ memory), sunroof, hatch release.

A/C, cruise control, driving lights, rear wiper, rear defrost, separate interior lights for front, rear, hatch plus driver and passenger map lights, glove box light, engine compartment light and door end safety lights, tool kit and electric tire pump.
Factory Options for "MUAHAHA!"
See above
Vote

This challenge has ended!
| Points for The Shark | Total Votes | Points for MUAHAHA! |
| --- | --- | --- |
| 42 | 12 | 18 |
Cars > Challenges > "The Shark" Vs "MUAHAHA!"