Cars > Challenges > "#Confused Then" Vs "my baby"
ROLNGTZ
M
Smithton, Illinios
United States
scott_H
M–29
Gainesville, Georgia
United States
1991 Chevrolet Beretta GTZ
"#Confused Then"
2002 Dodge Neon same color as car
"my baby"
Head to Head
About "#Confused Then"
Bought the car new in '91. First new car. i had aftermarket wheels and a a big stereo. Had the inserts in the seats and door panels tweed in purple. I started showing it '98. Took a few seconds and thirds. Hard to place in most shows. At the time, there were no "sport-compact" classes. So I entered under "street-machine" or "sportcars" classes. Winter of 2000, I had the custom paint job done and wing added. I did much better at many of the shows. Started winning my class and placing at every show i entered.

The currently is all white with a 3800sc in it. I decided to do two entries on the car. Now and then.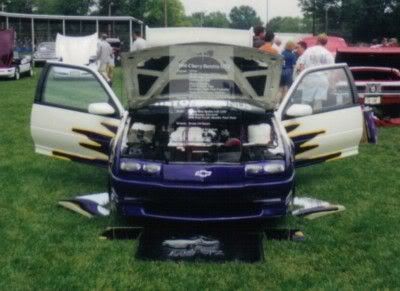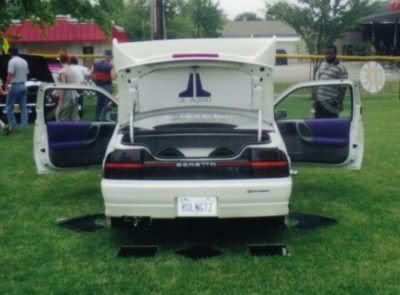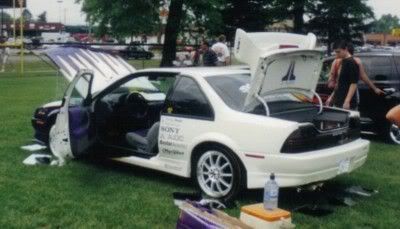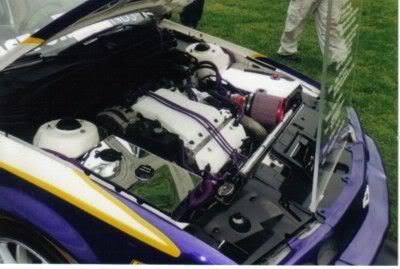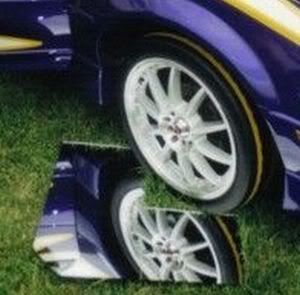 About "my baby"
this car has turbos,superchargers,a sound system and a cool air intake this bitch will leave in a heart beat.....
Specs for "#Confused Then"
3.1 v6 140 horses stock
Best 1/4 mile time of 17.068sec @ 76.92mph
Specs for "my baby"
While at Nopi Nationals in Atlanta, GA I picked up a new pair of seats for the car. I think they fit the over all clean look of the car. They are Corbeau Legacy Black Suede Racing Seats. After talking to the Corbeau rep, it looks like I'm getting sponsored.

Just a little update; I just got a few extra parts to hopefuly complete this project. In the next few weeks I should have the Neon running again after two years. Once I get the car running its off the Extreme Motorsports for some basic tunning. From there to GW Collision for some new paint and then to Speedesign Graphics for vynal graphics. After the car has a few miles on it, it'll go back to Extreme Motorsports for a retune and then the Neon will be good to go. So again, stay tuned. It's almost done!

November 14, 2006, marks the offical re-birth of the R/T. After three days of hell trying to figure out why the car wouldn't start, she finally did. It's one of the greatest feelings in the world to have completed a project like this. I never thought this day would come. Some might say putting $30K into a Neon isnt worth it, but I disagree. All my hard work has paid off. Now, I'm not finished yet, there are many little things I need to take care of first. So stay tuned!

August 03, 2007: The neon still sits. I havent done much of anything for quite awhile. I just recived alot of carbon fiber interior parts that I've been wainting for since last last October. A few months ago I got a AllMotorMike turbo intake manifold, its installed but now I need to weld up some new boost pipes. Wilwood brakes are installed along with a new timing belt and pulley. Again, she isnt finished yet and I have no completion date. She'll be done when shes done. Meanwhile, life is great when I get to drive my '06 Charger R/T.

September 23, 2007: The neon was started today. After almost a year since the last start up she still sounds mean as hell. A bunch of friends came over to help me work on the car. We got a lot done I think. In a few weeks I'll be able to drive her. It's been well over 3 years since the last time. I wont be "boosting" her so to speak. The turbo is there, just not all the boost pipes. So for now, the turbo will be running "open". This will give me some time to break in the engine and save some money to get the rest of the the pipes made and a good tune. Then she would just need a fresh coat of paint. I'll try to have some new pics up soon.
Factory Options for "#Confused Then"
power locks
power windows
cruise
tilt
cassette deck
automatic
power trunk release
16' wheels
sport suspension
z06 ground effects
Factory Options for "my baby"
all it came with factory is a four cylender some rims and the body was alright but it is beeter now that I have put money into it well holla
Mods for "#Confused Then"
ENGINE BAY:
Dressed 3.1 with mirrors and purple wireloom
underside of hood mirrered
2 purple neons on motor
PERFORMANCE:
CAI
2 1/2' exhaust
highflow cat
Tsudo muffler stainless steel
STEREO:
PPI 2300 & 4400
Sony CD player headunit
JLAudio highs & mids
two JLAudio 12W6 subs
EXTERIOR:
fiberglass wing with third brake light
custom purplr metallc pearl paint
purple underbody neon light kit
INTERIOR:
purple dash inserts
purple tweed seat & door panels
purple Grant steering wheeel
purple Max Speed gearshifter
purple neon light in reardeck
WHEELS & TIRES:
17' Prime 134 Tuners
215/35/17 BFG Scorchers with yellow stripe
Mods for "my baby"
so far I have put gages in it got it running again and out rims on it the best thing that I have done was put a sound system in it well it was the first thing I did I got the system than put rims on it than paint than gages than turbo coolair intake and supercharger well than I put seats in it well now I am getting neon put in and under it
Vote

This challenge has ended!
| Points for #Confused Then | Total Votes | Points for my baby |
| --- | --- | --- |
| 36 | 12 | 24 |
Cars > Challenges > "#Confused Then" Vs "my baby"