Cars > Challenges > "#Flo" Vs "KITT-Wheel"
ROLNGTZ
M
Smithton, Illinios
United States
Benz80Z
M–39

2006 Cadillac Escalade
"#Flo"
1984 Hasbro Big Wheel Single Seater
"KITT-Wheel"
Head to Head
About "#Flo"
Daughter Power Wheels Escalade. Gift from Santa in 2006. She named "Flo". After the waitress in the Disney movie "Cars". Only mod, restrictor screw to overdrive removed. It will move. I have to run to keep up with her.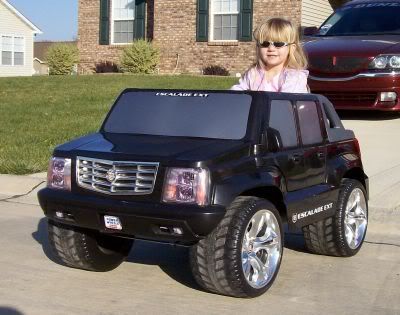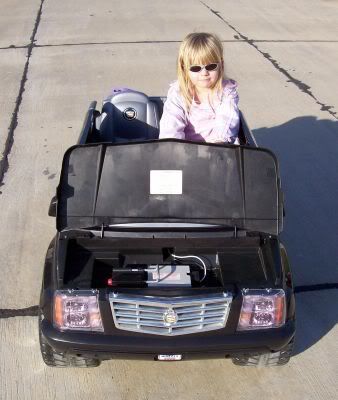 About "KITT-Wheel"
This circa '84 Knight Rider edition Big Wheel is all-original and has never been restored. It's probably logged around 1,000 miles (not sure of the actual mileage the odometer never worked!). I've owned it since it was new with no major maintenance, but unfortunately cannot ride any longer for I am now nearly 6 foot tall / 200lbs.
Specs for "#Flo"
3 speed
2 wheel drive
AM/FM radio
2 massive 6" subs
Amps 4 "D" batteries
12v Battery
Specs for "KITT-Wheel"
No specifications listed.
Factory Options for "#Flo"
convertible
chrome rims
seatbelts
cup-holder
Factory Options for "KITT-Wheel"
Stickers, lots of pealing stickers. Also a sporty right-hand brake.
Photo Albums
ROLNGTZ has no Car photo albums.
Vote

This challenge has ended!
| Points for #Flo | Total Votes | Points for KITT-Wheel |
| --- | --- | --- |
| 111 | 29 | 34 |
Cars > Challenges > "#Flo" Vs "KITT-Wheel"