Cars > Challenges > "? Lucky ?" Vs "NATA"
orange82
M
Beckley, West Virginia
United States
LrngCrv
M–34
Pusan, Pusan
Korea (South)
1982 Chevrolet Corvette Coupe
"? Lucky ?"
1999 Pontiac Firebird TransAm
"NATA"
Head to Head
About "? Lucky ?"
I bought this vette in 2005. I have always wanted one. It was fun working on it, finding different parts needed to improve performance and looks. I wanted it to look different from any other 82. The color looks orange in the daytime and red at nite. 2 good friends, ( Larry & Rodney), helped me to get it where it is today. I really enjoy driving it on cruises and I show it at cars shows. I have received many trophies including Best GM, Ladies Choice, Best 80's, and Best 80's Corvette along with the Top 50's ect. I like going to shows, hanging with the other guy's, seeing there cool cars and getting different ideas from other 82 vettes on how to improve mine. I love driving it.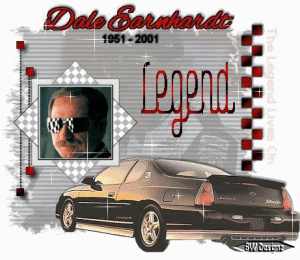 About "NATA"
I have always been an F-body and GM small block fan.

This is my 3rd F-body with the others being Camaros.

Clicky




My car is my shepherd;
I shall not want.
It maketh me burnout on black pavements;
It leadeth me beside busy freeways.
It restoreth my soul;
It leads me in the path of quickness
For it's name sake.

Yea, though I walk through the velley of rice and imports,
I shall fear no turbo; for Torque art with me;
Thy rod and Thy piston, they comfort me.

Thou preparest a track before me
in the presence of mine enemies;
Though hast anointed my bearings with oil;
My car overpowers.
Surely traction and victory shall follow me
All the days of my life;
And I shall dwell in the house of the V8
Forever.

Amen.
Specs for "? Lucky ?"
5.7 liter 350 Crossfire Injection engine, 200+ HP, 4 Speed Automatic.
Specs for "NATA"
493 bhp
419 rwhp
Factory Options for "? Lucky ?"
AC, Power windows, Power Door Locks, Power Mirors, Power Stering, Power 4 wheel disc brakes, Power antenna, Intermittent windshield wipers, Rear window defogger, tilt-telescopic sterring, Passenger Illum. Visor vanity miror, Removable Mirror T-Tops, Six-way power drivers seat.
Factory Options for "NATA"
346 ci LS1 V8
T-56 6-speed manual transmission
Torsen II limited-slip differential
78mm Throttle Body
Antilock brakes
Traction control system
16.8 gallon fuel tank
Dual airbags
Power windows
Power seats
Cruise Control
etc...
Mods for "? Lucky ?"
Daytona Nose, Side and back ground effects, Rear spoiler, Rear window louver, Twin NACA Duct Hi Rise Turbo Hood, SE Side Fender Louvers, American Racing 17" Torque Thrust Aluminum Wheels, Under car Light kit, White face guages with blue lights and carbon fiber surround, Monza Duel tip mufflers, Carbon Fiber Strips. Engine Chrome Parts: Alternator, Power Booster and Master Cylinder, Power Stering Pump, Valve Covers, upper & lower heater hoses. Aluminum Parts: Pulleys, Hi-Flow Water Pump and Fan.
Mods for "NATA"
Valvetrain
-Camshaft (Custom Grind)
-Comp Cams Hardened Pushrods
-Comp Cams Retainers
-Comp Cams Lifters
-Patriot Gold Valvesprings
-LS2 Timing Chain

Drivetrain
-Moser 12 Bolt Rear End
-4.11 Moser Ring & Pinion Gears
-Auburn Limited Slip (Posi) Differential
-Moser Housing
-Moser Axles
-B&M Short Throw Shifter
-SPEC Stage 3+ Clutch
-SPEC Billet Steel Flywheel
-New Clutch Hydraulics

Exhaust
-Flowtech Coated Longtube Headers
-2.5'' True Dual Pipes all the way back
-Borla X-Pipe
-Dual Borla High-Flow Mufflers
-Catalytic Converter Delete
-EGR Removed
-3'' Chrome Tips

Intake
-LS6 Intake Manifold
-MTI Transparent Cold Air Lid
-Green Performance Filter
-De-screened MAF

Suspension
-Eibach Pro Kit Springs (front)
-Moog Progressive Springs (rear)
-UMI Double Adjustable Chromoly Lower Control Arms
-KYB AGX 8-Way Adjustable Shocks/Struts
-BMR Adjustable Torque Arm
-BMR Weld-In Tubular Subframe Connector
-BMR Adjustable Panhard Rod Bar
-Prothane Motor Mounts
-Custom Relocation Brackets

Misc/Support
-Racetronix In-Tank Fuel Pump (270 L/hr)
-60# Injectors
-LS6 Oil Pump
-Powerstop Crossdrilled/Slotted Brake Rotors
-Raybestos Brake Calipers
-Fiberglass RamAir Hood
-Hood Lanyards/Pins
-Crankcase Breather
-SLP Fan Control Switch
-SLP Line Lock System
-Raptor Performance Shift Light
-Viper Alarm
-HPTuner/Laptop
-ZR1 Wheels
(17x9.5 front, 17x11 rear)
-BFGoodrich G-Force T/A KD Tires
(275/40 front, 315/35 rear)
-Chassis Eng. 1/4'' Wheel Spacers
Vote

This challenge has ended!
| Points for ? Lucky ? | Total Votes | Points for NATA |
| --- | --- | --- |
| 97 | 25 | 28 |
Cars > Challenges > "? Lucky ?" Vs "NATA"