Cars > Challenges > "P-47 Thunderbolt" Vs "Tom Cat"
Thunder3
M–61
Beaver, West Virginia
United States
Ramair1
M
Hugo, Oklahoma
United States
1941 Republic Thunderbolt
"P-47 Thunderbolt"
1990 Grumman F-14 Tomcat
"Tom Cat"
Head to Head
About "P-47 Thunderbolt"
History: The Thunderbolt was the most famous of all the Republic aircraft in WWII. First flown on 6 May 1941, the P-47 was designed as a (then) large, high-performance fighter/bomber, utilizing the large Pratt and Whitney R-2800 Double Wasp engine to give it excellent performance and a large load-carrying capability. The first deliveries of the P-47 took place in June 1942, when the US Army Air Corps began flying it in the European Theater.

Though it was an excellent airplane, several improvements were made as production continued, with each improvement adding power, maneuverability and range. As the war progressed, the Thunderbolt, or "Jug," as it was affectionately called, gained a reputation as a reliable and extremely tough airplane, able to take incredible amounts of damage and still return its pilot home safely. P-47s logged almost 2 million flight hours during the war, during which they were responsible for the destruction of over 7,000 enemy aircraft in the air and on the ground in the European Theater alone.

Later in the war, Jugs served as escort fighters for B-29 bombers in the Pacific. Mostly, though, they excelled in the ground-attack role, strafing and bombing their way across the battlefields of Europe. Early versions, up through the P-47C, had "razorback" fuselages, but the popular P-47D featured a bubble canopy which gave the pilot increased rearward visibility.

P-47s were also used during the war by the air forces of Brazil, England, France, Mexico and the Soviet Union. Following the war, the Jug served for nine more years in the US, flown by the Air National Guard. It continued to serve for many additional years with the air forces of over 15 nations around the world.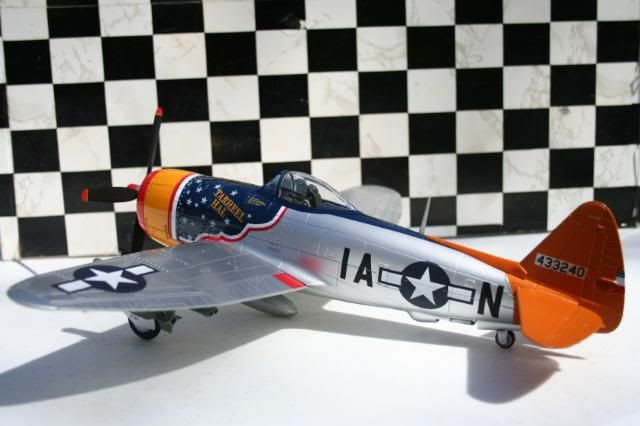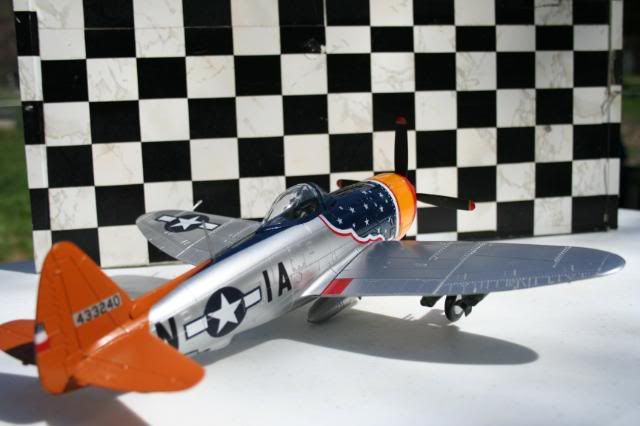 About "Tom Cat"
My tax dollars at work!!!!!!!!! Top Gun!!!!
Specs for "P-47 Thunderbolt"
No specifications listed.
Specs for "Tom Cat"
USA
Type: two-seat carrierborne fleet defence fighter
Max Speed: 1,359 kt / 1,564 mph
Max Range: 3220 km / 2,000 miles
Dimensions: span 19.55 m / 64 ft 1.5 in spread length 19.10 m / 62 ft 8 in height 4.88 m / 16 ft 0 in
Weight: empty 18,191 kg / 40,104 lb max. take-off 33,724 kg / 74,349 lb
Powerplant: two 9,480-kg (20,900-lb) afterburning thrust Pratt & Whitney TF30-P-412A turbofans
Armament: one 20-mm M6lA1 Vulcan rotary cannon with 675 rounds, and provision for various combinations of AIM-7 Sparrow, AIM-9 Sidewinder and AIM-54 Phoenix AAMs carried under the fuselage and inner parts of the wings
Factory Options for "P-47 Thunderbolt"
No factory options listed.
Factory Options for "Tom Cat"
No factory options listed.
Photo Albums
Thunder3 has no Car photo albums.
Photo Albums
"Tom Cat" has no photo albums.
Vote

This challenge has ended!
| Points for P-47 Thunderbolt | Total Votes | Points for Tom Cat |
| --- | --- | --- |
| 10 | 3 | 5 |
Cars > Challenges > "P-47 Thunderbolt" Vs "Tom Cat"