Cars > Challenges > "OH-SKOOL" Vs "No Escape"
OHSKOOL
M–53
Newport News, Virginia
United States
n0esc
M–37
Albert Lea, Minnesota
United States
2006 Chevrolet HHR 2LT
"OH-SKOOL"
1994 Mercury Cougar XR7
"No Escape"
Head to Head
About "OH-SKOOL"
This is my 2006 Dark Silver Metallic Chevy HHR.
Winner "BEST IN SHOW" 2006 Labor Day Biltmore Bash!
ChevyHHRFamily.net "Featured HHR of the Month" for December 2006!
PFYC.COM "Featured HHR of the Month" for November and December 2006!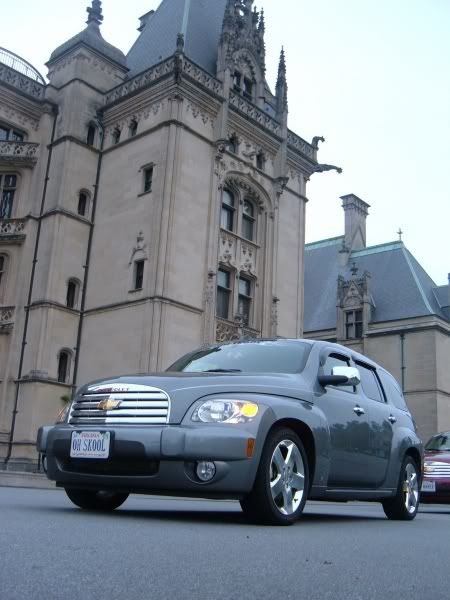 About "No Escape"
A modified 1994 Mercury Cougar that I have owned for the past ten years. The heart of this beast comes from a 2002 FOr Explorer and its soul is held to the road by a heavily modified suspension system that lets this 2 ton monster hug the curves with her claws with no problem.
Specs for "OH-SKOOL"
2006 Chevy HHR Dark Silver Metallic,Born 7/06/05, Purcahsed 9/5/05. 2.4 liter, 4 cylinder, 175HP-AUTOMATIC. Lots of fun.

Specs for "No Escape"
4.6L V8
235hp / 265ft/lb

Hasn't run the quarter yet, but we're getting there
Factory Options for "OH-SKOOL"
17 inch chrome rims with chrome package. Pioneer 7 speaker stereo sound system,xm-radio, electric sunroof, leather wrapped steering wheel with stereo controls, crusie control,power windows, a/c, abs brakes, roof rails, running boards and tinted windows.

Factory Options for "No Escape"
Fully featured XR7 trim package. Missing only the phone, and who got that in 1994 anyways
Mods for "OH-SKOOL"
Here is my 2006 Chevy HHR Dark Silver Metallic 2LT "OH-SKOOL". Mods include OH-SKOOL VINYL WINSHEILD STICKER, OH-SKOOL 3RD BRAKE OVERLAY,CLASSIC 1949 CHEVY EMBLEMS ON GRILLE, WINDOW VISORS, CHEVYHHRFAMILY.NET STICKERS ON SIDE WINDOWS, CHEVYHHR.NET ON BACK WINDOW, METALLIC GRAY PINSTRIPES FROM NOSE TO TAIL, HOME MADE LOWER GRILLE INSERT SCREEN, ROCKFORD FOSGATE P5002 AMP, 2 ROCKFORD FOSGATE (PUNCH COMP) 12 INCH SUBS IN CUSTOM BOX, 7 INCH COLOR TV MONITOR WITH DVD PLAYER, PLAYSTATION 2, 2 WIRELESS HEADPHONES, SOCAL SMOOTHIE DOOR LOCKS, SOCAL STUBBY ANTENA, GOLD LINE LOWERING SPRINGS (FRONT AND REAR), PROGRESS REAR ANTI-SWAY BAR (PAINTED CHEVY ORANGE), EBC SLOTTED AND DIMPELED ROTORS, EBC RED STUFF CERAMIC BRAKE PADS, AND NOW HP TUNERS TUNED!!!!!!!!.


Now lowered!

Mods for "No Escape"
180* Thermostat
1998 Mark VIII Oil Pan
2002 Ford Explorer 4.6 V8
2003 Ford Cobra Fan
2003 Ford Cobra Radiator
2003 GT Torque Converter
22C Colder Sparkplugs
Accel Coilpacks
B&M Trans Cooler
Custom made Y-Pipe Cat Delete
DynoMax CatBack Exhaust
FoMoCo 1999 Ford Lightning MAF
FordChip/JW File on SCT XCal2
FRPP 9MM Blue Wires
GT Intake Tube
J-Mod Tansmission
K&N 9" Cone Filter
MN12 performance Poly Crossmember Bushings
MN12 Performance Solid Motor Mounts
MN12 Performance Solid Transmission Mount
Mossler 3.73 Aluminum Centersection
Oil Filter Relocation
Steeda Polyurathane IRS Bushings
Addco Sway Bars
Bilstein Sport Shocks
Bridgestone Potenza Tires
Sport JJJJ Code Springs in Front
20% Window Tint (Side, Quarter, and Rear)
Clear Corner Lenses
Octane Pin Switch
Boston Acoustics 6x8 Speakers
Monster .5 Farad Cap
Pair of 10" RF XTC Subs
Pioneer AVIC-N3
RF 160.2 Amp
Rockford Fosgate Tweeters
XM Sattellite Radio Tuner with NavTraffic
Vote

This challenge has ended!
| Points for OH-SKOOL | Total Votes | Points for No Escape |
| --- | --- | --- |
| 80 | 18 | 10 |
Cars > Challenges > "OH-SKOOL" Vs "No Escape"