Cars > Challenges > "Shotrod/Red Banana" Vs ""Ashley""
Shotrod64
F–58
Spanaway, Washington
United States
CorvairJim
M–55
Norristown, Pennsylvania
United States
1964 Ford Galaxie 500 XL Cnv
"Shotrod/Red Banana"
1966 Chevrolet Corvair Monza
""Ashley""
Head to Head
About "Shotrod/Red Banana"
I first saw what is now my car in the Fall of 1974 in front of Monroe HighSchool. The owner then was a freind of a cousin. Not long after I started dating the owner and he traded the car off for another about a year later. I did learn to drive in the car before it was passed on.




I spotted the car in a parking lot in Corvallis, OR and left a note on the windsheild asking them to call me. Amazingly they did call and after 2 yrs i had finally talked them into selling it to me. June 4, 1977 I was the proud new owner of my first car.
I later married and my new husband joined the Army in 1982. The Shotrod sat at my dads from '79 until 2000 where finally some relatives hauled it to MD for me and I was finally reunited with my "baby" again. Even to this day I still have the same feeling for my car as I did in the 70's. My first real love I suppose. I'm a nut!
Little added note. After the car was sold and before I got it back so to speak, I kept the boot cover for the top the entire time. I figured if I couldn't have the car I'd at least have one of it's belongings or a piece of it. However you want to look at it. Obsessed I was!
A year after getting it to Andrews AFB in MD we got orders to move to the desert of CA, Edwards AFB where we spent the next 5 yrs.
The name "Red Banana" came about after getting Tboned on my first drive to Los Angeles (about 120 miles) for a So-Cal Galaxies club meeting. I was only about 3 blocks from my destination in Anaheim near Knott's Berry Farm. Hit by a Honda of all things! How embarrassing! The body is now shaped like a banana with the passenger side door and quarter panel crunched. I grew up and started driving responibly and then get ran over. But when I was a kid driving it I was in a couple ditches with only a few scratches as evidence.
It hasn't dampened my enthusiasm for driving it though. I still love every minute of it and I still look out and see that big ol red beast sitting there and think "there's my car!"
We now live in Tacoma Washington at McChord AFB. I had to build a top before moving so decided that the old king size waterbed mattress would do the job. It keeps water in, shouldn't it keep it out just as well? The "new" top worked out great and even the trunk stayed dry. It rained from the moment we hit the border of Oregon on December 22 i think it was until we got to Washington Jan 3rd after visiting family in Oregon. Then it snowed!! Crash course in driving in snow after not doing it in years. I did quite well believe it or not! There are pics of the top at
http://www.so...y2007_pg1.htm

The best part of the whole trip from CA to WA is the ol Shotrod made it the full 1100+ miles without a hitch! Only trouble was the quarter panel hitting the tire on bumps every now and then because the car was so packed with some of our belongings.
I guess all the hard work paid off. Thankfully I was "Daddy's boy" so my husband Don and I have done most all of the work ourselves except for the rebuilding of the rearend. Still have a bit more to do and now add to that body work! It never ends does it?
About ""Ashley""
Back in 2000, I had the misfortune to have to take a prescription that meant I couldn't drive. I sold the daily car I had at that point (one plain-Jane black 5-speed Cavalier coupe - a transportation appliance at best). A couple of years went by, and I changed doctors. The new guy prescribed something different for my condition, so I needed wheels once again. I could: A) spend $4,500 on a cheap used car that would just blend into the woodwork or, B) Find a really decent Corvair set up the way I like it. Now THAT car doesn't blend in. I found this '66 Corvair in Denver, CO, on eBay. The engine had been rebuilt by a nationally-known Corvair specialist shortly before the previous owner put it into storage for about ten years. It came out of the rebuild capable of putting 220 horsepower down to the pavement. Not bad for 164 unblown, carbureted cubic inches! It also had new tires all around. I won the auction, and flew out with my wife to drive it home. A fantastic road trip, and it cost half as much as shipping it would have. It became my daily driver for the next three years, until, in late '05, I had it in for state inspection at a friends Corvair restoration shop. While it was up on the lift, I got to see just how little rust the car had underneath. I decided at that point that it had seen its last winter of Pennsylvania road salt! It is now my nice spring day car, and a pleasure to drive. It still draws attention wherever I go with it.

UPDATE: I had to sell my beloved Ashley in August of 2009 due to the nation's lousy economy. My overtime had gone away and and my wife lost her job due to a work-related disability that they refused to accept responsibility for, so we just couldn't justify the expense of nearly $100/month to insure the third car in a two-driver household. Our mortgage was a couple of months behind, so sadly I took a friend up on his standing offer on her. As promised, he has given her the complete cosmetic restoration she so badly deserved. Of course, she didn't need anything mechanically - I always kept her up 100% mechanically. Furthermore, he gave me right of first refusal, so if he should ever decide to sell her, I get the first opportunity to buy her back.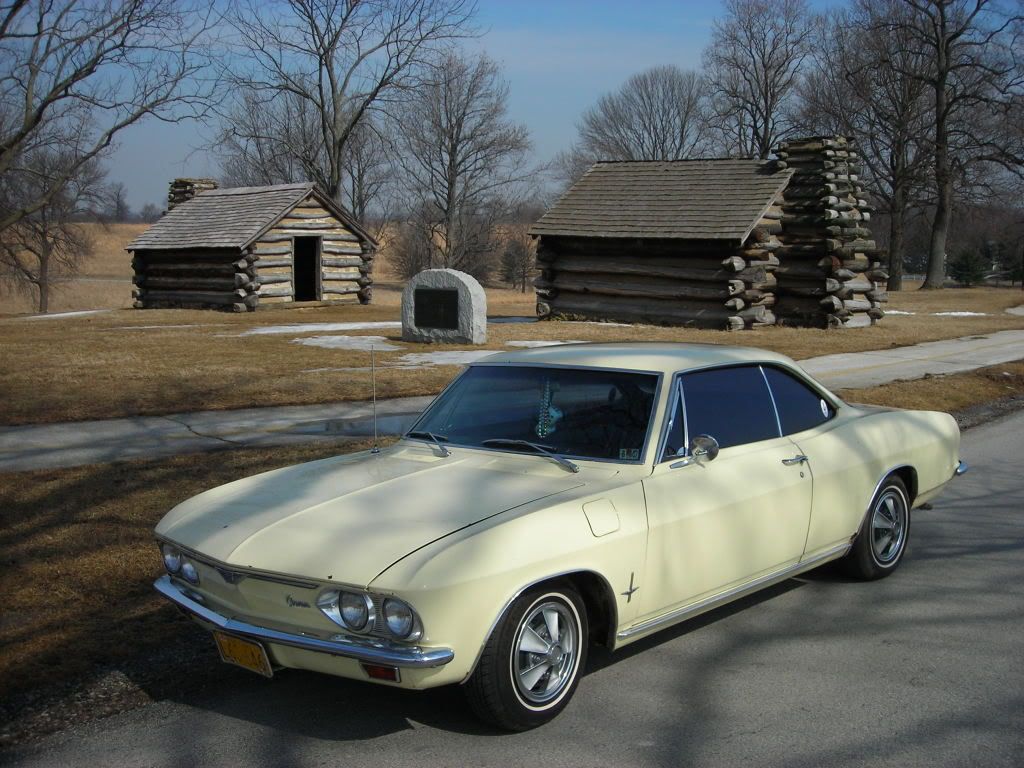 Specs for "Shotrod/Red Banana"
1974 390 4V (from a Ford 4x4 Highboy)

bored .040 over

Federal Mogul RV cam Pro-3000
210° - 225° duration at .050
Compression ratio 10.3:1

3.00:1 rearend

Cast Iron Cruiso (green dot) 3 spd,
Specs for ""Ashley""
1966 Corvair Monza Sport Coupe
164 C.I.D. Opposed 6-cylinder engine, air cooled.
Lemonwood Yellow paint, Black interior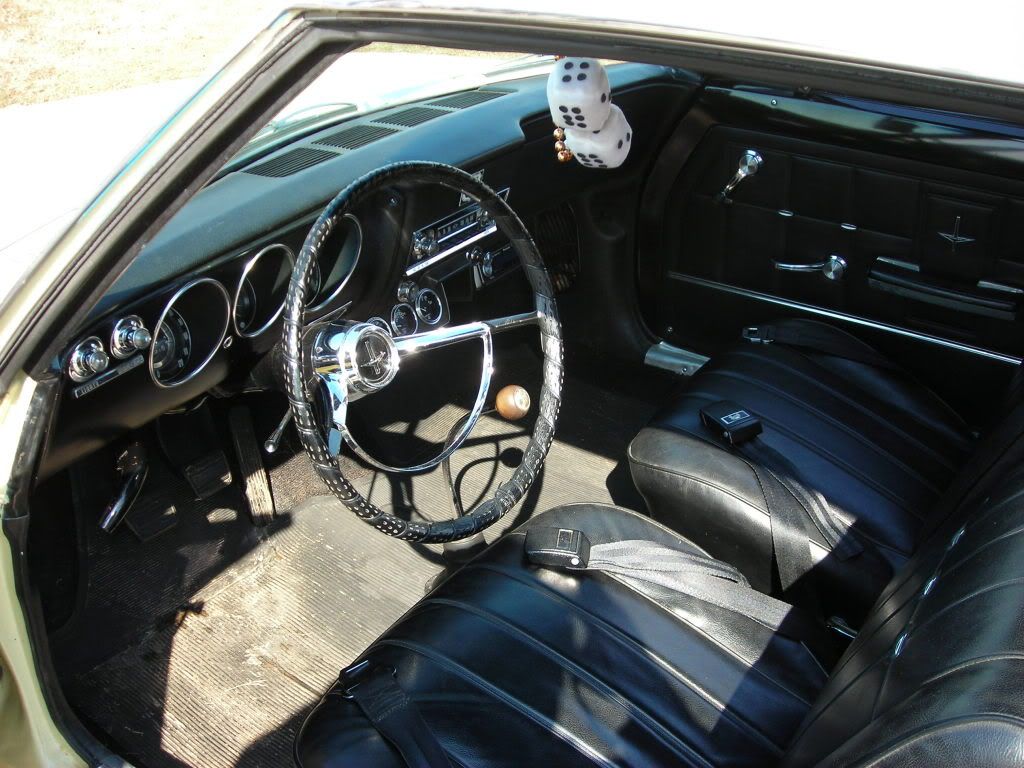 Factory Options for "Shotrod/Red Banana"
White interior, bucket seats & console
Column shift with swingaway steering wheel.
Factory Options for ""Ashley""
(All options verified by build sheet)
140 horsepower, 4 carb engine
4-speed transaxle
Posi rear
Sport Suspension
"Mag-Style" full wheel covers
AM pushbutton radio
Mods for "Shotrod/Red Banana"
Only mod was to the color of the engine. Grabber Green block w/metal cast blue valve covers and other parts with frogs hand painted.


Mods for ""Ashley""
Engine rebuilt to Yenko Stinger Stage III specs - 220 net horsepower.
Suspension lowered 1 coil.
Gas shocks
Steering Dampener
Low-restriction intake and exhaust.
Full window tint.
Tail panel painted silver (like the factory did with the Corvair Corsa model).
AM/FM/CD/Stereo unit mounted under the dash - NO holes cut or drilled for the installation!
Additional gauges (Tachometer, Voltmeter, Oil Pressure, Oil Temperature)
Pennsylvania Vanity Plate "CORVA1R"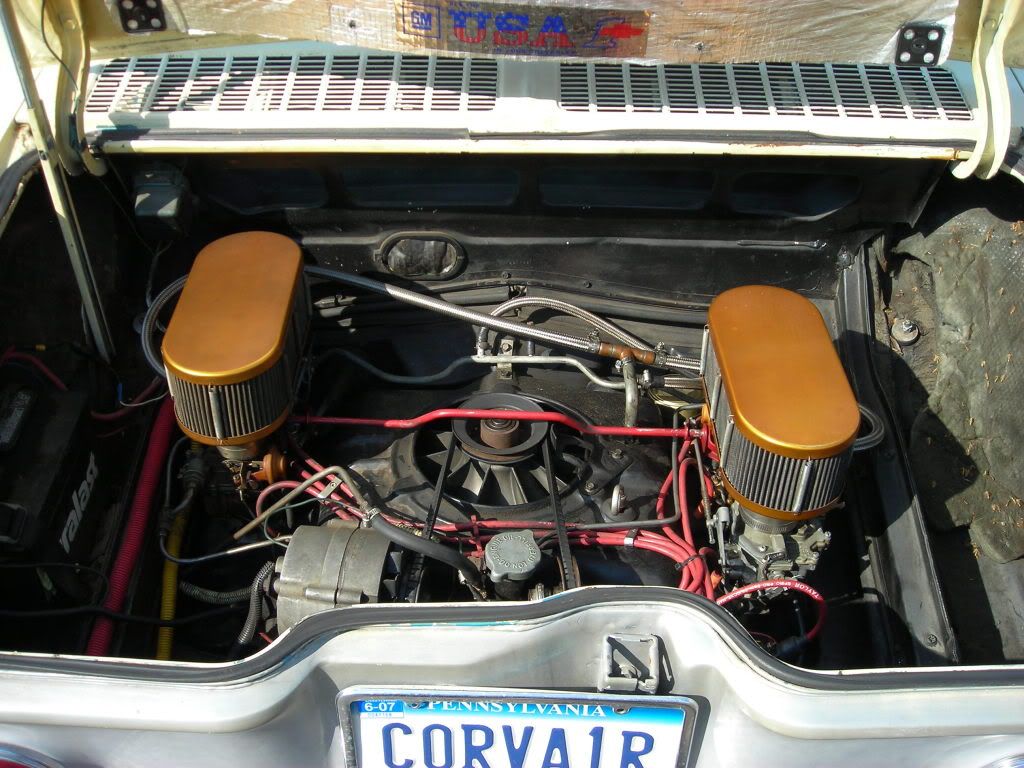 Photo Albums
Shotrod64 has no Car photo albums.
Vote

This challenge has ended!
| Points for Shotrod/Red Banana | Total Votes | Points for "Ashley" |
| --- | --- | --- |
| 35 | 18 | 55 |
Cars > Challenges > "Shotrod/Red Banana" Vs ""Ashley""