Cars > Challenges > ""Ashley"" Vs "XR7"
CorvairJim
M–55
Norristown, Pennsylvania
United States
supercatxr7
M

1966 Chevrolet Corvair Monza
""Ashley""
1990 Mercury Cougar XR7
"XR7"
Head to Head
About ""Ashley""
Back in 2000, I had the misfortune to have to take a prescription that meant I couldn't drive. I sold the daily car I had at that point (one plain-Jane black 5-speed Cavalier coupe - a transportation appliance at best). A couple of years went by, and I changed doctors. The new guy prescribed something different for my condition, so I needed wheels once again. I could: A) spend $4,500 on a cheap used car that would just blend into the woodwork or, B) Find a really decent Corvair set up the way I like it. Now THAT car doesn't blend in. I found this '66 Corvair in Denver, CO, on eBay. The engine had been rebuilt by a nationally-known Corvair specialist shortly before the previous owner put it into storage for about ten years. It came out of the rebuild capable of putting 220 horsepower down to the pavement. Not bad for 164 unblown, carbureted cubic inches! It also had new tires all around. I won the auction, and flew out with my wife to drive it home. A fantastic road trip, and it cost half as much as shipping it would have. It became my daily driver for the next three years, until, in late '05, I had it in for state inspection at a friends Corvair restoration shop. While it was up on the lift, I got to see just how little rust the car had underneath. I decided at that point that it had seen its last winter of Pennsylvania road salt! It is now my nice spring day car, and a pleasure to drive. It still draws attention wherever I go with it.

UPDATE: I had to sell my beloved Ashley in August of 2009 due to the nation's lousy economy. My overtime had gone away and and my wife lost her job due to a work-related disability that they refused to accept responsibility for, so we just couldn't justify the expense of nearly $100/month to insure the third car in a two-driver household. Our mortgage was a couple of months behind, so sadly I took a friend up on his standing offer on her. As promised, he has given her the complete cosmetic restoration she so badly deserved. Of course, she didn't need anything mechanically - I always kept her up 100% mechanically. Furthermore, he gave me right of first refusal, so if he should ever decide to sell her, I get the first opportunity to buy her back.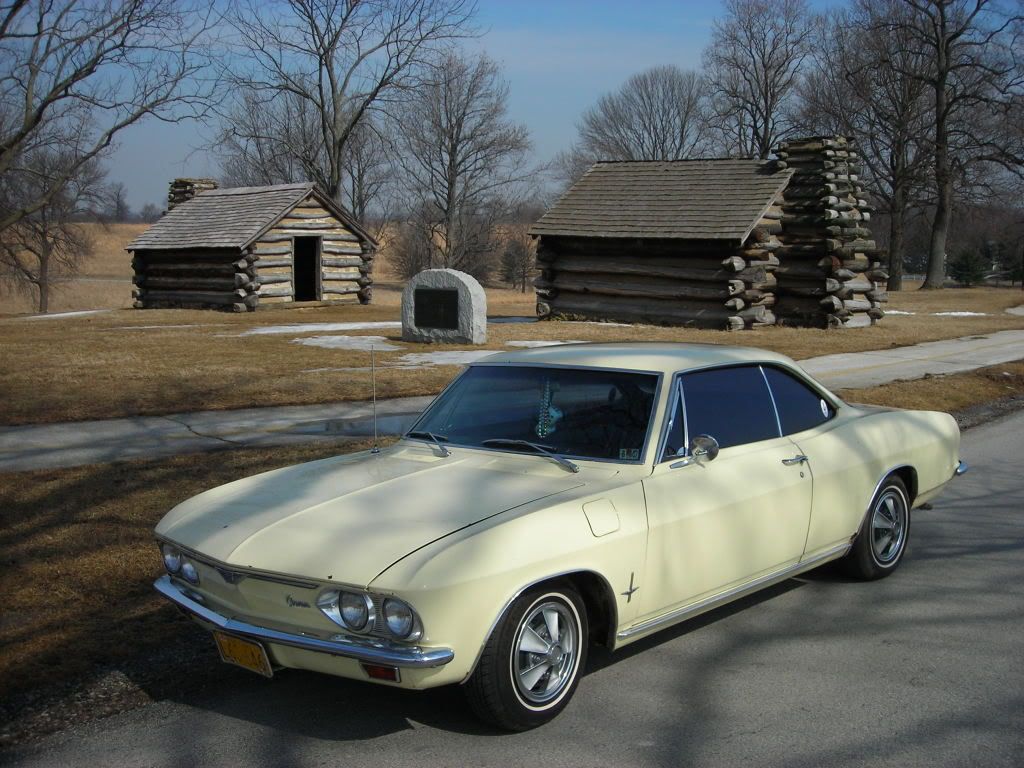 About "XR7"
I have owned this car since 1997. Bought it as a daily driver and then started to mod it. In current form, it has run a best of 11.91 at 113 mph. Not bad for a little v6!
Specs for ""Ashley""
1966 Corvair Monza Sport Coupe
164 C.I.D. Opposed 6-cylinder engine, air cooled.
Lemonwood Yellow paint, Black interior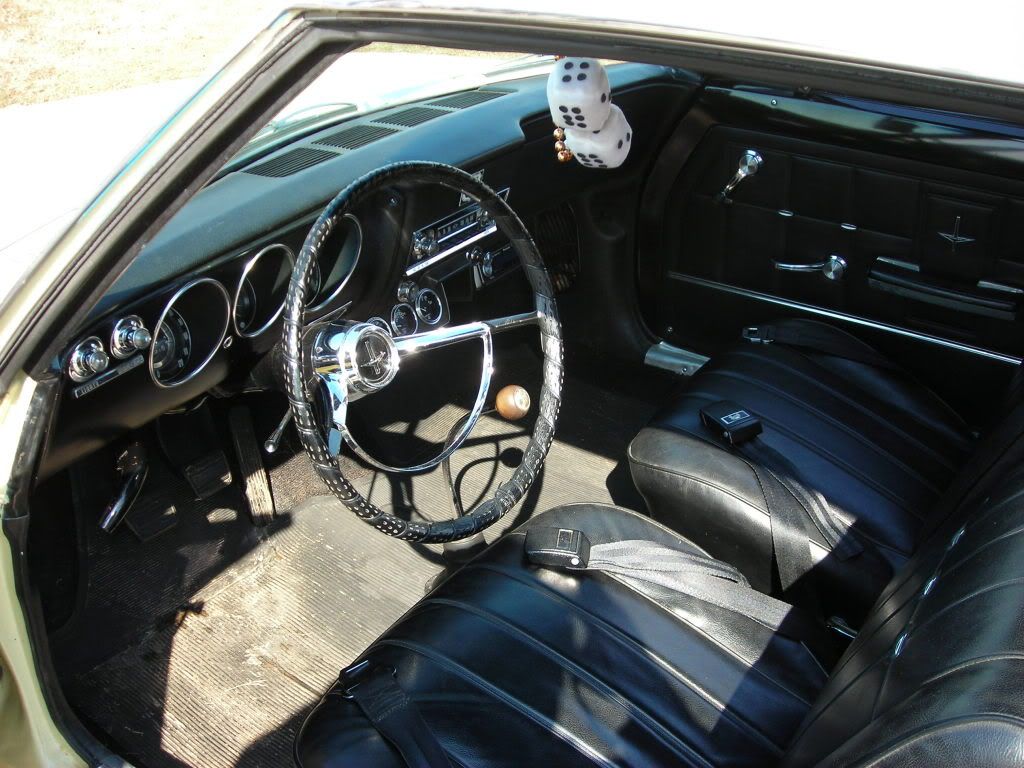 Specs for "XR7"
3.8 Factory Supercharged V6
Independent Rear Suspension
Factory Options for ""Ashley""
(All options verified by build sheet)
140 horsepower, 4 carb engine
4-speed transaxle
Posi rear
Sport Suspension
"Mag-Style" full wheel covers
AM pushbutton radio
Factory Options for "XR7"
Leather and Power Everything.
Mods for ""Ashley""
Engine rebuilt to Yenko Stinger Stage III specs - 220 net horsepower.
Suspension lowered 1 coil.
Gas shocks
Steering Dampener
Low-restriction intake and exhaust.
Full window tint.
Tail panel painted silver (like the factory did with the Corvair Corsa model).
AM/FM/CD/Stereo unit mounted under the dash - NO holes cut or drilled for the installation!
Additional gauges (Tachometer, Voltmeter, Oil Pressure, Oil Temperature)
Pennsylvania Vanity Plate "CORVA1R"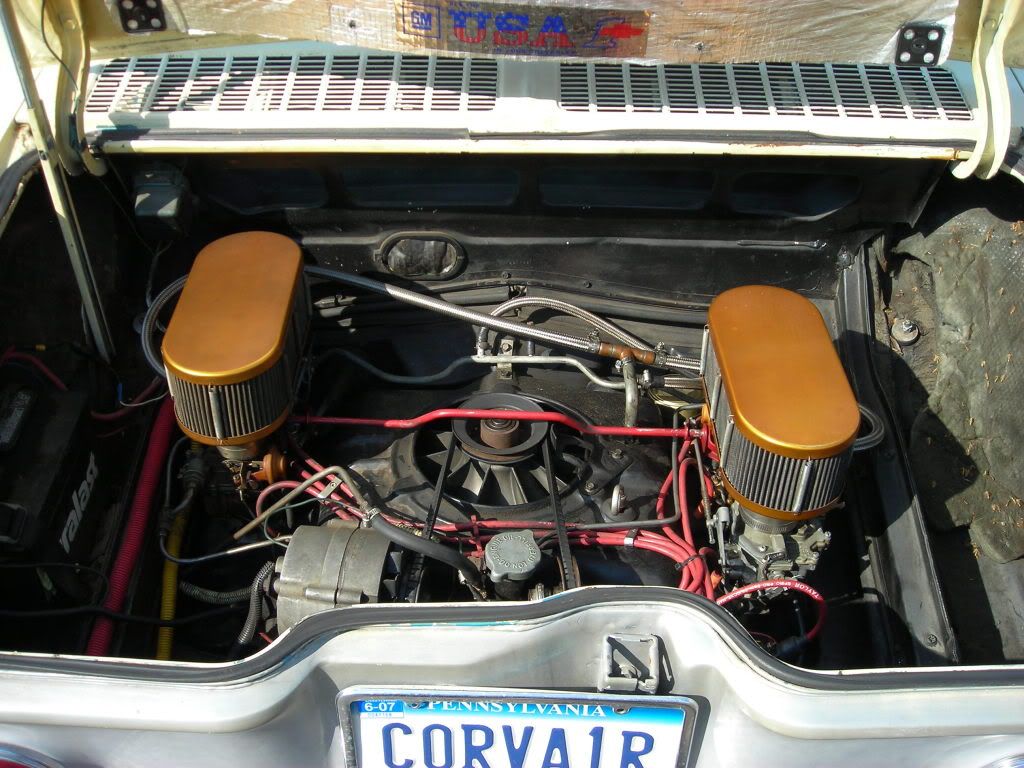 Mods for "XR7"
3.8 Ford V6 SC .035 bored block, Fred Holzhauer 580 lift 224/224 duration camshaft, CAT H Beam Super Race connecting rods, Diamond Forged Pistons - 9:1 compression, BHJ Harmonic Balancer, Stiegemeier Heads with 1.937 Intake and 1.55 Exhaust valves, FMS Stud Mounted 1.73 roller rockers, Randy Baker modified intake manifold, 3.8 JBA Mustang shorty headers, 85mm Magnum Powers throttle body, Magnum Powers Inlet Plenum, Magnum Powers 3.5" air intake system, Magnum Powers MPIII Supercharger, Magnum Powers 10% crank pulley, ESM raised SC top, ESM 10% jackshaft pulley, 2.85" SC Pulley, SCT Big Air MAF, 50lb injectors, Spearco Air/Liquid Intercooler with 3" tubing, Fluidyne 03-04 Cobra Heat Exchanger, true dual 2.5" exhaust with Magnaflow resonator and Flowmaster mufflers, Denso Iridium plugs, Snow Performance Methanol Injection, 3.73 gears, AOD with 4R70W gear set and Lentech valvebody, Precision Industries 2500 rpm non-locking stall convertor, SCT Racer Package Tuning Software and Chip tuned by David Dalke
Vote

This challenge has ended!
| Points for "Ashley" | Total Votes | Points for XR7 |
| --- | --- | --- |
| 60 | 23 | 55 |
Cars > Challenges > ""Ashley"" Vs "XR7"