Cars > Challenges > ""PLumCrAZy"" Vs "224whp & 219 ft/lbs"
BADDAWG
M
Hopkinsville, Kentucky
United States
RedBird
M–25
Muscatine, Iowa
United States
1979 Chevrolet El Camino
""PLumCrAZy""
1992 Pontiac Sunbird SE
"224whp & 219 ft/lbs"
Head to Head
About ""PLumCrAZy""
I Traded A 1979 GMC pickup for this EL Camino . Pickup was in geat shape , was just tired of it . Son Name it PLUMCRAZY because of the color . Its a work in progresss , Its got a Builded 350 engine thats so much has been done to it , Im not going into it here .But it will run like a scalded Dog . Its almost Done , Tranny is an auto. which I dont like and may be changed .It will Blow my MONTE off the road . Only thing I have to do to finish her is Window seals needs to be replaced and I want to to put fresh paint on her . Interior is perfect except someone liked sterio better then me and tore up dash stealing it. I have to find a new Dash . also I would like to put a 79 front end back on her ,other owner replaced it with a 83 model . I would like to find a 79 Lungna front end .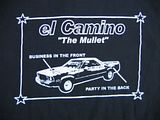 About "224whp & 219 ft/lbs"
I bought this in Dec. '05 to replace my totalled 91 sunbird. What a great replacement this has turned out to be. the wreck was a blessing in a good disguise.....

I got this car for 900 bucks. what a steal, eh? it has run a best of -

15.99 @ 83mph in the 1/4 mile *old news*
14.99 @ 92mph
14.84 @ 92mph
14.71 @ 94mph

Dyno'd 191hp @ 5600RPMs and 202 ft/lbs @ 4500RPMs, which pushed it to a 14.71 pass @ 94.54 mph. Ran that with a 2.07 60 foot time on BFG drag radials.

The built motor is IN, with much trouble and compromise.... but it is in, and it runs, and it drives :D it's got the lope, hehehe. vids (still) on the way).

Dyno'd it again a couple weeks ago with the good motor, 224whp and 219ft/lbs, still needs some tuning, it has some small driveablility issues on the street, but i've been driving it for about 3-4 weeks now with no major issues. got rained out + an ignition issue when i went to the track after the dyno, so i need to get out there again, 2 weeks tops for that....
Specs for ""PLumCrAZy""
350 built Motor , auto TRANS ,Idont like . Engne Is putting out somewhere around 450 HP
Specs for "224whp & 219 ft/lbs"
3400 V6 est. 200hp 220lb/ft
HM-282 5 speed manual transmission
2940lbs with me in it : )

I've got it down with a stock 3400, ran a 14.71 @ 94.54 on BFG drag radials, but that's all out the window now, i have to completely re-learn to race this car with the new motor in it..... cam + ported heads and intakes = crazy wheelspin
Factory Options for ""PLumCrAZy""
PLAIN JANE ,BUT WILL BE A SS CLONE WHEN FINISHED
Factory Options for "224whp & 219 ft/lbs"
Stock upper and lower strut tower braces
FE2 suspension
Rear spoiler
Cassette deck
Power locks and windows
Black Interior :D

:P
Mods for ""PLumCrAZy""
No modifications listed.
Mods for "224whp & 219 ft/lbs"
Currently:
Performance
2001 90k 3400
Bully Stage 2 Clutch
24# 3.4dohc injectors
CAI
2.5" DP and cat-converter
2.25 cat-back w/ hooker aerochamber
completely rebuilt shifter and cables
Custom Grind Cam- 60*V6 #1617 Int & Exh. 220* and 224* Dur. @ .050, .506" int. and exh. lift, 111 LSA, 107 ICL
Full port and polish
Polyurethane filled engine mounts


Appearance
1989 Z24 stock GFX and cowl hood
1989 Beretta GTU spoiler
PH2 Sunbird flip-up headlights
Polished engine components
17x7 Drag DR-8 wheels

Suspension
All polyurethane suspension bushings
KYB GR2 struts and shocks
Sprint 1.7" lowering springs
Stock upper and lower strut tower braces
215-45-17 Riken Raptor tires
SS braided brake hoses
Ceramic brake pads

Coming Soon:
High 13sec quarter mile passes


Coming Later:
Bodywork and paint
Beretta tubular rear axle
Rear disc conversion
Adjustable rear spring perches
Vote

This challenge has ended!
| Points for "PLumCrAZy" | Total Votes | Points for 224whp & 219 ft/lbs |
| --- | --- | --- |
| 78 | 24 | 42 |
Download Drive Magazine Now!



Cars > Challenges > ""PLumCrAZy"" Vs "224whp & 219 ft/lbs"