Cars > Challenges > "JEFF GORDON" Vs ""
3fan4ever
M
Brooklyn, New York
United States
Thundercat
M–49
Riverside, New Jersey
United States
2009 Chevrolet IMPALA SS 1/24 SCALE
"JEFF GORDON"
""
Head to Head
About "JEFF GORDON"
MY CUSTOM MADE JEFF GORDON TRANSFORMERS/DUPONT CAR.JEFF DROVE THIS SPECIAL PAINT SCHEME TO PROMOTE THE DVD SALE OF THE 2nd TRANSFORMERS MOVIE.THE CAR WAS RACED AT LOWE'S MOTOR SPEEDWAY IN OCT. OF "09"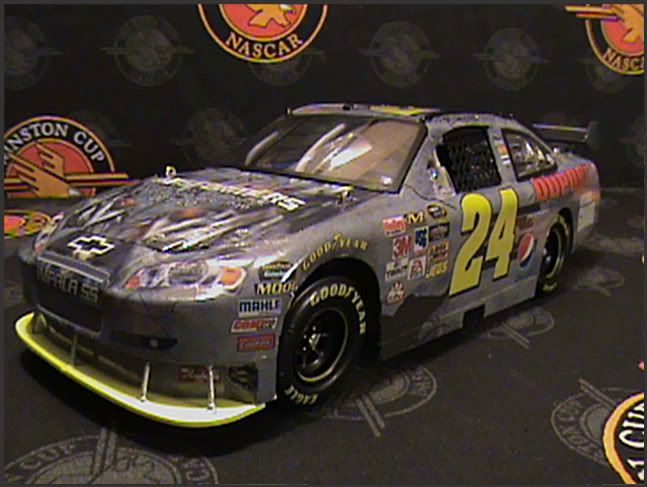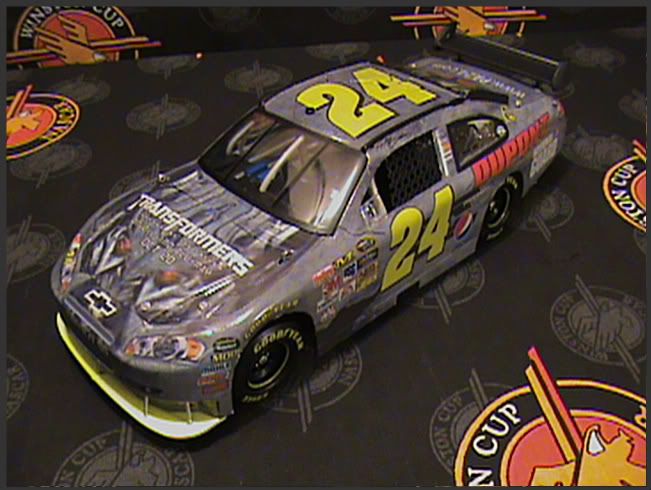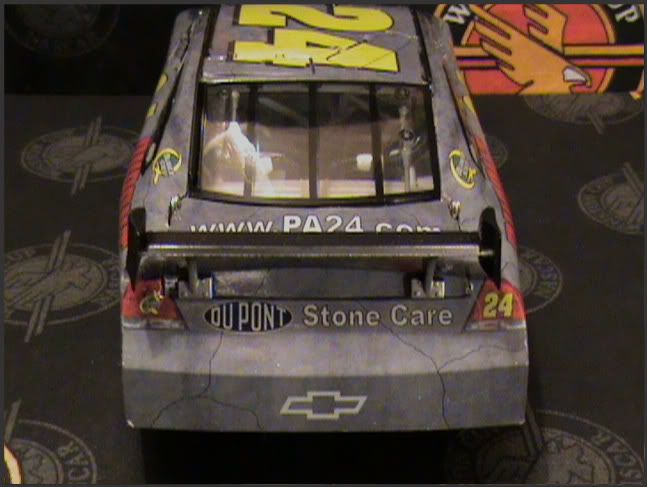 About ""
No about text available for ""
Factory Options for "JEFF GORDON"
1/24 SCALE CUSTOM MADE
Factory Options for ""
No factory options listed.
Mods for "JEFF GORDON"
THIS CUSTOM MADE JEFF GORDON/TRANFORMERS/DUPONT CAR WAS MADE FROM AN ACTION DIECAST DONAR CAR.FIRST I STRIPPED THE CAR TO THE BARE METAL,PRIMED IT,PAINTED IT GREY USING AUTOMOTIVE PAINT,THEN THE ENTIRE CAR WAS A DECAL FILM.I USED ALOT OF MICRO SET& MICRO SOL FOR THIS PROJECT.THE CAR TOOK ALOT LONGER TO DO THEN SOME OF MY OTHER WORK,BUT I THINK THE FINAL PRODUCT CAME OUT VERY CLEAN AND NICE,ESPECIALLY SINCE IT WAS THE 1st CAR I EVER MADE WITH AN ENTIRE DECAL FILM.I CLEAR COATED IT TO GIVE IT SOME EXTRA SHINE AND FILM PROTECTION.
Mods for ""
No modifications listed.
Photo Albums
3fan4ever has no Car photo albums.
Vote

This challenge has ended!
| Points for JEFF GORDON | Total Votes | Points for |
| --- | --- | --- |
| 30 | 7 | 5 |
Cars > Challenges > "JEFF GORDON" Vs ""