Cars > Challenges > ""Ashley"" Vs "Keeper"
CorvairJim
M–55
Norristown, Pennsylvania
United States
fredwheels
M–59
Bloomfield, New Jersey
United States
1966 Chevrolet Corvair Monza
""Ashley""
1976 Chevrolet Camaro Standard
"Keeper"
Head to Head
About ""Ashley""
Back in 2000, I had the misfortune to have to take a prescription that meant I couldn't drive. I sold the daily car I had at that point (one plain-Jane black 5-speed Cavalier coupe - a transportation appliance at best). A couple of years went by, and I changed doctors. The new guy prescribed something different for my condition, so I needed wheels once again. I could: A) spend $4,500 on a cheap used car that would just blend into the woodwork or, B) Find a really decent Corvair set up the way I like it. Now THAT car doesn't blend in. I found this '66 Corvair in Denver, CO, on eBay. The engine had been rebuilt by a nationally-known Corvair specialist shortly before the previous owner put it into storage for about ten years. It came out of the rebuild capable of putting 220 horsepower down to the pavement. Not bad for 164 unblown, carbureted cubic inches! It also had new tires all around. I won the auction, and flew out with my wife to drive it home. A fantastic road trip, and it cost half as much as shipping it would have. It became my daily driver for the next three years, until, in late '05, I had it in for state inspection at a friends Corvair restoration shop. While it was up on the lift, I got to see just how little rust the car had underneath. I decided at that point that it had seen its last winter of Pennsylvania road salt! It is now my nice spring day car, and a pleasure to drive. It still draws attention wherever I go with it.

UPDATE: I had to sell my beloved Ashley in August of 2009 due to the nation's lousy economy. My overtime had gone away and and my wife lost her job due to a work-related disability that they refused to accept responsibility for, so we just couldn't justify the expense of nearly $100/month to insure the third car in a two-driver household. Our mortgage was a couple of months behind, so sadly I took a friend up on his standing offer on her. As promised, he has given her the complete cosmetic restoration she so badly deserved. Of course, she didn't need anything mechanically - I always kept her up 100% mechanically. Furthermore, he gave me right of first refusal, so if he should ever decide to sell her, I get the first opportunity to buy her back.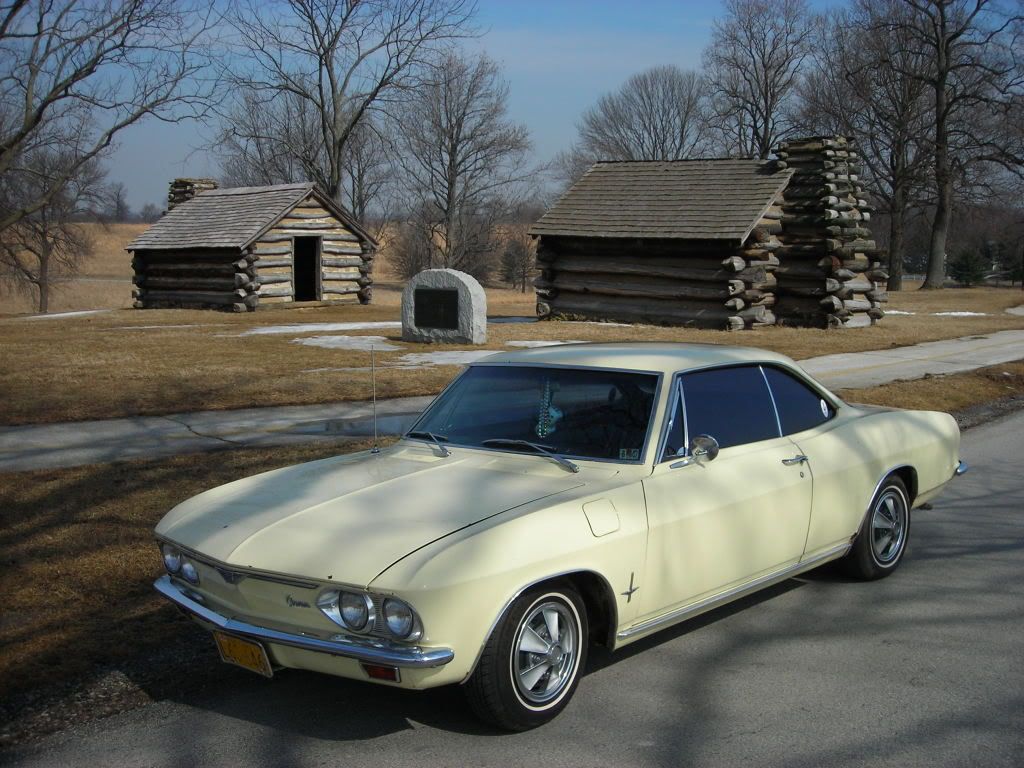 About "Keeper"
This car has sold on 3/11/11 Here it is the little old schoolteachers pride and joy.After selling her house on Long Island,the schoolteacher could not bring her Camaro to her retirement home in Florida.She had to surrender the car after it had lived a pampered life in her heated garage.After only grinding the pavement for 13800 miles,it was loaded onto a trailor and brought to N.J. for some needed maintenance to the carb and fuel delivery systems.All her filters and fluids were changed and updated as needed.Other than that all her original equiptment is still in place and operating in top form.All the exsisting interior parts were cleaned and detailed and she is ready for her new home.Shw will live a long life from here forward with minimal service and maintenance.
Specs for ""Ashley""
1966 Corvair Monza Sport Coupe
164 C.I.D. Opposed 6-cylinder engine, air cooled.
Lemonwood Yellow paint, Black interior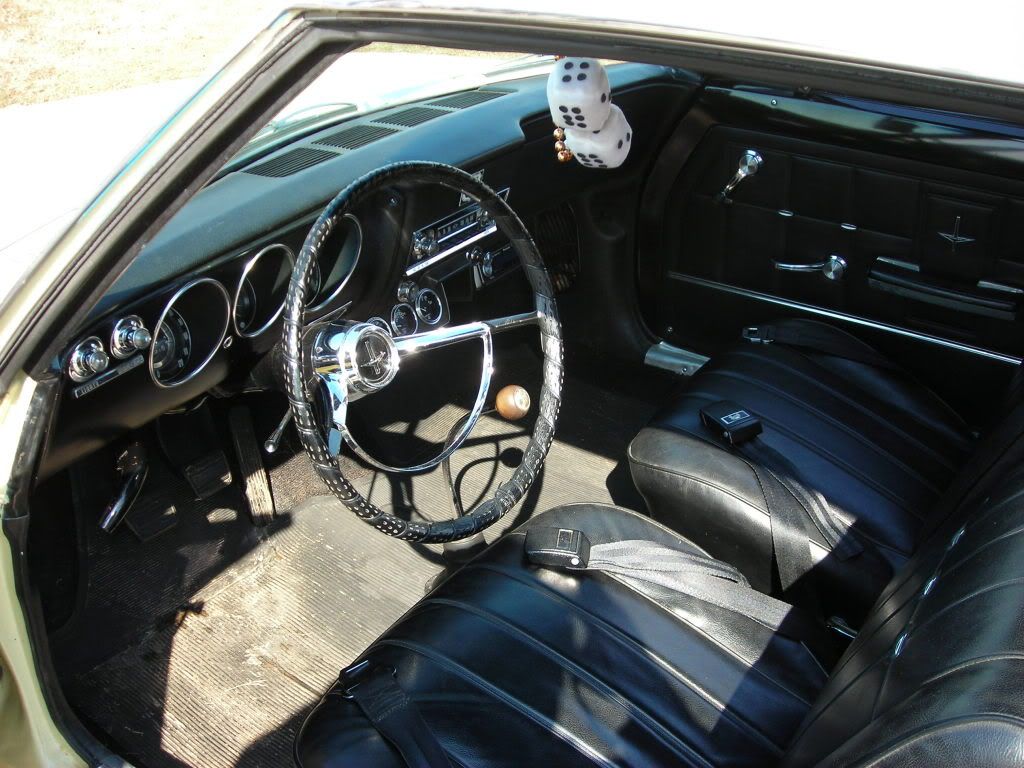 Specs for "Keeper"
This car was ordered with the red and white interior originally and it is all in very good to excellent working condition.Options include the variable ratio power steering.High energy ignition system,high back bucket seats.Soft ray tinted windows.Hide away windshield wipers.2 speed rear window defogger.Four season air conditioning that blows ice cold.Sport mirrors.Console.305 2 bbl V8 engine.Turbo Hydro 3 sped trans.FR78-14/B S/B Radial tires with white walls,STILL ON THE CAR!!!Clock,Ralley Wheels AM/FM radio,WORKING GREAT.Interior deco package.Windshield antenna,front license mount bracket.According to the build sheet it is order #6364 ordered from Rupp Chevrolet L.I.N.Y.and built in Norwood Ohio job sequence #C1698709.Partial window sticker,owners manual,build sheet,warranties and all available info from the dealer are all included.Documented milage on the NYS copy, or the section the current title reads 13760 "A".ACTUAL.None nicer.SOLD 3/11/11
Factory Options for ""Ashley""
(All options verified by build sheet)
140 horsepower, 4 carb engine
4-speed transaxle
Posi rear
Sport Suspension
"Mag-Style" full wheel covers
AM pushbutton radio
Factory Options for "Keeper"
Tint w/ antenna
Tint Glass
insul package
recess wiper
RR defogger
Air Cond
Custom mirror
Floor Console
2 73 axle
Power Brakes
ALT 61 Amp
305 2 bbl
3 spd CBC trans
FR 78-14 W/Wall
Glove box light
Elect Clock
AM/FM radio
Spec Wheels
Interior Deco
Mods for ""Ashley""
Engine rebuilt to Yenko Stinger Stage III specs - 220 net horsepower.
Suspension lowered 1 coil.
Gas shocks
Steering Dampener
Low-restriction intake and exhaust.
Full window tint.
Tail panel painted silver (like the factory did with the Corvair Corsa model).
AM/FM/CD/Stereo unit mounted under the dash - NO holes cut or drilled for the installation!
Additional gauges (Tachometer, Voltmeter, Oil Pressure, Oil Temperature)
Pennsylvania Vanity Plate "CORVA1R"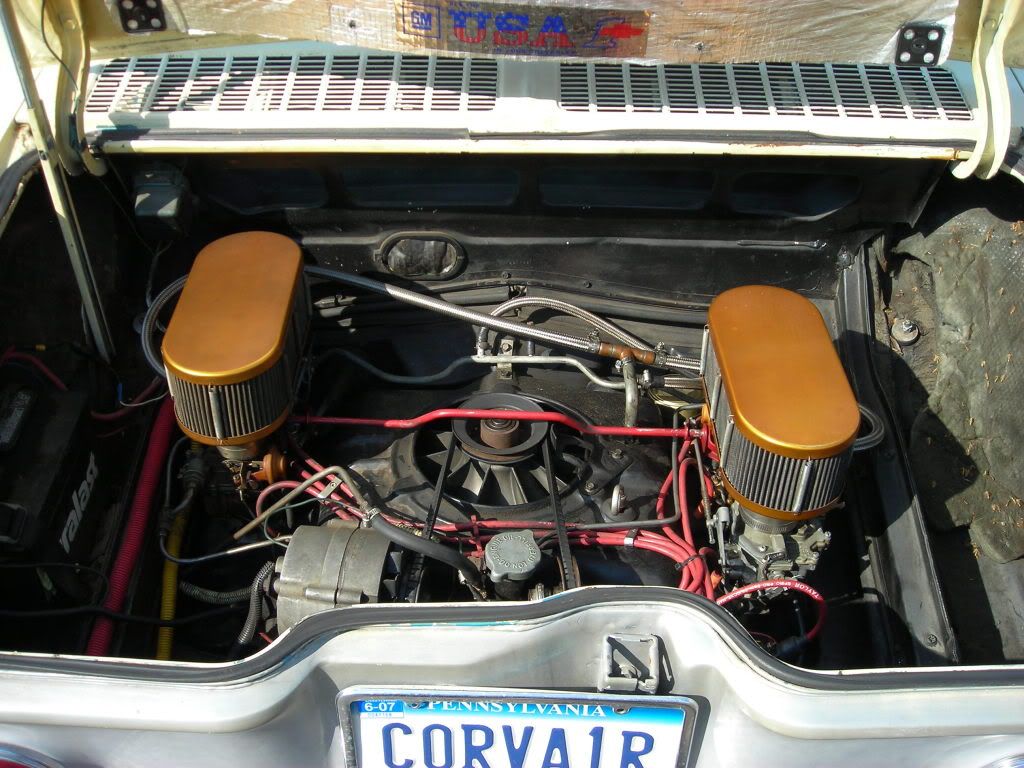 Mods for "Keeper"
The carburator was removed and rebuilt with factory spec parts,re-installed with new filters and vacuum lines where needed.PVC filters,air filter,oil filter were all replaced with factory spec parts.Anti freeze was flushed,all radiator parts cleaned and fluids replaced with fact spec fluids.Other than that the underhood was cleaned and left in the shape it was found,no removing or repainting any of the original workings under the hood.Numbers matching EVERYTHING!!! Runs and drives as new with the exception of the steel belted tires that have a rougher ride that the radials we are used to today,however removing the pristine tires seemd to take away from the cars 1976 appearance.The floors,trunkfloors,the unibody,rockers and all underneath panels are not undercoated and barely painted and may have some slight surface rust,NO ROT NO HOLES NO BODY OR UNDERPANEL REPLACEMENT EVER AND NONE NEEDED PERIOD.Some touchup paint may be required in areas where the paint has worn away,other than that ALL ORIGINAL PAINT AND BODY PANELS IN BETTER THAN AVERAGE CONDITION.She is a time capsule and a great piece of automobile history,because most of this era Camaros that are still around are simply a pile of rust.If you have a daughter or wife that you want to put in a strong,sturdy secure old car,THIS IS IT.If you want to beef up this 305 and still have a fast numbers matching car,I am including the 3 piece rear spoiler and the working Air Induction hood scoop with the sale.I have not installed these pieces to keep this car as original as possible..SOLD IT SOLD IT SOLD IT!!!!!!!!!!!!!
Photo Albums
"Keeper" has no photo albums.
Vote

This challenge has ended!
| Points for "Ashley" | Total Votes | Points for Keeper |
| --- | --- | --- |
| 29 | 7 | 6 |
Cars > Challenges > ""Ashley"" Vs "Keeper"