Cars > Challenges > ""Ashley"" Vs "littl shelby"
CorvairJim
M–51
Norristown, Pennsylvania
United States
myblkrat
M–51
Neosho, Missouri
United States
1966 Chevrolet Corvair Monza
""Ashley""
1987 shelby charger
"littl shelby"
Head to Head
About ""Ashley""
Back in 2000, I had the misfortune to have to take a prescription that meant I couldn't drive. I sold the daily car I had at that point (one plain-Jane black 5-speed Cavalier coupe - a transportation appliance at best). A couple of years went by, and I changed doctors. The new guy prescribed something different for my condition, so I needed wheels once again. I could: A) spend $4,500 on a cheap used car that would just blend into the woodwork or, B) Find a really decent Corvair set up the way I like it. Now THAT car doesn't blend in. I found this '66 Corvair in Denver, CO, on eBay. The engine had been rebuilt by a nationally-known Corvair specialist shortly before the previous owner put it into storage for about ten years. It came out of the rebuild capable of putting 220 horsepower down to the pavement. Not bad for 164 unblown, carbureted cubic inches! It also had new tires all around. I won the auction, and flew out with my wife to drive it home. A fantastic road trip, and it cost half as much as shipping it would have. It became my daily driver for the next three years, until, in late '05, I had it in for state inspection at a friends Corvair restoration shop. While it was up on the lift, I got to see just how little rust the car had underneath. I decided at that point that it had seen its last winter of Pennsylvania road salt! It is now my nice spring day car, and a pleasure to drive. It still draws attention wherever I go with it.

UPDATE: I had to sell my beloved Ashley in August of 2009 due to the nation's lousy economy. My overtime had gone away and and my wife lost her job due to a work-related disability that they refused to accept responsibility for, so we just couldn't justify the expense of nearly $100/month to insure the third car in a two-driver household. Our mortgage was a couple of months behind, so sadly I took a friend up on his standing offer on her. As promised, he has given her the complete cosmetic restoration she so badly deserved. Of course, she didn't need anything mechanically - I always kept her up 100% mechanically. Furthermore, he gave me right of first refusal, so if he should ever decide to sell her, I get the first opportunity to buy her back.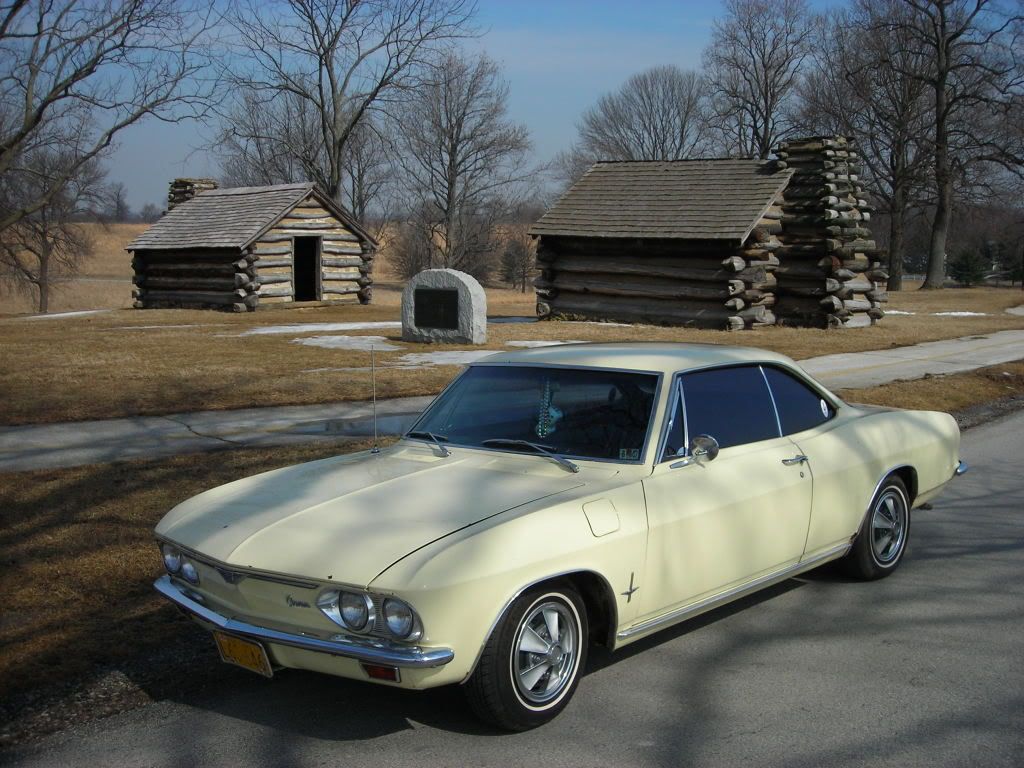 About "littl shelby"
This link kind of fills you in about this car. The text is Old and I have done some more improvements on the car engine wise since then - [url]more information about the car[/url][url=http://www.joink.com/homes/users/cooke/shelbyregistry/johnnolan.html ][/url]
Specs for ""Ashley""
1966 Corvair Monza Sport Coupe
164 C.I.D. Opposed 6-cylinder engine, air cooled.
Lemonwood Yellow paint, Black interior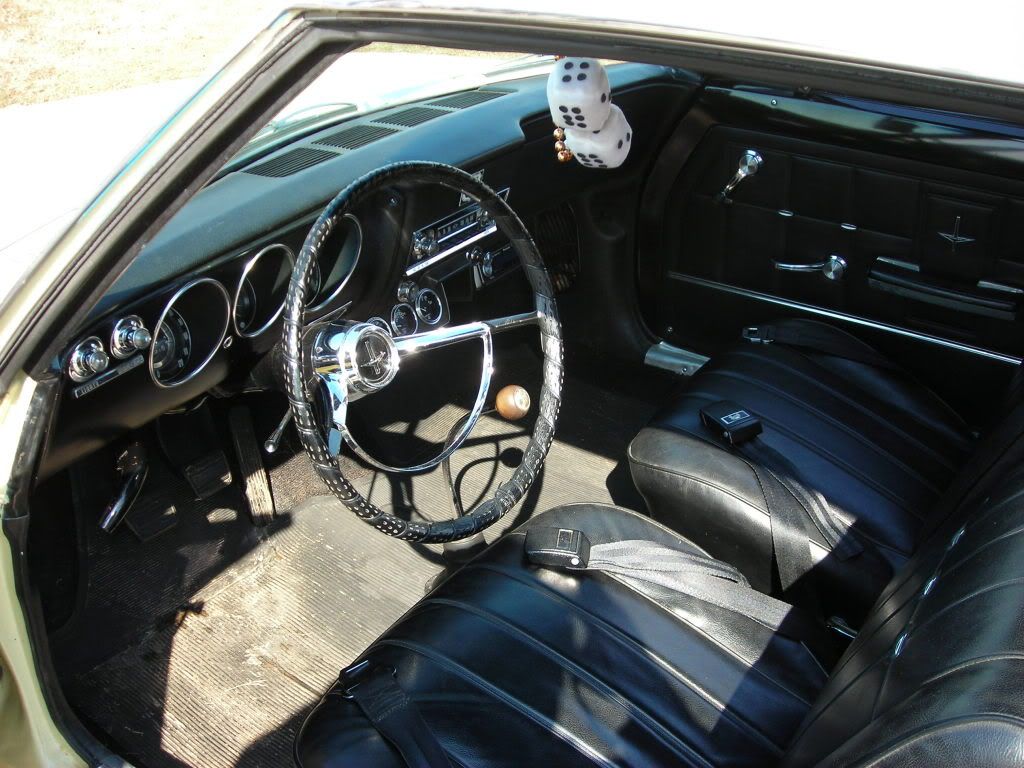 Specs for "littl shelby"
I've owned this car since 1990. The body has 82K miles on it, the motor has 10K on it and the head and intake have 1K on them. It's been a huge part of my life but I'm going in a different direction now as I recently purchased a Trans Am. The main build of this car was done in the early nineties and the car had a lot of one off custom parts. It wasn't built for drag racing but for hunting mustangs of the era!

Block:
2.2L common block, .30 over (bored with engine plate bolted on)
JE Pistons – ceramic coated
TII rods
NA crank
Full ARP hardware

Head:
Steve Menegon Big Valve head
ARP Head studs
2 piece intake that was fully ported to showroom stock racing limits, 52 mm throttle body

"Super 70" Turbo:
Uses a 3 inch exhaust housing, with 3 inch mandrel exhaust that exits through the bumper

Intercooler:
Spearco.

Transmission:
Modified 525 with all the "stay alive" LRE goodies: Full Girdle, Chrome moly end plate and their limited slip Posi unit. Connected to the motor with a Center Force dual Friction clutch

The rest of the performance parts include:
Walpro 255 fuel pump
Accell 10mm spark plug wires and super coil
Filled motor mounts
GM 1 wire 105 amp alternator
FAST ECU - no factory computer
3 Bar GM map
52 pph injectors
180 Thermostat with the hole drilled
Custom crankcase vent with K and N filter
K and N air filter
Battery moved to rear of vehicle
Oil Cooler with remote filter location in nose.
GLHS Koni's front and back
Modified Rear Axle

Larger Caravan front calibers and 89 Shelby Daytona vented disks in rear
Has aftermarket oil psi, vac/boost, and air fuel gauges
Polished wheels on 215/50/15's

89 Shelby CSX Recaro seats.

Center Arm rest.

The car itself has no rust but has an odd spot on the driver's side of the roof at the rear on the drip rail area. It's been there since I bought it and it has not grown. The car is kept in a climate controlled garage. The interior is nice with the Recaro's in it and I get a lot of compliments on these! I had the headliner replaced back in the late 90's but its starting to age a bit in some areas. The car has been on a variety of city/highway runs to local car shows with no problems at all. Runs very cool all the time, 1/4 temp usually, never overheats. Has great oil psi, presently running Castrol 10W30.

After I installed the super ported intake and Steve's big valve head I had to have the FAST ECU reprogrammed. I only did a basic tune to get it running and an easy highway section for MPG's. I bet there is a lot of power hiding but right now on low boost you best be holding on to the steering wheel as it breaks loose very easily!!

I am selling it for $6500 OBO. Best way to get a hold of me is to PM me and we can talk. I know I'm forgetting to list items that are on the car, but it explains itself. You have a serious machine here for a relatively low price.
Factory Options for ""Ashley""
(All options verified by build sheet)
140 horsepower, 4 carb engine
4-speed transaxle
Posi rear
Sport Suspension
"Mag-Style" full wheel covers
AM pushbutton radio
Factory Options for "littl shelby"
Its the lack of an option that makes this car rare. In 87 there were only 2011 of these cars made, 1000 went to Shelby to convert to GLHS models.All the Shelby cars came with AC. Mine didn't and running the numbers only 189 of the 87 shelby chargers DIDN"T come with AC.
Mods for ""Ashley""
Engine rebuilt to Yenko Stinger Stage III specs - 220 net horsepower.
Suspension lowered 1 coil.
Gas shocks
Steering Dampener
Low-restriction intake and exhaust.
Full window tint.
Tail panel painted silver (like the factory did with the Corvair Corsa model).
AM/FM/CD/Stereo unit mounted under the dash - NO holes cut or drilled for the installation!
Additional gauges (Tachometer, Voltmeter, Oil Pressure, Oil Temperature)
Pennsylvania Vanity Plate "CORVA1R"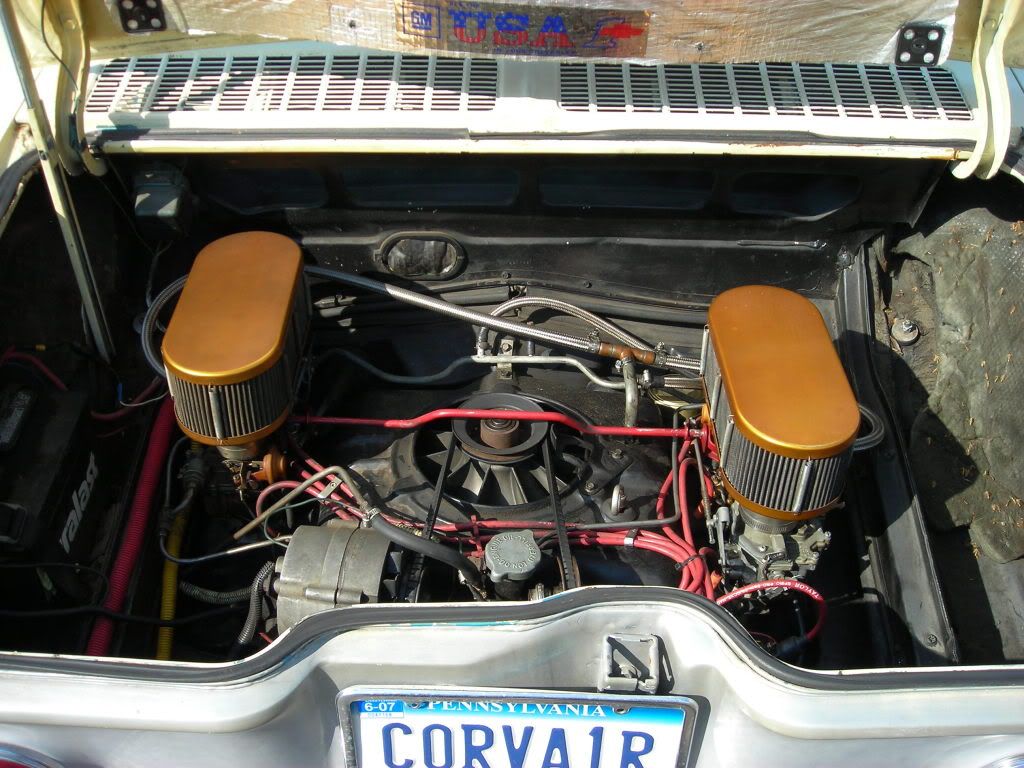 Mods for "littl shelby"
See the specs section for complete listing
Vote

This challenge has ended!
| Points for "Ashley" | Total Votes | Points for littl shelby |
| --- | --- | --- |
| 29 | 9 | 16 |
Download Drive Magazine Now!



Cars > Challenges > ""Ashley"" Vs "littl shelby"