Cars > Challenges > "Little Blue" Vs "Straman Convertible CRX"
ROLNGTZ
M
Smithton, Illinios
United States
kalhigg1
M
Stockton, California
United States
1995 BMW Z3
"Little Blue"
1986 Honda Straman CRX Spyder
"Straman Convertible CRX"
Head to Head
About "Little Blue"
1995 BMW Z3 Roadster Montreal Blue. Purchased as a bribe to get the wife to quit smoking. Fun little car to drive. Handles like it is on rails. Love taking cloverleaf exits at 65+mph. Car is glued to the road. It will not set any straight line speed records. Put it on a winding road and have FUN!!!!!!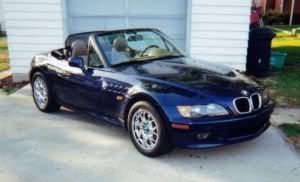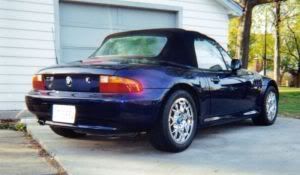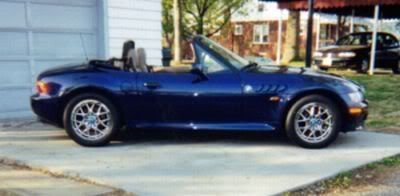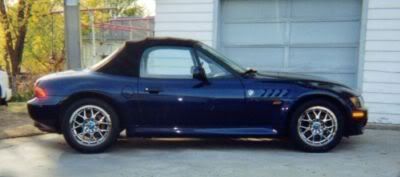 About "Straman Convertible CRX"
I bought this car from someone who was days away from sending it to the scrap pile. It was sitting under some tarps, on the side of their house for 11 years. I was told that it had a cracked head, no keys, and no paperwork. This person bought this car and never transfered the title into his name because the cylinder head cracked shortly after he got it.He said that he didn't have the money to fix it and then lost interest in it. Can you believe it only 310 of these cars supposedly ever made and he lost interest in it! Wow! The project is coming along nicely.It is #73 0f ???. I had some keys made, gutted and replaced the interior and seats,had a new top made,then bought some rims and tires for it.Pretty much kept it stock.
Oh...and guess what folks...The head was never cracked.The only problem was the radiator was split at the seems. He probably should have gotten a second opinion...
Specs for "Little Blue"
1.8 M43 4-cylinder
115hp
Automatic
Specs for "Straman Convertible CRX"
1500 motor (stock)
93 integra seats(had the bases changed,head rests removed,reupholstered in leather)
Drag DR20 Wheels 15X7
Nitto Tires 195/50/15
Factory Options for "Little Blue"
Power top
Power seats
Power windows
Power mirrors
Heated seats
Beige leather interior
AM/FM cassette with 6-cd changer
16" chrome rims
Factory Options for "Straman Convertible CRX"
No factory options listed.
Photo Albums
ROLNGTZ has no Car photo albums.
Photo Albums
"Straman Convertible CRX" has no photo albums.
Vote

This challenge has ended!
| Points for Little Blue | Total Votes | Points for Straman Convertible CRX |
| --- | --- | --- |
| 30 | 13 | 35 |
Cars > Challenges > "Little Blue" Vs "Straman Convertible CRX"