Cars > Challenges > "Ike's Hot Rod" Vs "#Flo"
sheppardml
M–65
Longmont, Colorado
United States
ROLNGTZ
M
Smithton, Illinios
United States
2008 Tyco TTL sticky fingerprints
"Ike's Hot Rod"
2006 Cadillac Escalade
"#Flo"
Head to Head
About "Ike's Hot Rod"
TTL powered (two tiny legs) Ike's first car! Powered by tube fed pediasure, popsicles (summer only) car. Car & driver wiegh in at 32#. 0-60 N/A. 1/4 mile 346 sec. @ 1/10 mph.
About "#Flo"
Daughter Power Wheels Escalade. Gift from Santa in 2006. She named "Flo". After the waitress in the Disney movie "Cars". Only mod, restrictor screw to overdrive removed. It will move. I have to run to keep up with her.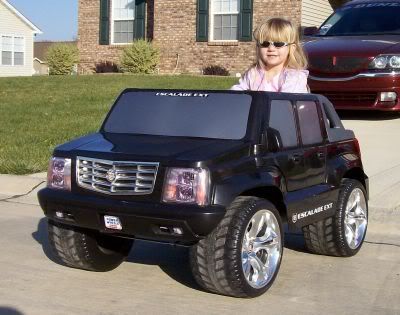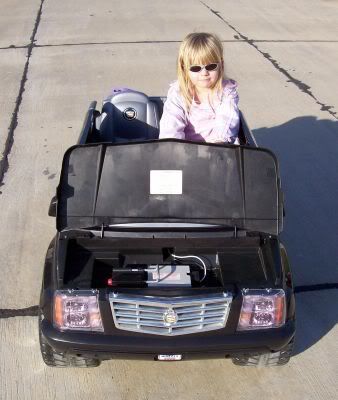 Specs for "Ike's Hot Rod"
Four Wheels, fake gas tank, key, wipers, real horn & engine sounds.
Specs for "#Flo"
3 speed
2 wheel drive
AM/FM radio
2 massive 6" subs
Amps 4 "D" batteries
12v Battery
Factory Options for "Ike's Hot Rod"
Optional floorboard for downhill runs
Factory Options for "#Flo"
convertible
chrome rims
seatbelts
cup-holder
Photo Albums
sheppardml has no Car photo albums.
Photo Albums
"#Flo" has no photo albums.
Vote

This challenge has ended!
| Points for Ike's Hot Rod | Total Votes | Points for #Flo |
| --- | --- | --- |
| 32 | 13 | 33 |
Cars > Challenges > "Ike's Hot Rod" Vs "#Flo"