Cars > Challenges > "The Firebird" Vs ""White Dog""
chameleon95
F–25

BADDAWG
M
Hopkinsville, Kentucky
United States
1995 Pontiac Firebird
"The Firebird"
2002 Chevrolet Monte Carlo SS
""White Dog""
Head to Head
About "The Firebird"
I bought this car in 2007. It was sitting in the used car section at a car dealership. At the time I wasn't even looking to buy a car. My brothers wanted to look around and I just happened to be with them at the time. They're the ones that gotten me into Firebirds and Transams. So when I saw this car I knew I just had to have it. This used to be a daily driver, but since I now have my grand am I use that daily and this on my weekends. One of the things that stands out to me on this car is the color, I love the chameleon green color. It currently has 138,000 miles on it, and still runs great.
About ""White Dog""
I purchased this car after my wife left me . I had gotten my final papers and was driving around and seen it on local carlot . I knew right away this was my car . Bought it same day .

I think I came out on better end of deal LOL

Kenny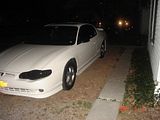 Specs for "The Firebird"
It has a 3.4L V6
Specs for ""White Dog""
Its got the Basic 3800 in it , Havent done much to motor as I use it as Daily Driver . Its fully loaded from Factory , Leather Seats and all . I added a few Minor Things to make it mine , like Taillight covers , I have Headlight covers but dont use much.
As Soon as PLUMCRAZY is Finished Ill start on DAWG .
Factory Options for "The Firebird"
No factory options listed.
Factory Options for ""White Dog""
NASCAR PACKAGE , LEATHER SEATS .
Vote

This challenge has ended!
| Points for The Firebird | Total Votes | Points for "White Dog" |
| --- | --- | --- |
| 60 | 21 | 45 |
Download Drive Magazine Now!



Cars > Challenges > "The Firebird" Vs ""White Dog""