Cars > Challenges > "The Brown Bomber" Vs ""Ashley""
ZanySmurph
M–41

CorvairJim
M–55
Norristown, Pennsylvania
United States
1978 Chevrolet Nova Rally
"The Brown Bomber"
1966 Chevrolet Corvair Monza
""Ashley""
Head to Head
About "The Brown Bomber"
I bought this car when I was 14 and rebuilt it myself. My dad is a mechanic with his own garage, but he never lifted a wrench to help me on it. He was there to offer advice whenever I asked for it, but that was it. When I bought the car, it had a straight 6 and an automatic transmission on the column, but I converted it to a worked 350 and eventually a 4speed. I changed the steering column to a tilt column I found in a junkyard to get rid of the mounting place for the shift lever. I did a lot of the work at my dad's shop after hours ond on weekends, even painting it there. This was a great experience for a kid raised around cars and a great confidence builder.

Everybody makes mistakes, and one of my biggies was falling for the idea that I wanted to build a second-gen Camaro. I found a '71 RS that looked pretty good that I could afford... if I sold the Nova. Long story short, it was beat to hell. It was a Bondo Buggy! It had taken a hard shot in the back end at one point, to the extent that the body was slightly twisted. The floors were swiss cheese. The wiring harness was just about fried, with several intermittant bad grounds. When I pulled down the engine to rebuild it, I found that it was too far gone to be worth saving. The list goes on and on. To add insult to injury, the guy who bought the Nova beat the crap out of the car, blew the engine and swapped in (as I heard it)something straight out of a yard, and wrapped it around a phone pole about a year later. Hindsight is 20/20, but if I could do it over, I would still have the Nova today. (The T-10 from that Camaro may find it's way into my wagon, though... )
About ""Ashley""
Back in 2000, I had the misfortune to have to take a prescription that meant I couldn't drive. I sold the daily car I had at that point (one plain-Jane black 5-speed Cavalier coupe - a transportation appliance at best). A couple of years went by, and I changed doctors. The new guy prescribed something different for my condition, so I needed wheels once again. I could: A) spend $4,500 on a cheap used car that would just blend into the woodwork or, B) Find a really decent Corvair set up the way I like it. Now THAT car doesn't blend in. I found this '66 Corvair in Denver, CO, on eBay. The engine had been rebuilt by a nationally-known Corvair specialist shortly before the previous owner put it into storage for about ten years. It came out of the rebuild capable of putting 220 horsepower down to the pavement. Not bad for 164 unblown, carbureted cubic inches! It also had new tires all around. I won the auction, and flew out with my wife to drive it home. A fantastic road trip, and it cost half as much as shipping it would have. It became my daily driver for the next three years, until, in late '05, I had it in for state inspection at a friends Corvair restoration shop. While it was up on the lift, I got to see just how little rust the car had underneath. I decided at that point that it had seen its last winter of Pennsylvania road salt! It is now my nice spring day car, and a pleasure to drive. It still draws attention wherever I go with it.

UPDATE: I had to sell my beloved Ashley in August of 2009 due to the nation's lousy economy. My overtime had gone away and and my wife lost her job due to a work-related disability that they refused to accept responsibility for, so we just couldn't justify the expense of nearly $100/month to insure the third car in a two-driver household. Our mortgage was a couple of months behind, so sadly I took a friend up on his standing offer on her. As promised, he has given her the complete cosmetic restoration she so badly deserved. Of course, she didn't need anything mechanically - I always kept her up 100% mechanically. Furthermore, he gave me right of first refusal, so if he should ever decide to sell her, I get the first opportunity to buy her back.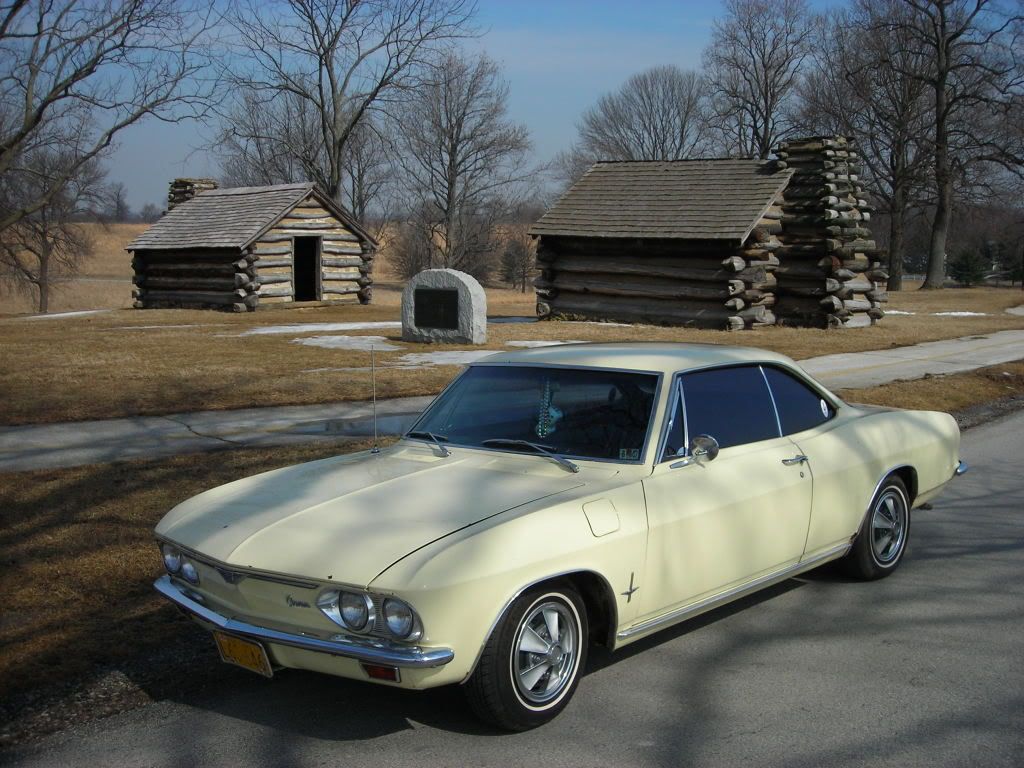 Specs for "The Brown Bomber"
Junkyard Chevy 350 completely stripped down and rebuilt by me at 14 years old. I bored it out .040 over, upped the compression to 10.5:1, and went with a mid-race cam. The junkyard T-10 transmission out of an older Camaro was in good condition, and the entire drivetrain took all the abuse a teenager with a brand-new license could dish out. I never dynoed the car, but it did the 1/4 mile in the mid-13s and 0-60 in something under 5 seconds. I never did a top-speed run with it - My dad knew ALL the cops around the area, and if they didn't take my license, dad would have, and the car too!
Specs for ""Ashley""
1966 Corvair Monza Sport Coupe
164 C.I.D. Opposed 6-cylinder engine, air cooled.
Lemonwood Yellow paint, Black interior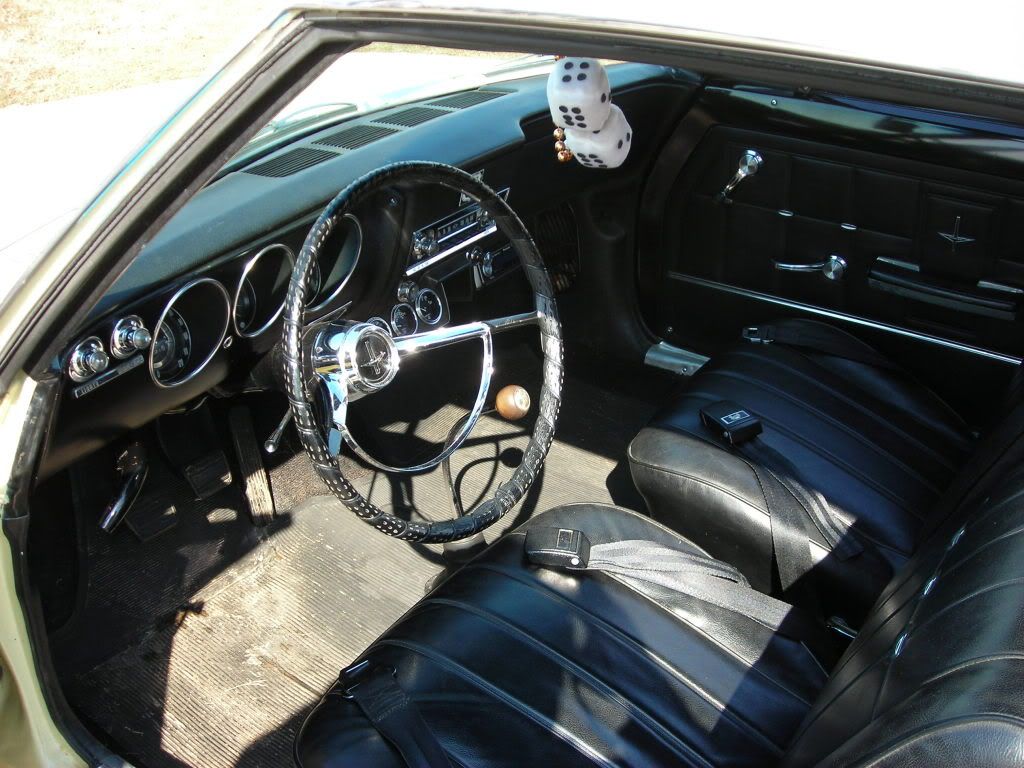 Factory Options for "The Brown Bomber"
AM-FM mono radio, air conditioning, automatic transmission
Factory Options for ""Ashley""
(All options verified by build sheet)
140 horsepower, 4 carb engine
4-speed transaxle
Posi rear
Sport Suspension
"Mag-Style" full wheel covers
AM pushbutton radio
Mods for "The Brown Bomber"
Engine and transmission swap from an inline-6/automatic combo to a worked V-8/4speed. Original radio out, AM/FM/CD in. Custom wheels. Upgraded the trim to the "Rally" package. Bench seat out, bucket seats in. I bought the car when I was 14, did it all myself (with advice from my dad) including body and paint, and it was finished (except for the tranny swap) well before I got my license at 16!
Mods for ""Ashley""
Engine rebuilt to Yenko Stinger Stage III specs - 220 net horsepower.
Suspension lowered 1 coil.
Gas shocks
Steering Dampener
Low-restriction intake and exhaust.
Full window tint.
Tail panel painted silver (like the factory did with the Corvair Corsa model).
AM/FM/CD/Stereo unit mounted under the dash - NO holes cut or drilled for the installation!
Additional gauges (Tachometer, Voltmeter, Oil Pressure, Oil Temperature)
Pennsylvania Vanity Plate "CORVA1R"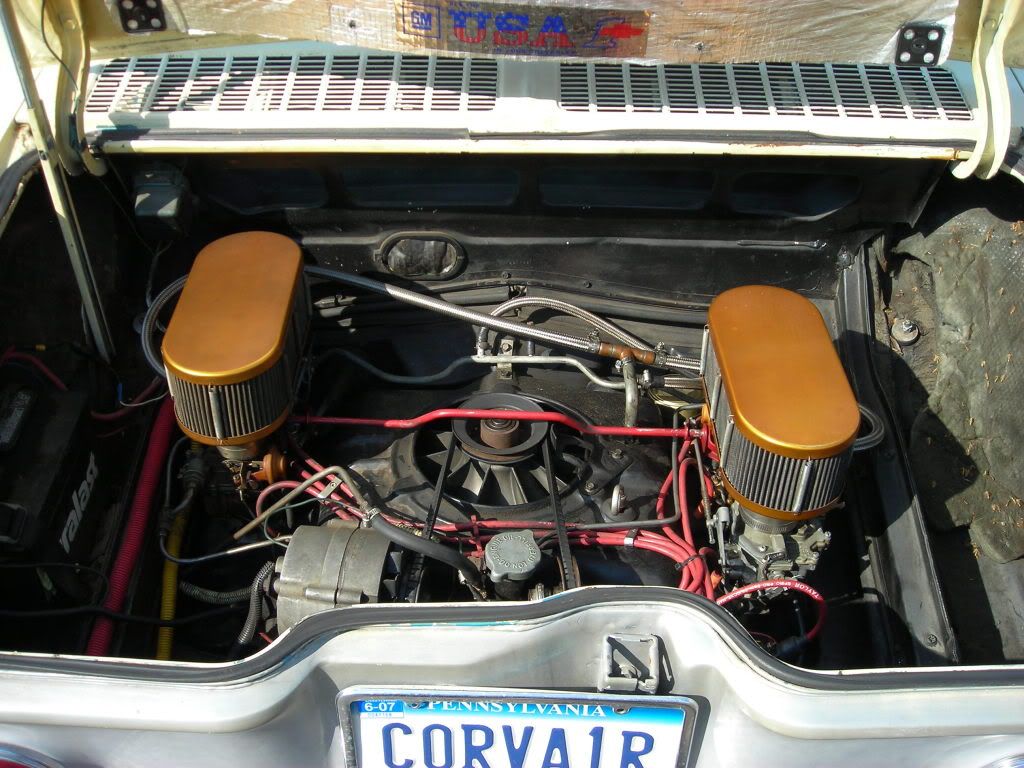 Vote

This challenge has ended!
| Points for The Brown Bomber | Total Votes | Points for "Ashley" |
| --- | --- | --- |
| 10 | 7 | 25 |
Cars > Challenges > "The Brown Bomber" Vs ""Ashley""