Cars > Challenges > "The Stang" Vs "300zr2"
redstanger
M–31
Pierce, Nebraska
United States
nismo300zr2
M

2001 Ford Mustang KB2.2L GT
"The Stang"
1991 Nissan 300ZX TT
"300zr2"
Head to Head
About "The Stang"
I have had this car since it was new. I have done all the mods by myself.It ran 12 flat with just cams,gears,slicks,and 75shot of nitrous.Now i have a kenne bell 2.2L supercharger and nitrous cant wait to see what she does now.

funny thing is the car only had 30,000 miles on it when i did a entire rebuild. there was still cross hatching on the cylinder walls.

another thing is as soon as i started it up Kenne bell came out with the 2.6L kit. just my luck i guess.
About "300zr2"
owned since 2002. bought STOCK except for I.C.E. consisting of MTX subs and amps and a Clarion head unit and some hideous 17" chrome rims.

i quickly sold the rims and attached a set of Axis touring cups temporarily. then began the parts search to customize the 300 and make it mine.

i started showing the car and placed at show after show taking home awards at every event EXCEPT HotImportNights, which is still a goal.

last year i beefed up the performance to match the looks of the car.
Its been down the drag and sliding across the track at MyrtleBeach's slidefest. Ive also had my share of rolling street races but-
In 07 i plan to tune it to better suit road racing and compete in time trials at the track.

The Z32 300ZX Turbo was on Car and Driver magazine's annual Ten Best list every year it was available, from 1990 through 1996. The Z32 Turbo was also Motor Trend's Import Car of the Year for 1990. It was critically acclaimed by many magazines as being a complete turnaround from the Z31, which many critics felt was a sloppy-handling GT, far from the agile, sporty 240Z of years past. From the year it was introduced, it won many comparison tests against similar sports cars such as the Mitsubishi 3000GT/Dodge Stealth and the Mazda RX-7, as well as the Chevrolet Corvette, Ford Thunderbird, Toyota Supra and the Porsche 968. In some comparison tests for the prototype 1991 Dodge Stealth R/T Twin Turbo, the Stealth came out on top.

The Z32 300ZX also made it to Automobile Magazine's list of 25 Most Beautiful Cars in August 2006 and 20 Greatest Cars in April 2006.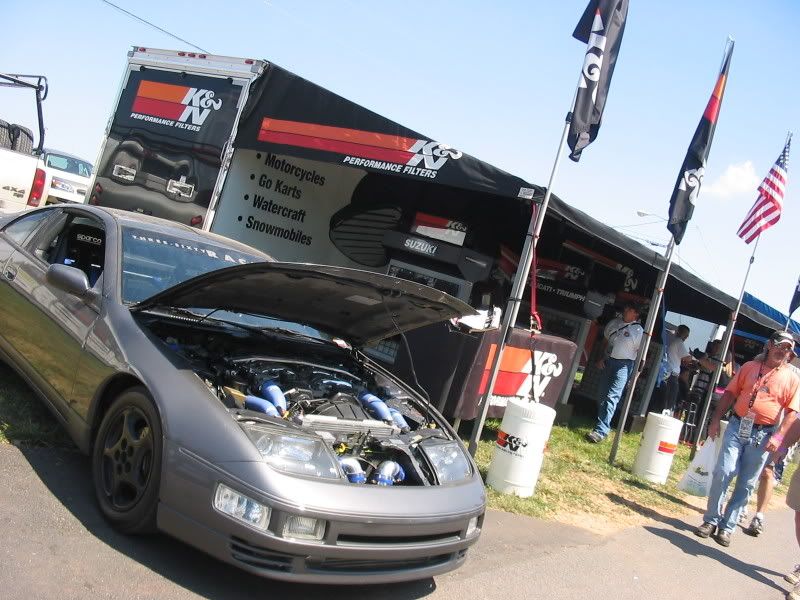 Specs for "The Stang"
574rwhp 565rwtq

With out nitrous. With a 75shot of Nitrous and 100+octane its projected to be around

650+rwhp????
Specs for "300zr2"
3.0L
TT Ttop
5spd
4wheel steering HICAS removed
rated factory 300hp

Production: 1991
Body style: 3-door hatchback
Engine: 3.0 L VG30DETT V6
Transmission: 5-speed manual
Wheelbase: 2450 mm (96.5 in)
Length: 4305 mm (169.5 in)
Width: 1790 mm (70.5 in)
Height: 1200–1235 mm (48.1–48.7 in)
Curb weight: 1585 kg (3494 lb)

1991: Manual climate controls discontinued (except in convertible).

New electronic climate controls allowing control over air flow direction, but no more ambient temp gauge.
Nissan logo put on the front fascia of the car.
Driver's airbag now optional.
Air conditioner evaporator valve changed from aluminum to steel for better sound insulation.
North American brake rotors changed to NA units. Previous NA rotors were 4 mm thinner.
CD player option added for both the TT and NA; it was previously only available in the NA.
Bose stereo head unit changed.
Logo on floor mats changed from "300ZX" to "Z".
Hardtop coupe available at mid-year (NA only).
Brake master cylinder changed to new unit in February 1991.
Keyhole on driver's door and interior light illuminated when driver's door handle was pulled.
Sales: 17,652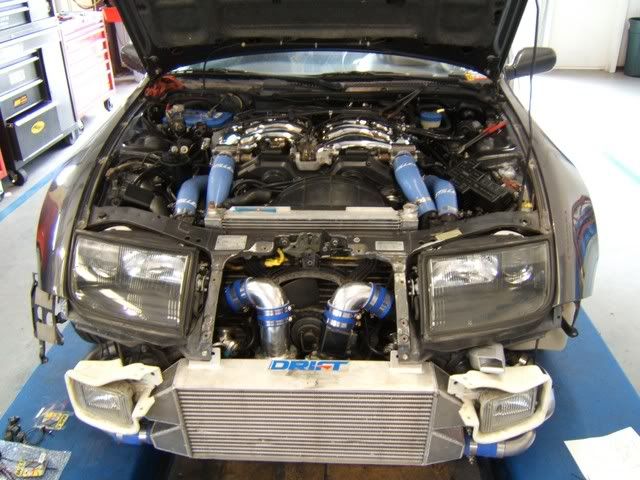 Factory Options for "The Stang"
Premium Package
5speed
Factory Options for "300zr2"
2seat
twin turbo
Leather seats sold out for Sparcos.
Full options. pwr eveything.
T top
4 tires
horn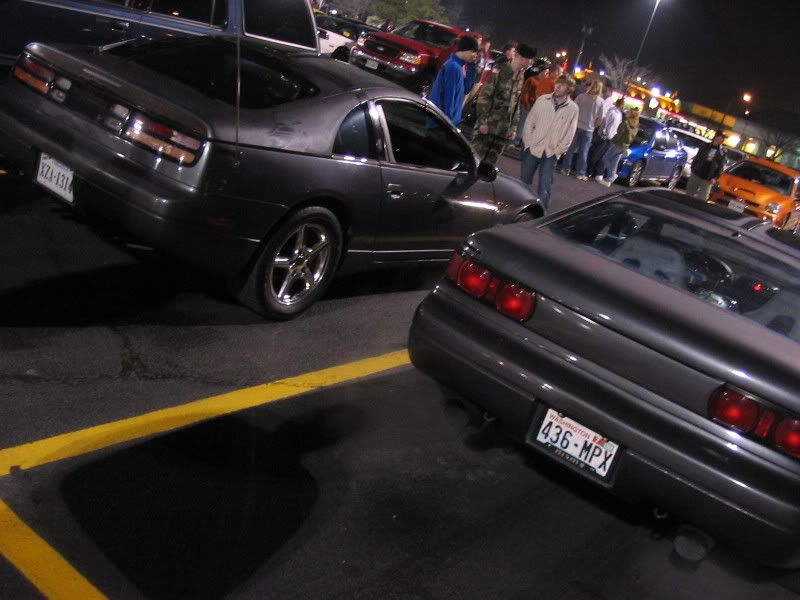 :P
Mods for "The Stang"
4.6L SOHC..
promotion powertrain 750hp Tremec T45 5speed!!
Kenne Bell 2.2L 15psi(soon 20psi)
kenne bell 4in cool air kit
upgraded intercooler
NX 50-150hp nitrous system($1300 new)
patriot stage 3 heads
CROWER stage 2 cams (soon custom cams)
manley 23cc dish pistons. bored.20over
manley H-beam rods
EAGLE 4340 Crank
ARP studs
Windtray
MAC Long tube headers
MAC off/road prochamber
Flowermaster Super40's
Granetelli Coil over plugs
NGK Tr6's gapped .028
Granetelli 90mm MAF
spec stage 2+ clutch
Pro 5.0 shifter w/mgw adjustable handle
aluminum driveshalf
moroso front drag springs
lakewood 70/30 drag struts
hpm adjustable upper and lower control arms
full subframe connectors
poly urithane bushings
Ford racing 3.73's
Eaton locker 31spline
moser 31 spline axles
03/04 cobra tank
Twin GT40 supercar pumps (250lph each)
40amp Boost A Pump
Steeda fuel rails
Seimens 60lb injectors
SCT custom tuning software


564rwhp 545rwtq w/o nitrous



body mods!!
2000 cobra r hood
2000 cobra r front bumper
1995 cobra r rims (never seen them b4 so i got them.
17x10.5 rear rims
315/35/45 drag radials
35% tinted windows
4in exhaust tips(to fill out the factory holes)
Mods for "300zr2"
way too many for me to list all now...

full engine build
Earls oil cooler
PWR radiator
UR pullies
disco potato turbos
Turbo XS RFL BOV's
twin intake
apollo 3" FMIC
Sparco interior-seats,shifter,pedals,wheel,belts
HKS exhaust
HKS twin pwr ignition amp

RPS carbon clutch
rebuilt transmission
Z1 one piece driveshaft
NA rear end (hicas elim) geared for accel

fully adj suspension
TEIN Flex with EDFC
Defi Greddy PLX APEXi electronics
Carbon Fiber dash kit
Custom tail bodywork, jun front end
shaved antenna. shaved rear wiper
18x9 NISMO/volk LMGT4
Falken FK451 street tires
Brembo xdrilled/slotted rotors
goodridge SS lines
axxis mm brake pads

kenwood in dash touchscreen DVD/TV/NAV
2MTX thunder amps
3MTX 10"Thunder subs
(RF punch 8"sub for space or weight saving)
Sony components

future mods-wing?
splitter/diffuser
extended wheel studs
99 JDM front bumper
veilside? carbon seats
5pt cam belt
Roll cage
Custom false floor for sub.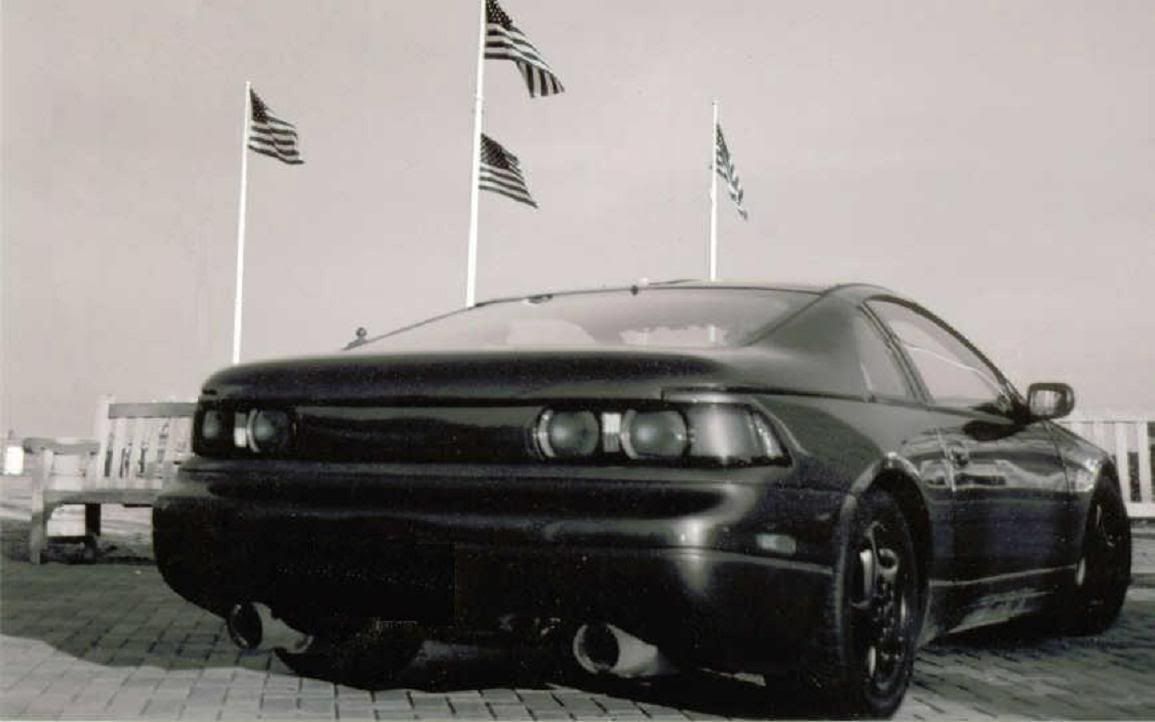 Vote

This challenge has ended!
| Points for The Stang | Total Votes | Points for 300zr2 |
| --- | --- | --- |
| 62 | 21 | 43 |
Cars > Challenges > "The Stang" Vs "300zr2"