Cars > Challenges > "#Furniture" Vs "Back-in-Black"
ROLNGTZ
M
Smithton, Illinios
United States
Crazyfast79TA
M–47
Bovey, Minnesota
United States
1991 Chevrolet S-10
"#Furniture"
1994 Chevrolet S-10 LS
"Back-in-Black"
Head to Head
About "#Furniture"
NO LONGER OWNED!!!!!!!!!!!!!
My old work truck/beater. It was a REAL piece of crap, when I first got it. Did all the work to it the first two months I had it. It was fun as hell to drive. Had it for about 3 years and sold it. Took the money and bought a new living room set with the $1900 I got.

The way I lowered it improved the handling and weight load. Five inch drop up front. Three inch Bell Tech spindles with two inch springs. The rear was cheap as hell to drop. Three inch drop blocks, $30. Cut the rear carriage bolts. take the bottom leaf spring and flip it underside down on the top of the leaf springs. Install new carriage bolt, $.75 each. Tight them down. Cut the extra off the bolt. That gives you another three inches of drop. the benefit of this is. It increases your load weight for haulling. BUT it stiffins up the rearend greatly. The suspension was so tight and increased the handling so much. I could take cloverleaf raps/exits at 65mph with little to no body roll.

EXTERIOR
AFTER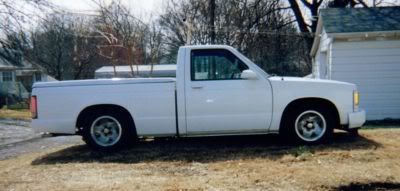 BEFORE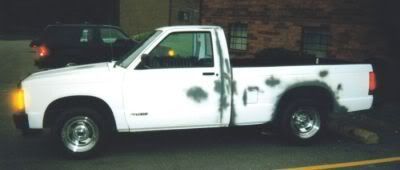 INTERIOR
AFTER


BEFORE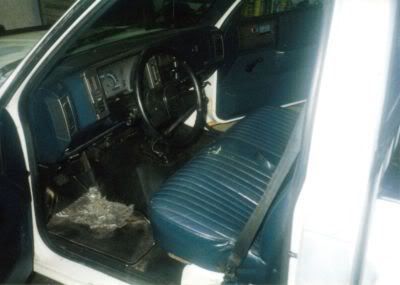 About "Back-in-Black"
I traded my "P.O.S." Ranger for this truck. I didn't leave it as low as it was when I got it.. I put the original springs back in it but left the lowering spindles in and had to replace the old blocks with new blocks. I've got the different wheels on it that were suposed to be for my Nova.They really dressed this baby up! I haven't done anything to "hot rod' this truck yet. I drove this truck until the driveshaft blew out. Not just a u-joint. I mean this thing came out in pieces! It even broke the tail-shaft housing on the transmission. Did you know that '94 was a one year only driveshaft? It has a flange on the rear u-joint. I couldn't find a replacement anywhere in Ohio. It took me a long time before I just said "screw it" and got a driveshaft and rear end yoke from a '95 or '96 S-10. The guy at the salvage yard said he didn't think it would work. I told him I'd make it work. It did! I drove the truck for a while after that before the trans started failing on me. It did make a couple trips to Minnesota before it finally gave up completely. We brought it up here on a tow-dollie behind our GMC Rally van. I didn't know the trans in the van was getting bad until it blew overdrive out somewhere in Wisconsin. But that's a whole other story! It was sitting behind the shop I worked at with the transmission in pieces in boxes in the back of the cab for a couple years waiting for something to happen. That "something" happened in October. I got laid off from that shop and had to bring the truck home. That meant I had to work on it. It didn't take long for me to jack a plan into motion! The 4.3 came out and my 350 is going in. I'll have to rebuild my 700R4 or get another to go with it. There's plenty of other upgrades planned, too!
Specs for "#Furniture"
2.5 4 banger
5 speed
Specs for "Back-in-Black"
4.3 Vortec V-6
4L60E overdrive transmission
3.42 rear gear
Extended cab/short-bed
American Racing Wheels
Factory Options for "#Furniture"
AC 2 x 60 (two windows down, 60mph)
Factory Options for "Back-in-Black"
A/C
Cruise Control
AM/FM Cassette
Power Widows
Power Locks
Delay Wipers
Leather Seats
Mods for "#Furniture"
Shaved tailgate with frenched lisense plate
Steel rollpan
Shaved door locks
Sport mirrors
Fullsize chevy truck bumper sectioned out to fit a S-10
Turnsignals behind front grille
Fiberglass bed cover with lock and shocks
''98 Pontiac Sunfire bucket seats
Sony CD player
JLAudio tweeters and mids
Fosgate two 12" subs
L.A.Sound amps
Custom tweeded door panels
5" drop in front 3"Bell-Tech spindes & 2' springs
6" drop in rear 3" drop blocks & rear leaf springs flipped
Monza exhaust tip(no muffler)
Bright white paint by GM
15" S-10 rims
Mods for "Back-in-Black"
Tinted Windows
Bed-Liner
Wood interior accents
Lowering Spindles in front, Lowering Blocks in rear
Getting the 350 with the 700R4 I had in my '87 S-10 (Thunder's Truck) ready to go in
Other plans:
Auburn Limited Slip Differential
Modified dual hump crossmember
Patriot headers
Turbo-Tube mufflers (used on Thunder'sTruck S-10)
New paint job (black of course!)
Photo Albums
ROLNGTZ has no Car photo albums.
Vote

This challenge has ended!
| Points for #Furniture | Total Votes | Points for Back-in-Black |
| --- | --- | --- |
| 5 | 9 | 40 |
Download Drive Magazine Now!



Cars > Challenges > "#Furniture" Vs "Back-in-Black"