Cars > Challenges > "Little Blue" Vs "monica"
ROLNGTZ
M
Smithton, Illinios
United States
piaboy
M–54
Long Beach, California
United States
1995 BMW Z3
"Little Blue"
1991 BMW 325i i
"monica"
Head to Head
About "Little Blue"
1995 BMW Z3 Roadster Montreal Blue. Purchased as a bribe to get the wife to quit smoking. Fun little car to drive. Handles like it is on rails. Love taking cloverleaf exits at 65+mph. Car is glued to the road. It will not set any straight line speed records. Put it on a winding road and have FUN!!!!!!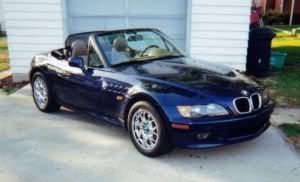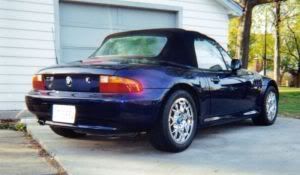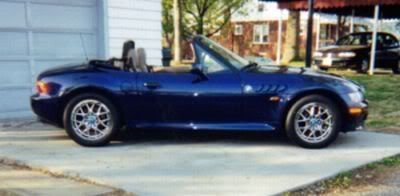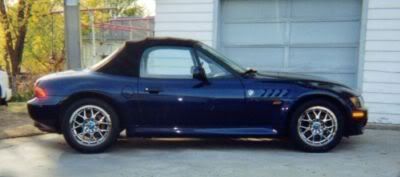 About "monica"
SHE'S MONCIA BECAUSE I BOUGHT HER IN SANTA MONICA CA WITH 100L FOR BARGIAN AT $2200...........THESE CARS WHERE LIKE 30K NEW IN 1991. THEY GO EXLEAST 250; T0 300K MILES IN THE MILD SOUTHERN CALIFORNIA CLIMATE
Specs for "Little Blue"
1.8 M43 4-cylinder
115hp
Automatic
Specs for "monica"
325I FI IN LINE SIX WITH AN AUTOMATIVE KINDA DOGGY
IF YOU WANT A NICE SPORTS SEDAN GET A 325I 89 TO 91 WITH A 5 SPEED. THERE'S NO COMPARING THE AUTOMATIC TO THE 5 SPEED STICK. THE 5PSEED HAS THE PERFORMANCE OF A SPORTS WITH CABIN FEEL OF A SEDAN. THIS CAR ARE SO SOILD. I''LL TRY AND POST THE PICS OF MY BLK 325I 5SPEED THAT WAS TOTAL IN DOWNTOWN LA
Factory Options for "Little Blue"
Power top
Power seats
Power windows
Power mirrors
Heated seats
Beige leather interior
AM/FM cassette with 6-cd changer
16" chrome rims
Factory Options for "monica"
DOBLY 6 CD PLAYER IN TRUNK
Photo Albums
ROLNGTZ has no Car photo albums.
Photo Albums
"monica" has no photo albums.
Vote

This challenge has ended!
| Points for Little Blue | Total Votes | Points for monica |
| --- | --- | --- |
| 32 | 8 | 8 |
Cars > Challenges > "Little Blue" Vs "monica"