Cars > Challenges > "#Furniture" Vs "black beast"
ROLNGTZ
M
Smithton, Illinios
United States
tscowee
M–46
Farmington, Missouri
United States
1991 Chevrolet S-10
"#Furniture"
1993 GMC Sonoma sle
"black beast"
Head to Head
About "#Furniture"
NO LONGER OWNED!!!!!!!!!!!!!
My old work truck/beater. It was a REAL piece of crap, when I first got it. Did all the work to it the first two months I had it. It was fun as hell to drive. Had it for about 3 years and sold it. Took the money and bought a new living room set with the $1900 I got.

The way I lowered it improved the handling and weight load. Five inch drop up front. Three inch Bell Tech spindles with two inch springs. The rear was cheap as hell to drop. Three inch drop blocks, $30. Cut the rear carriage bolts. take the bottom leaf spring and flip it underside down on the top of the leaf springs. Install new carriage bolt, $.75 each. Tight them down. Cut the extra off the bolt. That gives you another three inches of drop. the benefit of this is. It increases your load weight for haulling. BUT it stiffins up the rearend greatly. The suspension was so tight and increased the handling so much. I could take cloverleaf raps/exits at 65mph with little to no body roll.

EXTERIOR
AFTER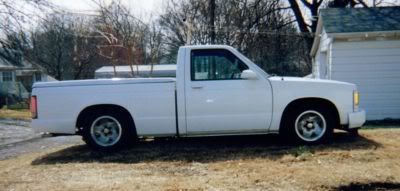 BEFORE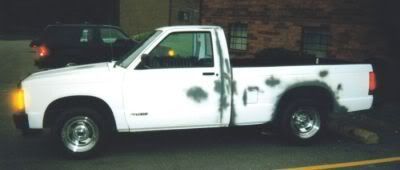 INTERIOR
AFTER


BEFORE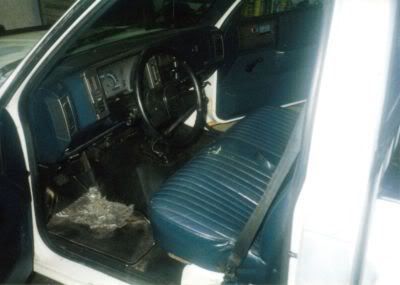 About "black beast"
[img][/img]I just bought this truck in sept of this year.Its my daily drive[img][/img]r.I bought it from a guy that i worked with dad.
Specs for "#Furniture"
2.5 4 banger
5 speed
Specs for "black beast"
It's a 2 door standard cab.It has a 2.8 v6 with a 5 speed manual tranny.
Factory Options for "#Furniture"
AC 2 x 60 (two windows down, 60mph)
Factory Options for "black beast"
[img][/img]It has power steering,power brakes, air conditioning and tilt.
Mods for "#Furniture"
Shaved tailgate with frenched lisense plate
Steel rollpan
Shaved door locks
Sport mirrors
Fullsize chevy truck bumper sectioned out to fit a S-10
Turnsignals behind front grille
Fiberglass bed cover with lock and shocks
''98 Pontiac Sunfire bucket seats
Sony CD player
JLAudio tweeters and mids
Fosgate two 12" subs
L.A.Sound amps
Custom tweeded door panels
5" drop in front 3"Bell-Tech spindes & 2' springs
6" drop in rear 3" drop blocks & rear leaf springs flipped
Monza exhaust tip(no muffler)
Bright white paint by GM
15" S-10 rims
Mods for "black beast"
so far after market muffler,primed the truck, after market stereo and pedal covers.
Photo Albums
ROLNGTZ has no Car photo albums.
Vote

This challenge has ended!
| Points for #Furniture | Total Votes | Points for black beast |
| --- | --- | --- |
| 22 | 9 | 23 |
Cars > Challenges > "#Furniture" Vs "black beast"