Cars > CCCruiser's Garage
About CCCruiser's Garage
About me and my passion for cars
Started young but not really sure where I got the car bug from. My dad had a love for old Impalas but was too busy trying to keep us from starving. He did a great job supporting us and I'm thankful for that.
In 1987 I joined the Carter County Cruisers car club and two decades later I'm still there.

I currently own a 1951 Chevy Styleline. Right now I'm swapping the entire drivetrain out.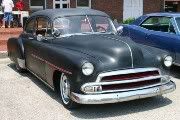 I recently aquired a 1951 Mercury as well. You can never have enough old cars.

I love the automotive hobby so much that my business thrives on car shows and cruise ins. I started John's Kustom Trophy just so I could spend more time around car people.
My first car
My first "real" car was a 1976 Dodge Aspen R/T. Too bad it got sandwiched in a wreck. Then I got a 1973 Nova and from there the list just goes on and on.
Car clubs I'm in
Carter County Cruisers

I'm also WAS a state director for KUSTOMS OF AMERICA
Favorites
Type of racing: Drag Racing , salt flats
Car movie: American Graffiti
Car book: Circa 1957
Car magazine: Rod & Custom
— Profile last updated: Feb 16, 2008
CCCruiser's Groups

1 – 3 of 3
Enthusiast Groups
This is a place for 4door and wagon owners to get to know each other and show that these vehicles can be and are cool cars! Some car shows have started having classes for these vehicles and I would like to see more event promoters reconize these vehicles.
Iowa, United States
Club Groups
The Carter County Cruisers are based in eastern Kentucky. The club was established in 1982 and is going strong still. We don't have scheduled meetings, we chose to be a social club who meets up in the garage whenever someone wants to work on their cars. Of course we like to travel to shows...
Kentucky, United States
The Club Moderator Group is the place for Club moderators to share ideas and information. If you have a question: Check the Clubs Section FAQ. If you didn't find the answer in the FAQ: Ask your questions and enjoy lively discussion with other moderators in the forums. If you still need help:...
Nebraska, United States
This is a club that is located in Cookeville, TN. We have a variety of Chevy, Mopar, and others that are represented by members in our group. We meet on the second Monday of the month at the soup kitchen, and attend shows as they arise. There are people of all ages that are members of our...
Tennessee, United States
CCCruiser's Friends

1 – 3 of 71
Parts and Collectibles

1 of 1
Parts For Sale
Photo Albums and Videos

1 – 2 of 6
Filed under 1972 Pontiac Ventura (Ventura II)
Photos: 8
Filed under 1996 Chevrolet S-10 (Dailey 10)
Photos: 5
CCCruiser's Car Garage Blog

1 – 1 of 1
Dec 1, 2007
I was watching some show on ESPN this morning. The name escapes me at this point but it got me to thinking. Does the presence of cameras make some people become overly arrogant douche bags or were they already that way? If they were, why did anyone give...
Cars > CCCruiser's Garage