Cars > CadVetteStang's Garage
About CadVetteStang's Garage
About me and my passion for cars
I built and owned the two 1972 fastback Mustang Sprints that were used as the one Mustang chase car in the movie "Shelter" (which was produced in Little Rock, Arkansas in 1997). I also played "Wayne" in that movie. Wayne was the lead bad guy in the shoot-em up opening action sequence of the movie.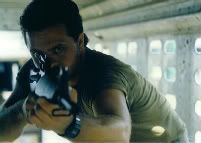 It was not a big speaking role, but it was my acting break into a Screen Actor's Guild movie. That film was first released on HBO and has since been translated to several languages is still circulated in many foreign markets on cable TV.

I am a part-time movie producer who works full time for a commercial jet factory. I have not yet had the "big break" that will allow me to go full time into filmmaking, but I am still in the hunt for the investors that will allow that to happen. More about my filmmaking can be seen at http://www.my...m/codygcarson

I am the producer of the movie, "Culture Wars", a low budget Christian film with a conservative political viewpoint. It was sabotaged during filming and will require extensive computer generated editing to salvage it. As of right now, the movie is completely filmed, but stuck in post production. I am also the author of the short story "The Hypocrite and the Witch Who Loved Him". That story is competing in an international writing contest right now. As the title implies, it is a faith-based love story that deals with the occult.

My interests are: Filmmaking, acting, modeling, writing screenplays and novels, freelance talent scout, building Cadillac powered hotrods, autocross racing, and drag racing, inventing, and designing house plans.

NOTE: I would like to mention that although my status as a film producer leads to having a lot of female friends on this and other websites, I am a faithfully married Christian husband and father, and I would never do anything to harm my family. I am not interested in getting dates with any of my female friends here or on any other website like myspace, facebook, etc. However, I do work as a freelance talent scout and work with aspiring actresses and models who want to get into movies WITHOUT compromising their morals. I say this because I don't want anyone to get the wrong idea about me having a lot of young attractive female friends- I am NOT a player.

My company's wonderful health insurance program saved my wife's life when she was diagnosed with breast cancer last year. I thank God for my current full time employment.

Current medical bills have slowed my efforts to restore the unfinished projects in my garage, however, since my wife's surgeries are finished, I should be able to resume construction or reconstruction of them soon.

In the recent past, I worked for two companies that went out of business which caused a financial crisis forcing me to abandon my project cars at several friends' houses. Before that I was working for low income jobs that limited my ability to complete my projects.

I was a late bloomer when it came to cars and I was not taught what to like. Therefore I have a wide range of automotive interests. However, I do lean towards American Muscle cars and Big Block Cadillac engines.

My childhood background was in science, science fiction, acting and student filmmmaking. I became interested in cars when I took a ride in the 70 Eldorado that my dad had bought for my mom. She did not want the car, so I asked if it could be my 16th birthday present. I was 15 at the time, and the car was green and had been damaged in a parallel parking maneuver by the original owner's 16 year old daughter. She had put a one inch deep scrape half way down the driver's side rear quarter panel and busted out one of the tail lights. It was a good excuse to get rid of the green color. Dad and I worked on it for three months in our spare time. With the help of my uncle, who has recently passed on, we did a homemade paint job in our garage in 1982.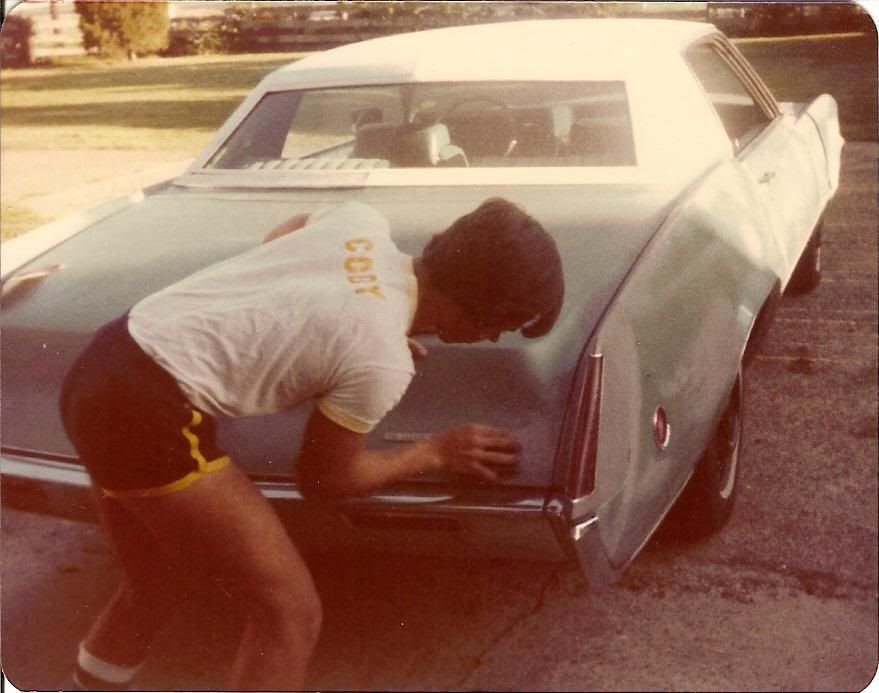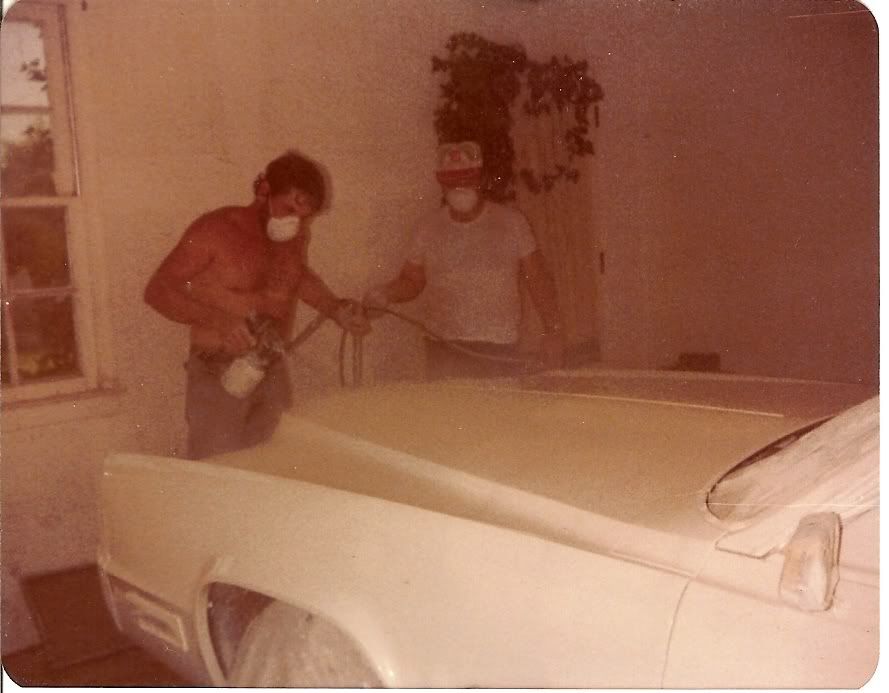 When I drove it to school on my 16th birthday, it was white and wore a fresh coat of paint. We put glass packs on it, and I loved to pass slow school busses on Highway 10; The car would go from 40 – 85 before I could get it back into my lane in that quick maneuver and it "wowed" my friends on the bus as the 500 engine roared and rattled the windows of the bus. I soon got hooked on street racing the car and rarely lost.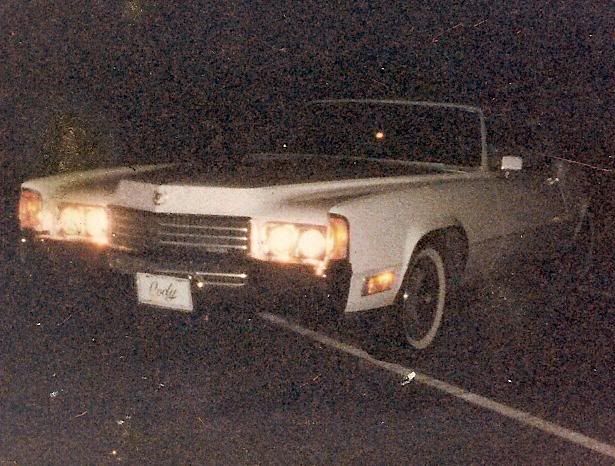 My first car
1970 Cadillac Eldorado, white, 500 cid. engine 560 lbs. torque @ 3400 RPM, 400 HP @ 4200 RPM All stock. SCCA autocross racing, street racing, drag racing
Car I wish I still had
1972 Fastback Mustang project car that was stolen last year. Had Caddy 500 engine, TH400 trans, 9" Ford rear end, 12" Cadillac front disc breaks. C4 Corvette front suspension mods planned.
My dream car
Cadillac Cien
.

... 2000 Cadillac Eldorado ETC with autocross mods and 18 X 9.5" wheels....


71 or 72 Mach 1 Mustang w/ 536 Caddy engine 650 lbs. torque @ 3500 RPM w/ C4 Corvette front and C5 Corvette rear suspension.... 1984 Corvette w/ Caddy 500 and Z51 suspension. 70 Eldorado w/ 536 Engine.... 70 Eldorado w/ road race suspension and 20 X 10" wheels.
Car clubs I'm in
Cadillac Performance Association yahoo group (I am the founder) 67 thru 70 Eldorado yahoo group ( I am the founder)
Favorites
Type of racing: Autocross, road race, drag
Driver: Dale Earnhardt, Ricard Petty, Danica Patrick, Ashley Force
Driving song: Danger Zone (Top Gun Theme) & Bad to the Bone
Car movie: Original Gone in 60 seconds, Bullitt, American Graffiti, Corvette Summer
Car magazine: Hot Rod, Car Craft, Motor Trend
— Profile last updated: Jun 3, 2010
CadVetteStang's Groups

1 of 1
Club Groups
CadVetteStang is not a member of any club groups
CadVetteStang's Friends

1 – 3 of 423
Parts and Collectibles

1 – 2 of 2
Parts For Sale
Photo Albums and Videos

1 – 2 of 3
CadVetteStang's Car Garage Blog

1 – 3 of 6
Mar 12, 2010
I am now in pre production of the movie "I Was Trafficked" I'm giving all of my motortopia friends a chance to get involved in the production of this movie which is a...
Sep 21, 2009
Filed under: 1972 Ford Mustang (Shelter Movie Mustangs)
Full Story: My Two Mustangs from the movie "Shelter" http://i292.photobucket.com/albums/mm22/Candleligh
tPictures/CodywithSheltermovie72MustangSprint.jpg In 1997, I was an...
Aug 28, 2009
I just finished making this wheel offset chart. I was not satisfied with the information I found online and I wanted something that could be printed out on an 8.5" X 11"...
Cars > CadVetteStang's Garage