Cars > ' Garage > View Profile
Cars Profile
About me and my passion for cars
Started young but not really sure where I got the car bug from. My dad had a love for old Impalas but was too busy trying to keep us from starving. He did a great job supporting us and I'm thankful for that.
In 1987 I joined the Carter County Cruisers car club and two decades later I'm still there.

I currently own a 1951 Chevy Styleline. Right now I'm swapping the entire drivetrain out.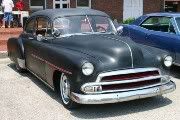 I recently aquired a 1951 Mercury as well. You can never have enough old cars.

I love the automotive hobby so much that my business thrives on car shows and cruise ins. I started John's Kustom Trophy just so I could spend more time around car people.
My first car
My first "real" car was a 1976 Dodge Aspen R/T. Too bad it got sandwiched in a wreck. Then I got a 1973 Nova and from there the list just goes on and on.
Car clubs I'm in
Carter County Cruisers

I'm also WAS a state director for KUSTOMS OF AMERICA
Favorites
Type of racing: Drag Racing , salt flats
Car movie: American Graffiti
Car book: Circa 1957
Car magazine: Rod & Custom
— Profile last updated: Feb 16, 2008
Cars > ' Garage > View Profile