Filed under: 1976 Pontiac Trans Am (My 76)
I got this letter from a friend so I thought I would share it.
Dear Firebird and Trans-Am Enthusiast,
I would like to invite you to come take a look SCC (Screamin' Chicken Chasers), the newest site to hit the net for Firebird and Trans-Am enthusiasts by clicking
www.sccgarage.com
today! SCC was built on a father's love for his son and a strange twist of fate.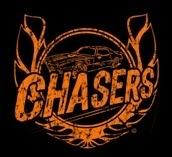 Our site features an online parts locating service, a forum filled with Firebird and Trans-Am enthusiasts from all over the world, a VIN and COWL tag decoding service, an online store with great SCC gear, and most recently a new online auction. You can meet the SCC Staff on the About Us page and then read all about how SCC got started by reading "A Bird in the Hand…Our Story".
SCC is growing by the day! The forum is fueled by its members. It has several posts from do-it-yourselfers featuring their projects, pictures, videos, jokes, general information, and helpful hints when you get stumped on your project from people who have been there as well.
The SCC website has other special sections such as The Nest, which features pictures and information on cars that belong to forum members and customers, Hooper's Garage Talk, our editorial section, SCC 360 and Flashback, which detail the restoration journey of the car that started SCC, and finally the newest section, SCC Live. SCC Live features live broadcast direct from the SCC Garage featuring our own project progress. There is an upcoming video planned for our next parts "chase."
Our SCC Staff and Forum Moderators pride themselves on having a great relationship with our forum members and on trying to produce a website and forum that Firebird and Trans-Am enthusiasts will visit frequently and feel like home. We all are weekend wrench turners who love our birds and helping others. We want everyone to feel like family.
Don't take our word for it, come join our forum and see for yourself.
SCC features a Firebird and Trans-Am of the month and starting this month we will be featuring a forum member of the month.
I would like to personally invite you to be a part of the SCC Garage by joining the forum today by visiting
http://scream...rg/index.php.
On behalf of the SCC Crew, "Thank you for your time and we look forward to hearing from you!"
Take care and may God bless you,
Hooper
SCC Chief Chaser
hopper@screaminchickenchaser.com
www.sccgarage.com
1977 Trans-Am – Father and Son Project
Click [url]www.sccgarage.com[/url] to visit...
Permanent Link to this Blog Post: