Cars > Challenges > "The General" Vs "MUAHAHA!"
JT76
M–32
Hamburg, New York
United States
heliskiier
M–55
Charlotte, North Carolina
United States
2000 Pontiac Trans Am WS6
"The General"
2000 Chevrolet Camaro SS Convertible #2112
"MUAHAHA!"
Head to Head
About "The General"
Full bolt on and cammed 2000 6 speed trans am. 50k miles 2nd owner... car was tunned by east side perforance in CT and put down 421rwhp on a conservative tune. Car will be re tuned spring 2008 by New Era in Rochester NY, hopefully after the addition of ported LS6 heads.
About "MUAHAHA!"
Wow! I found this car last summer with 25,009 miles on the ticker with SLP sticker options. She's clean as can be and fast. I've done a bit of updating and she's one beautiful Convertible!!!!

MUAHAHA!!!! "Too much of Everything...Is just Enough!"

29k miles Arctic White Convertible, SS #2112, Borla Catback, LS6 Intake, Air-EGR Delete, Koni SA Shox all 4 Corners with Strano Spec Adjsutments, Lowered 1", Crossdrilled/Slotted Rotors, Full SS Trim, SLP Flo-Pak Ram Air, Red-Top Battery, UMI Performance LCA's and Panhard, 35mm Suspension Tech Sway Front, SLP Strut Tower Brace, SLP Grille, Clear Corner Marker Lites, HID Headlites, PCMforless.com tune, Custom Brake Caliper Paint, MacEwen Motorsports Gauge Bezel and White Face Overlays with Red Dash lites.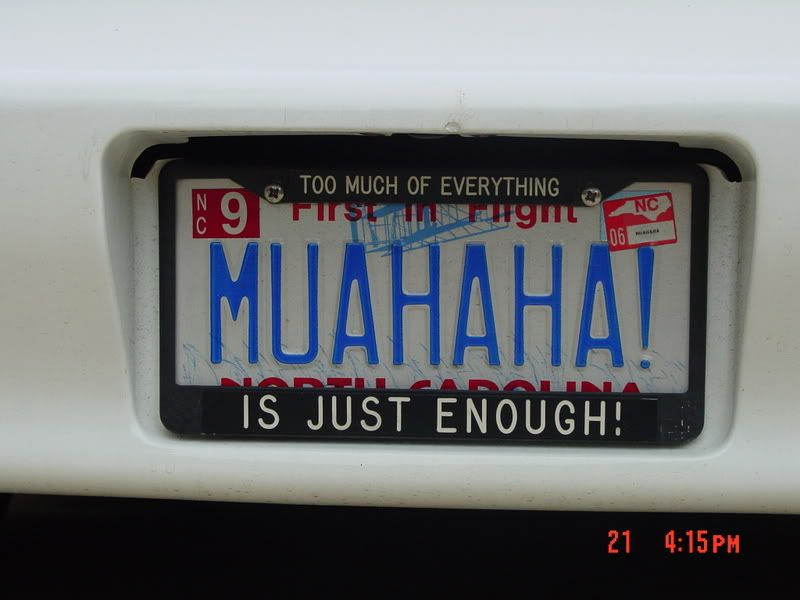 Specs for "The General"
5.7L Ls1 (346ci)
6 speed manual transmission
stock rating - 320 HP (engine HP, underrated by GM)
modded - 484 engine HP (following the formula of 15% drivetrain loss
421 HP to the rear tires on the dyno
low 11 sec 1/4th mile
Specs for "MUAHAHA!"
No specifications listed.
Factory Options for "The General"
Leather
T- Tops
Monsoon sound
Hurst shifter
WS6 performance package
Factory Options for "MUAHAHA!"
See above
Mods for "The General"
231/237 112LSA thunder racing cam
hardened pushrods/dual valve springs/titanium retainers
SLP LS6 oil pump and timing chain
Pacesetter LT headers
Pacesetter off road Y pipe
Borla adjustable catback
FAST 90mm intake
Nick Williams 90mm TB
SLP lid
SLP smooth bellows
SLP ram air
built T-56 6speed (t56rebuilds)
Spec stage 3 clutch / mcleod adj master cyl
Speed inc chromoly driveshaft
Moser 9" rear end
Moser 35 spline axels
Moser spool
3.73 gears
BMR subframe connectors
BMR panhard bar
BMR driveshaft loop
BMR torque arm
Spohn upper and lower control arms
Spohn transmission and motor mounts
QA1 front and rear shocks and springs
racetronix fuel system

stock WS6 rims with Nitto DR's on back
Weld Drag lights with slicks and skinnies
Mods for "MUAHAHA!"
See above
Vote

This challenge has ended!
| Points for The General | Total Votes | Points for MUAHAHA! |
| --- | --- | --- |
| 47 | 18 | 43 |
Cars > Challenges > "The General" Vs "MUAHAHA!"