Cars > Challenges > "#Flo" Vs "Hooter Scooter"
ROLNGTZ
M
Smithton, Illinios
United States
Redneck_Cowgirl

F–47

2006 Cadillac Escalade
"#Flo"
1998 John Deere 265
"Hooter Scooter"
Head to Head
About "#Flo"
Daughter Power Wheels Escalade. Gift from Santa in 2006. She named "Flo". After the waitress in the Disney movie "Cars". Only mod, restrictor screw to overdrive removed. It will move. I have to run to keep up with her.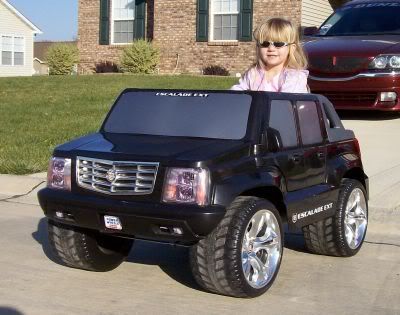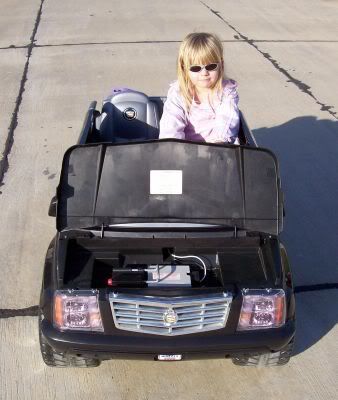 About "Hooter Scooter"
Meet the Hooter Scooter! This is my John Deere with only 220 hrs on it. We have just short of 3 acres and takes me about 2 - 3 hrs to mow. I am a very slow mower, I like the yard to look nice. And I always mow in a different direction to "confuse" the grass, I say it does that not sure it makes much of a difference. It gets its winterizing done every year by John Deere, they are nice enough to come and pick it up and return it to me free of charge.
Got it's name because I am the only one allowed on it. Since it scooters my hooters around the yard we call it the Hooter Scooter.
Specs for "#Flo"
3 speed
2 wheel drive
AM/FM radio
2 massive 6" subs
Amps 4 "D" batteries
12v Battery
Specs for "Hooter Scooter"
Its a 265 17 hp, 2WD, hydro, 48" cutting deck.
Factory Options for "#Flo"
convertible
chrome rims
seatbelts
cup-holder
Factory Options for "Hooter Scooter"
No factory options listed.
Photo Albums
ROLNGTZ has no Car photo albums.
Photo Albums
"Hooter Scooter" has no photo albums.
Vote

This challenge has ended!
| Points for #Flo | Total Votes | Points for Hooter Scooter |
| --- | --- | --- |
| 85 | 23 | 30 |
Cars > Challenges > "#Flo" Vs "Hooter Scooter"