Cars > K1M_and_J1M's Garage > "Sp1rit"
Challenges

1 – 3 of 7
Challenges W: 7 L: 0
Past Challenges
Owner: Turbo91Bird
Turbo Bird: 46 pts (

loss

)
Sp1rit: 59 pts (

win

)
Total votes: 21
Ended: Dec 23, 2007
Owner: eclipse4life
clipse: 0 pts (

loss

)
Sp1rit: 45 pts (

win

)
Total votes: 9
Ended: Nov 17, 2007
Owner: ROLNGTZ
Babysride: 35 pts (

loss

)
Sp1rit: 65 pts (

win

)
Total votes: 20
Ended: Nov 9, 2007
2001 Chevrolet Monte Carlo SS (Sp1rit)
Last updated Jun 20, 2009
About
This is Kim's everyday ride and her Baby!
I just get to play with it from time to time! :D

She's a White 2001 Chevy Monte Carlo SS that we have owned since new. She just turned 50,000 miles not long ago.

In those six years till now (2008) we added a few vehicle Performance & Appearance mods to her to make her stand out from the crowd and have some style & uniqueness.

A Corsa Stainless Steel Exhaust with a new Hogan 2-1/2 inch down pipe and Magnaflow High flow converter that has the u-bend delete from 3800 Performance.
She sounds nice for a 3800 series II V6!
Deep and throaty, What an SS should sound like!

A Cold Air Inductions aluminum Intake with 9" K&N Cone Filter
MSD Coil Packs and more to come.
A (ZZP) ZZ Performance reprogrammed and tuned PCM Module.

There are some much needed handling upgrades as well installed which is all we really wanted in the first place!

A great handling car that's has good get up and go and fairly good on gas without having to buy a older Camaro Firebird or Vette and that looked good doing it.
Hey this is her everyday driver and not a racecar.
At $3.50+ a Gallon and climbing maybe over $4.00 a gallon by Summer, Were pretty happy with it!

Other Items include.
A Red front Speedbuilt strut tower brace.
Red Rear BMR Strut Tower brace
Ram Air Tech Polished billet aluminum dog bone engine supports and side braces,
KYB AGX adjustable sport gas struts and Eibach Pro Kit lowering springs.
Red BMR Tubular Trailing arms.
SLP Front and Rear Sway bars (Had Powder coated Red)
Forward and Rearward red adjustible BMR lateral arms.

We also Purchased a functional MPD-Inc Ram Air Hood (Thanks Eric!) with intake plenum as well and added some Polished Stainless steel Ram Air letters and Camaro SS Hood scoop grille to add some bling.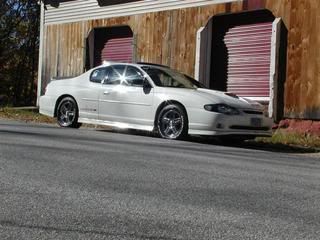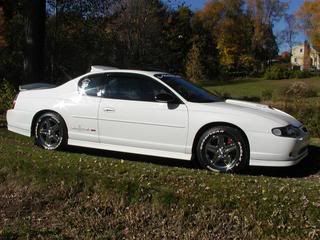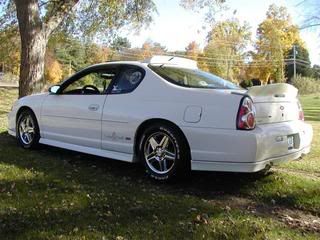 Specs
3800 Series II V6 Automatic
Approx- 220 HP with New Hi Flow converter & Cat back exhaust & Cold Air Induction box with 9" K&N Filtercharger with a Tuned ZZP PCM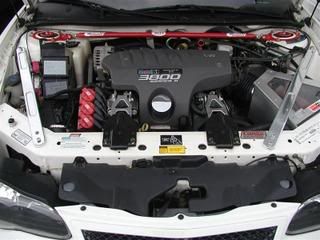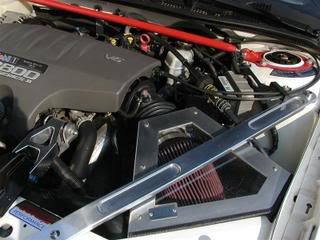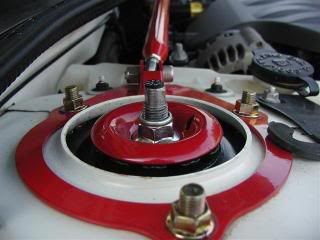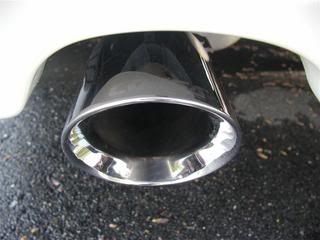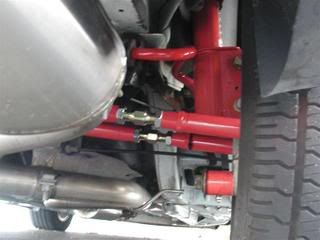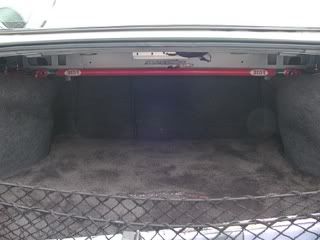 Factory Options
All the basic factory stuff,


SS Package
SS Floor mats
Fog/Driving Lights
Center console w/Information Center,
On-Star,
Remote mirrors,Auto dimming Mirror,
Steering Cruise & Radio Controls, AM/FM CD/Cassette surround.
Driver and passenger air bags with side airbags
Power Steering
Power Anti lock Disk Brakes
Traction Control
Power Windows
Power Mirrors
Power Sunroof
Remote door locks & trunk release
Cargo net
Grey cloth & Charcoal interior,( I don't like leather)
Fold down rear seats with armrest and drink holders
Mods
MPD Ram Air Hood with Air Box Plenum (in updated pics)
SLP 16" Polished Aluminum Diamond Cut Wheels
Good Year White Lettered #1 NASCAR Eagles tires
Dealership Designs Ground Effects and Intimidator III Rear Spoiler
Guy Mouton Custom Made Pace car Roof Spoiler
Tony Stewart Painted grill with SLP lower grill insert
Black Diamond Headlights w/ Silverstar bulbs
Altezza L.E.D. Tail lights
L.E.D Xenon Reverse & licence plate lights
Monte Carlo script Door sill covers
MOMO Seat belt pads.
Carbon fiber door inserts.
Custom Red SS carpeted Trunk liner
U.S. Speed Custom embroidered Floor and Trunk mats.
Drilled/Counterbored/Countersunk/Grooved and plated Brake rotors with Duralast Ceramic Pads.
Caspers Electronics Valve cover breather
CAI Intake box with 9" K&N Filtercharger cone filter
Ram Air Tech Polished Aluminum Dog Bone engine braces
Ram Air Tech Aluminum side engine bay braces
Speedbuilt Red Strut Tower brace
MSD Coil Packs
ZZ Performance PCM
[img][/img]
Corsa polished stainless steel cat back exhaust with Hogan Performance 2 1/2 inch downpipe w/High flow cat which has the U-bend delete
BMR Fabrication Red Tubular trailing arms.
BMR Forward and Rear Red adjustible Lateral Arms.
BMR Rear Strut Tower Brace
SLP Front and Rear Sway bars with Custom Red Powdercoat
KYB AGX Adjustible Gas Struts.
Eibach Pro Kit Lowering Springs .
Monte Carlo SS script Windshield and rear window decals.
Phoenix Graphix Red Tazmainian Devil Pace Car decals
Auto remote start.____________________
Browse Related Cars: gm, chevrolet, chevy, monte, carlo, ss, super, sport, 2001, muscle, white, pace, car, spoiler, nascar, z34, taz, team, 2, door, custom, customized, modded, hardtop, coupe, good, year, ram, air, chrome, wheels, slp, wing, w, body, bowtie, scca, new, hampshire, showcar, hood, scoop, lowered, extreme, rad, mpd, intimidator, usa1, 6th, generation
Permanent Link to this Car

Photo Albums and Videos

1 of 1
Car Blog for "Sp1rit"

1 – 2 of 2
Oct 19, 2007
Well it's been a while since I posted our first Blog on our Motortopia Monte Carlo SS page so I thought I would finally update it. Were having a good time upgrading her car and...
Sep 13, 2007
My girl and I bought the white 2001 Monte Carlo SS pictured new back in the fall of 2001,It was our first new car together. Our 2001 SS has only around 49,000 miles on her now...
Cars > K1M_and_J1M's Garage > "Sp1rit"