Cars > K1M_and_J1M's Garage > "NEMESISS"
1987 Chevrolet Monte Carlo SS Aerocoupe (NEMESISS)
Last updated Nov 26, 2009
About
This is our project toy to play with which I dubbed "Project NemesiSS" that we adopted around 11/15/08
.
It's a white 1987 Chevy Monte Carlo SS Aerocoupe which in 1987 there were only 6,052 made!
In 1986 there were only 200 Aerocoupes produced and were numbered on the cowl tag!
.
The Fastback Aerocoupe model was only made two years! 1986 and 1987,
Chevrolet didn't make any in 1988 and that was the last year for this G-body style.

There is a "Rumor Only" that got started somehow that in 1987 only 200 Aerocoupes had T-Tops.

Well...No! Not really, It is unknown but more like half or so or more of the production run for these as GM never kept records of how many came with T-Tops or other options produced for these cars. So it's an unknown.

Actually these Aerocoupes were converted from stock Notchback Monte Carlo SS's to Aerocoupes at a Custom Shop facility. Not at the GM assembly plant.

I have been looking for one of these close by for a couple years and was in no hurry to find one. There were plenty if I wanted to travel but that just wasn't possible with my new job.
So Thank You all for letting me know you had one for sale as I asked here on Motortopia.

Most I have seen advertised locally were either in excellent condition and asking a Kings ransom or had been modified to the gills with aftermarket parts or were are in major dis-repair and the owners were asking way to much for what there condition is in. And with this economy not many folks want to pay a lot for something that needs a lot of work and $$$ to fix up!

I wanted a stock engine but they seem rarer than hens teeth in these 4th gen Body Monte's
I just want to restore one close to factory specs not race it.

Well I picked one up that was...Well.. A pretty stock looking except for the engine and engine management system.

It does need a lot of underbody work like new floors and rear lower quarter patch panels.
I was trying to avoid the badly rotted floors and they were! Thats an expensive job and a lot of damn work!!!
But i decided to buy it anyway and tackle it this Summer.

The steering column tilt was loose so took the easy route and just decided to change the whole thing out.

Being a T-Top car and based in New England It wasn't surprising and needs the usual attention and parts replacement. But it's a car worth restoring and not parting out like so many do to hopefully make a buck or get discouraged at all the work they need done.

Hey Restore them! Don't dismantle or crush them!
Cause after there gone,There GONE!
They aren't going to make them anymore!

It will make a nice street cruiser for those Hot Summer Nights and cruise-in's at the local fast food joint.

I have already added new Halogen headlamps,New parking signal lenses and licence plate holder just to get the outside visuals aspects looking better and for the important part, Legal!

I don't need tickets and that money could be used for new parts!

Newer photo's of all the replacement pieces will be coming in the near future as I go.
Although not as important,
A few interior items are on the way and have some better seats lined up. Just need to pick them up.
Ignition and door & trunk locks are on the way too.

So I believe I am the third to fourth owner by the titles and there all clean.
Car was originally owned by a guy in Manchester N.H who purchased it new.

The previous owner/modder/builder I was told had passed on and car handed down to his son and girlfriend who I had purchased it off of in Allentown N.H.

They sure did a lot of work to this and am still learning more about it myself over the past few weekends and Months.

I was a bit shocked it wasn't a Posi with all the engine and Suspension Mods. "Scratches head"

It has a loooong way to go and will be expensive to do what I want!
But will take years and be a labor of love!

UPDATE 1: November 28th 2008

Well we picked up the newer seats yesterday on 11/28/08 and they are pretty nice!

They don't look faded as so many are and these are not broken & work lol!
I'll install these later after the new Floor Pans are in.

This week I ordered a few minor pieces from Mikes Montes in Ohio like the Maroon Console lid and black shifter plate to clean up the interior and make it look a bit better.
Also a new Licence plate holder and coolant and washer jugs and cap.

Other items I have coming are new black GM SS door and trunk locks and a Maroon console cubby box with the door to replace the coin tray.It just looks nice joining the console to the center dash.
Besides those I am doing the front brakes completely with new Drilled and slotted rotors from R1 Concepts.
I'll get some Duralast ceramic pads for the eye popper stoppers as well.

I gave it a good paint cleaning with some GM Brand Cleaner Wax and also some Megiures Polishing compound.
Other items that needed a really good cleaning were the wheels so tried some of "Griot's Garage" wheel cleaner.

That took most of the brake dust off with a brass bristle scubb brush but they will need to be worked on a bit more to get it all off out of those little tight corner crevices. Great stuff though!

The car is not spotless but does look a whole lot better now!
Engine bay too!

I'll get some updated pictures later when it's nicer out.
It's been raining/snowing and back to rain the past two weekends so not able to get any pictures as of yet.
Well that's it for now!
Till next time!

Christmas 2008 Update!

Merry Christmas to me! lol
Just purchased a new Under Hood insulation pad and also a cover for it with the Monte SS embroidery for a little bling for the engine compartment!
Should dress it up nicely!



We couldn't swing it right now but these custom 16" factory style wheels from www.Gbodyparts.com are on the future shopping list. Need some other items before I splurge for them though! My mind could change about them in time as well.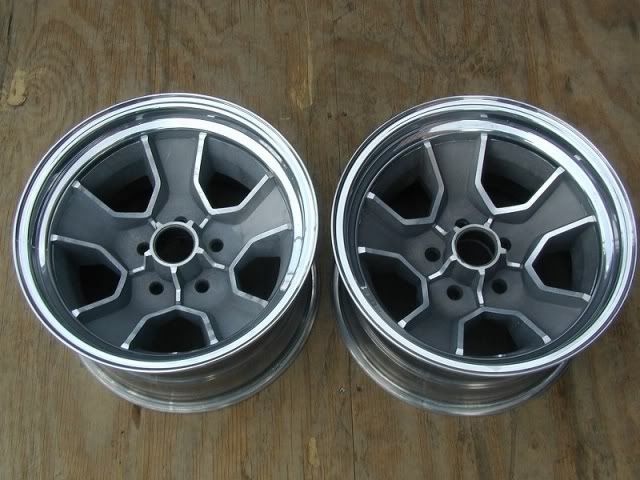 April 2009 updates:

Ahhh! April and finally got the Monte out of the garage and gave it it's first real car wash.
Also to get it up in the air on jack stands and checking for some leaks.
.
I had an exhaust leak and found one of the headers had a crack all the way around it. So I need to weld that up and that should be taken care of.
Oil pan is dented pretty good so that is on the to replace list.
I'll change the oil pump while it all apart.
Probably pick up a Moroso or Canton Road 7 quart racing pan.
It will help keep the oil off of the crank.

Not sure what brand headers they are but they are the Mid or Shorty Style and not made for this LT1 Aluminum head D-Port motor.
Probably the stock headers from the original 305 so I have to use some modded exhaust gaskets or round port ones temporarily until i can get the right style headers.

Also the power steering and tranny cooler hoses were leaking so am tightening up and replacing some hoses. Minor stuff.

No major work has been started yet besides the Steering column replacement which is done and had the Alternator tested which was fine.Bearing is a little noisey.

Needed some new fuel hoses on top of the gas tank.They were cracked and dry rotted. Not a great setup so I will look into something more up to spec and a bit safer!

Replaced all the fuses but the horn still doesn't work.
Need to find the horn relay and check into that. Could be a Horn Button not grounding either or not making contact.

Radiator fans are working properly again and no issues so far!
Electric Fuel pump is hot wired to a relay so am going to install a toggle switch.

Replaced the Front nose Top Plate under the hood and added the neat custom side plates from www.CustomMonteSSParts.com.
Really looks nice and neat now!
Also picked up a new Radiator Top Plate from him as well but had to modify it a bit for the Camaro Z/28 Aluminum Radiator as it is a bit shorter in length and rubber mounts are in different position as well.

Not that it needed it,
But I purchased a new Granatelli Polished aluminum Air Inlet elbow for the LT1 TPI throttle body.Just didn't like the cheap stock plastic Camaro Z/28 intake unit it came with.It's just to restrictive.

May 2009 Update;
In May,
I splurged for a new Polished and Ported Granatelli Hi-Flow MAF Sensor Ends as well and a new Chrome Intakes Air filtration system. Took out the old Camaro air box with the K&N square Filtercharger in it as was just a pain to get at.
This helps the engine breath a bit better and also neatens up the engine bay quite a bit as well.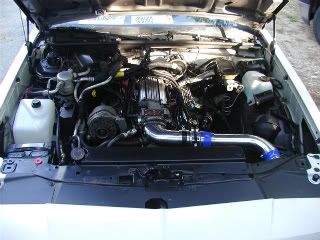 Also ordered a TA Performance Rear end Cover since It helps beafen up the rear end and it just looks the balls under the car from the back! Just came in so will put it on this weekend!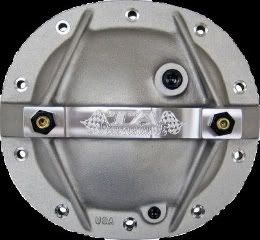 I did get the new Floor Pans from www.MikesMontes.com in Versailes Ohio.
Just need to cut the old ones out and weld in the new now!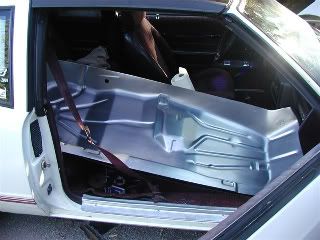 "November 15th 2009 Update"

Well it has been almost one year I have owned the Aerocoupe! Wow! Time flies! And still working on it! (laughing) Not surprised!

The new Floor pans were all welded in this past summer and I just primered in grey and then primed in white and the new floor insulation and rug are waiting to be put in!

I picked up a slightly damaged steel Cowl Induction hood cheap and will put this on next year sometime.

Took off the old leaking chrome valve covers and put on some new Canton Aluminum Fabricated Valve Covers! They were a tight fit but there on there!
Need to adjust the lifters on the passenger side but might just put in some roller rockers next spring or summer then do them all.
Got a Canton Aluminum radiator overflow bottle installed as well.Stock one was worn.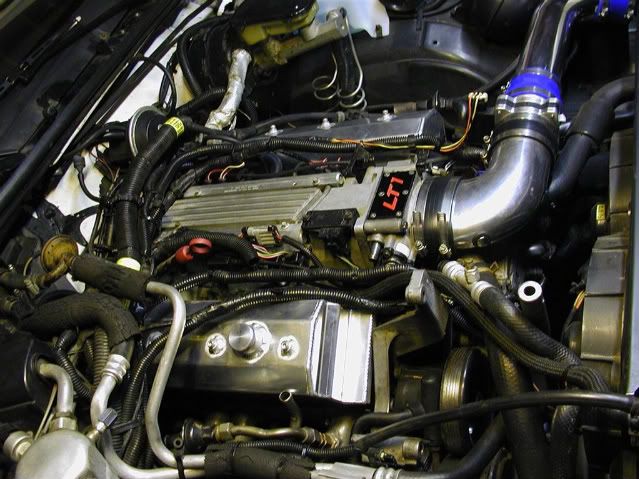 So that's the recent update of work I have done to Project NemesiSS aka AeroknightSS.

Buy U.S.A.-1 American Muscle!

GM Bring back the TRUE V8 Rear Wheel Drive 2 Door Monte Carlo SS!
See the USA in a Chevrolet!
Specs
Engine is from a 1995 Camaro Z/28 350 cubic inch LT1 motor with auto tranny with a aggresiive shift kit.
- 5,733 cc 5.7 liters V8 front longitudinal engine with 101.6 mm bore, 88.4 mm stroke, 10.5 compression ratio, overhead valve and two valves per cylinder
- Recommended Premium unleaded fuel
- Fuel economy EPA highway (l/100km): 9
- Multi-Point Injection fuel system
- Power: SAE and 205 kW , 275 HP @ 5,000 rpm; 325 ft lb , 441 Nm @ 2,000 rpm
PCM's power programmer for computer in the trunk.

~Updated Specs on 1995 Z/28 LT1 350 Cubic Inch Engine~

LT1 Specs from GM Documentation:

5.7L V8 LT1

Features

Sequential-Port Fuel Injection.

Reverse-flow cooling system channels cooler water to the cylinder heads first.

Gear-driven water pump ensures coolant flow even if accessory belt breaks.

A short runner intake manifold with multi-port fuel injection,
High compression pistons,
Free-flowing aluminum cylinder heads,
Hydraulic roller cam.
Heart-Shaped combustion chambers enhance combustion effciency (fast burn heads)

Type:90 Degree V
Longitudinal 5.7 V8 350ci
Firing Order:1-8-4-3-6-5-7-2 ;
Left Bank:1-3-5-7;
Right Bank:2-4-6-8
Compression Ratio: 10.5:1

Valve Config : Overhead Valves;
Manufactured: Flint, Michigan ;
Valve Lifters: Hydraulic Rollers;

Bore x Stroke: 4.00x 3.48 in. ;
Fuel System: Sequential-Port Fuel Injection;

Horsepower:
275 hp@ 5000 RPM dual Catalyst

Torque: 325 ft lbs;
Block:Cast Iron ;
Cylinder Heads:Cast Aluminum;
Intake Manifold:Cast Aluminum

Fuel: 91 octane;
Pistons: Cast Alum. (impacted) ;
Connecting Rods: Forged steel early models, Powdered iron late models

Crankshaft: Nodular Cast Iron ; Coolant thermostat opens at 180 Degrees F.
Factory Options
T-Tops & Shades
Console/Floor shift
Bucket Seats
Dual remote mirrors
Power trunk opener
Tach
Trip Odometer
Lighted Sunvisor with Mirror
A/C
PS
PB
PW
PL
Rear Window defrost
Aerocoupe SS package 1 of 6,052
Mods
1995 Z/28 TPI LT1 Motor
1995 Z/28 Radiator
Canton Fabricated Aluminum Valve Covers
Canton Aluminum Overflow tank
Shorty Headers
MSD Coil and Wires.
Front Radiator Top Plate
Front Nose & Side plates
Powder coated Hood Latch/Handle
Transmission Cooler
TCI Deep Transmission Pan
Adjustible Upper rear end links
Boxed Trailing Arms
TA Aluminum Rear End Girdle Cover
External Electric Fuel Pump
Shift Kit (Brand unknown)
140 MPH Speedometer with trip
Grand National Aluminum Brake Drums
A1 Performance Drilled and Slotted Rotors
Console Cubby (Bread Box)
Pioneer AM/FM CD player with amp
Hypertech Power programmer
Browse Related Cars: general, motors, gm, chevrolet, chevy, monte, carlo, ss, aerocoupe, aero, g, body, ttop, fastback, lt1, 350, v8, muscle, musclecar, knight
Permanent Link to this Car

Photo Albums and Videos

1 of 1
Cars > K1M_and_J1M's Garage > "NEMESISS"