Cars > yeehawmn12's Garage
About yeehawmn12's Garage
About me and my passion for cars
i love anything fast but mostly mn12s/fn10s, diesel trucks and of course mustangs.
My first car
my first car was a '90 lincoln mark VII. It had the 5.0 HO i bought it with a blown head gasket and worked with my dad to fix it, sold it to my older sister cuz she needed a car(i was only 13 and didnt have a license) she traded it for a neon because she needed somthing smaller
Car I wish I still had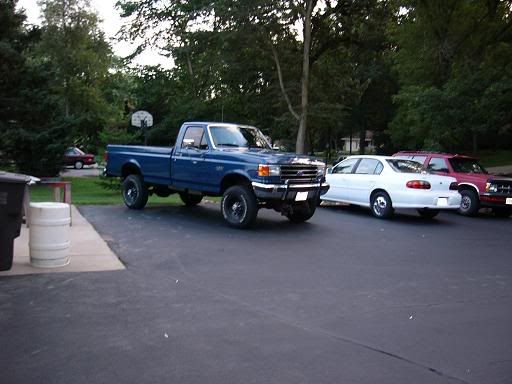 i had a F350 1 ton but sold it for a cougar, it was one kick ass truck!!
My dream car
69 dodge charger, 440 perferably, in dark green with the white stripe!
Car clubs I'm in
yee-haw motorsports(my club!)TCCoA, SCCoA, upper midwest thunderbird club, domestic disturbance
Favorites
Type of racing: drag racing, scca, and off road
Driver: ryan newman
Car movie: gone in 60 seconds
Car magazine: car craft
— Profile last updated: Jan 21, 2007
yeehawmn12's Groups

1 – 3 of 5
Enthusiast Groups
BrewCityMuscle.com is Milwaukee's and Southeastern Wisconsin's largest late model muscle car club. BrewCityMuscle.com is not like other web sites that are limited to specific make or model. Originally BCM was home for discussion about late model domestic (Chevy, Ford, and Mopar) muscle cars and...
Wisconsin, United States
This is for all offroading Vehicles, good for discussing anything 4X4 related. POST UP YOUR PICTURES!!
Utah, United States
Club Groups
yeehawmn12 is not a member of any club groups
Business Groups
Welcome to SpinningWheels-SC's Motortopia Page! High Performance Auto Parts & Accessories! Whatever your automotive passion is, we're sure you'll find the solutions on our Web site at SpinningWheels-SC! At Spinningwheels-SC we offer the best high-tech & high-performance parts that you want,...
Florida, United States
yeehawmn12's Friends

1 – 3 of 38
Photo Albums and Videos

1 – 2 of 5
Filed under 1975 Pontiac Trans Am (T/A)
Photos: 12
Filed under 1990 Ford Thunderbird (the SC)
Photos: 6
Cars > yeehawmn12's Garage